Intel gave the editorial staff a chance to verify 12th Gen Core CPU performance during PCWorld's The Full Nerd Special podcast. While Gordon Ung chose the benchmarks, Intel furnished the systems that were put to the test. And by systems, we're referring to the MSI GE76 Raider laptop model.
This computer has the same exterior as the previous model, but it has an Alder Lake CPU, a faster GPU, next-generation RAM, and better cooling (liquid metal). MSI also boosted the maximum power usage to 220W, with the GPU alone capable of 175W.
PCWorld evaluated PCs with a 14-core Core i9-12900HK (flagship Alder Lake CPU), 32GB of DDR5-4800 memory, and a GeForce RTX 3080 GPU (so not the Ti model). The results were then compared to the ASUS ROG Strix Scar G17 with Ryzen 9 5900HX and RTX 3080 GPU, as well as the GE76 with Tiger Lake Core i9-11980HK CPU and RTX 3080 GPU (165W) (130W),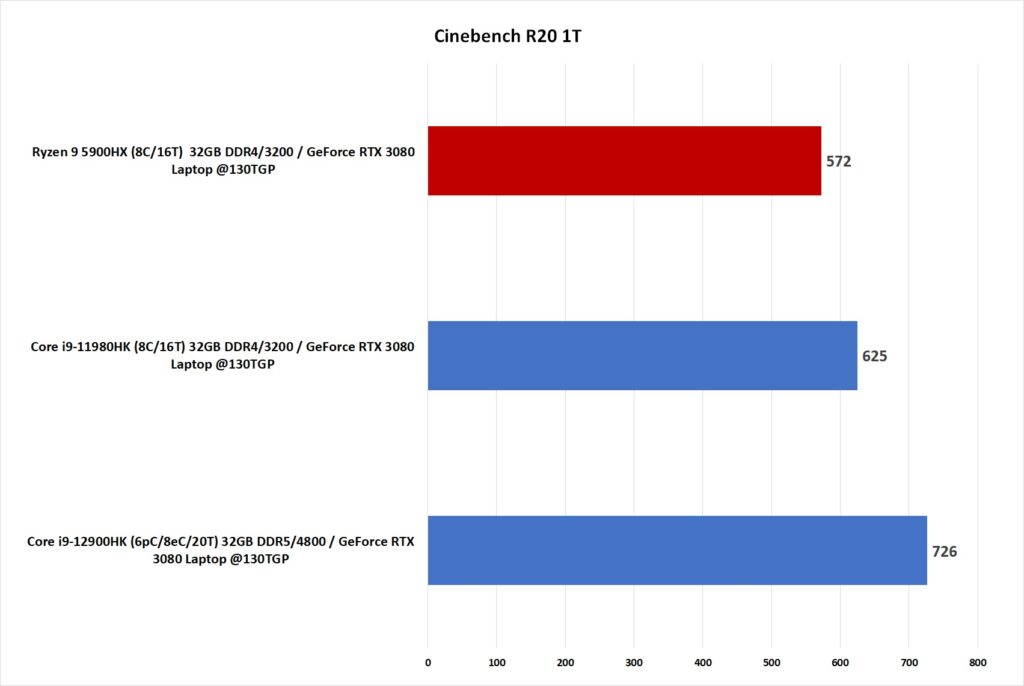 Let's start with the popular Cinbench R20 from Maxon and its default multi-threaded test. Cinebench is built on the company's Cinema4D 3D modelling and rendering engine, which is available as a standalone application and is also integrated into other Adobe products like After Effects.
It clings to its cores, and the more cores it has, the faster it is. When you consider that Intel's 12th-gen Alder Lake H processors have a hybrid design, with six increased "performance cores" and eight "efficiency cores" in this top Core i9-12900HK, the results aren't surprising. In Cinebench R20, having 14 cores (even though eight of them are lower weight than the Ryzen and 11th gen cores) results in better performance.
The 12th-gen "Alder Lake" cores from Intel considerably improve efficiency per clock, as evidenced by the fact that the 12th gen Core i9-12900HK is around 16 percent quicker than the Ryzen 9 5900HX and 9.3% faster than the 11th gen Core i9-11980HK.
Neither of those rival CPUs is, however, a sluggish processor. It appeared last summer that AMD's recently announced Ryzen 9 5900HX was a monster compared to all previously released CPUs, only to be overshadowed by the similarly impressive 11th Core i9-11980HK. A new goliath has arrived in town.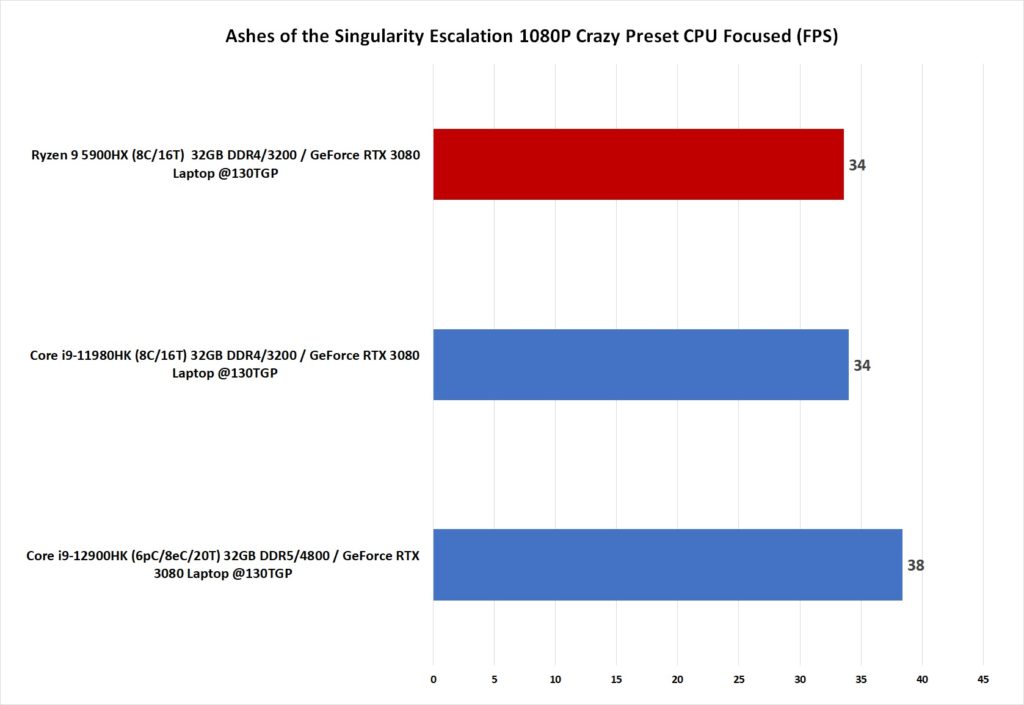 Following that is Cinebench R23, which, unlike Cinebench R20, takes around 10 minutes to complete. This is significant since all current CPUs generate heat as they run and take off the gas pedal when they reach a certain temperature. While Cinebench R20 takes around a minute to run, Cinebench R23 takes 10 minutes and is likely to degrade performance. The good news for 12th-gen is that it is still the winner, as 14 cores still outnumber 8 cores. Although the performance gap between the CPUs has narrowed, the Core i9-12900HK still has a 23 percent lead over the Ryzen 9 5900HX and a 16 percent advantage over the 11th-gen Core i9.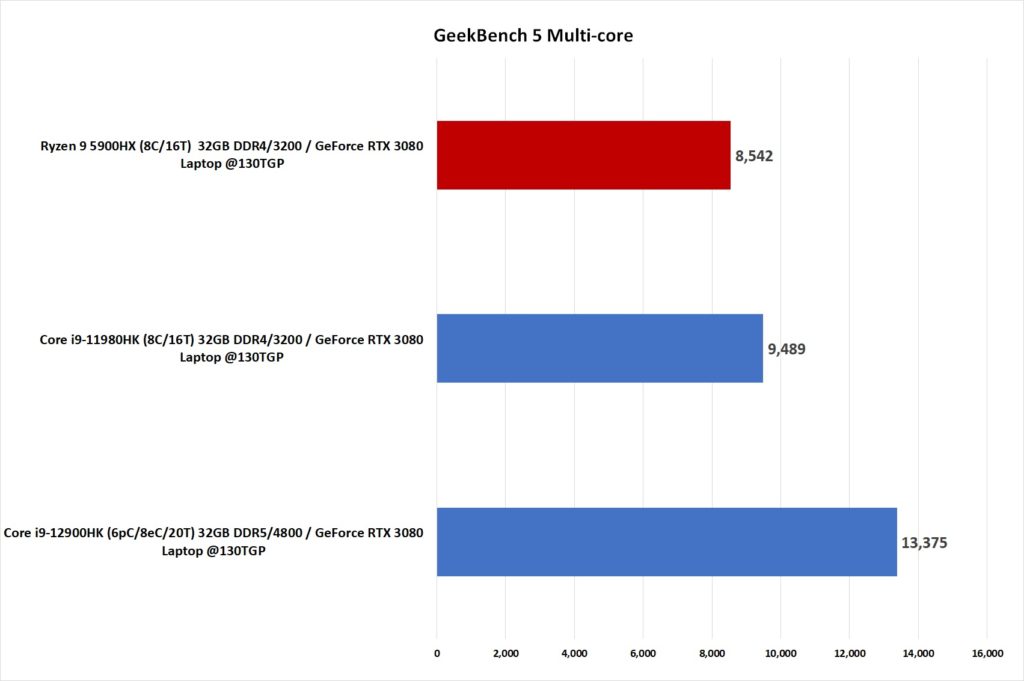 Another benefit of running Cinebench R23 is that Mac users can directly compare performance because Maxon's Cinebench R23 offers a native version for Apple's new M1 range. While we haven't tested the MacBook Pro 14, our sister publication Macworld has, and the MacBook Pro 14 with its 10-core M1 Pro CPU received a score of 12,381. The 12th gen Core i9-12900HK would have a 21% advantage over a MacBook Pro 14. The M1 Max was not reviewed by Macworld, however other sites have reported performance ranging from 12,300 to 12,700 for the faster M1 Max.
In Cinebench R23, we use a single thread to record a score, much like in Cinebench R20. Surprisingly, the margin between the 12th gen Core i9-12900HK and the Ryzen 9 5900HX widens slightly, with the 12th gen Core i9-12900HK outperforming the Ryzen 9 5900HX by roughly 26.5 percent and the 11th version Core i9-11980HK by 16.6 percent. Macworld gave the M1 Pro in the MacBook Pro 14 a score of 1,531. That's a 23.6 percent edge for the 12th-gen CPU over the M1 Pro.
also read:
OneXPlayer Mini handheld gaming device shares a striking resemblance to Valve's Steam Deck