Qualcomm has announced that it will be holding its annual Tech Summit where it will be unveiling the next-generation flagship chipsets and other chips alongside it. The successor to the Snapdragon 888, the 898 SoC will be unveiled at this event.
Rumors of the next-gen flagship chip from Qualcomm powering multiple devices that are expected to release mid-December or in the first quarter of 2022 have been circulating for quite some time now. Last month a report hinted that the 4G version of the Snapdragon 898 will power an upcoming Huawei device, possibly the Mate 50.
Coming to the chipset itself, it carries the model number SM8450 and has a tri-cluster architecture that includes a Cortex X2 prime core running at 3.0GHz. In addition to that, the chipset will feature three Cortex-A710 cores that clock at 2.5GHz. It will also have four Cortex-A510 cores that clock at 1.79GHz. The Snapdragon 898 will also be accompanied by an Adreno 730 GPU for graphics.
Apart from this, we can also expect Qualcomm to unveil some system-on-chips to be featured on budget 5G smartphones to give them a much-needed boost in terms of performance.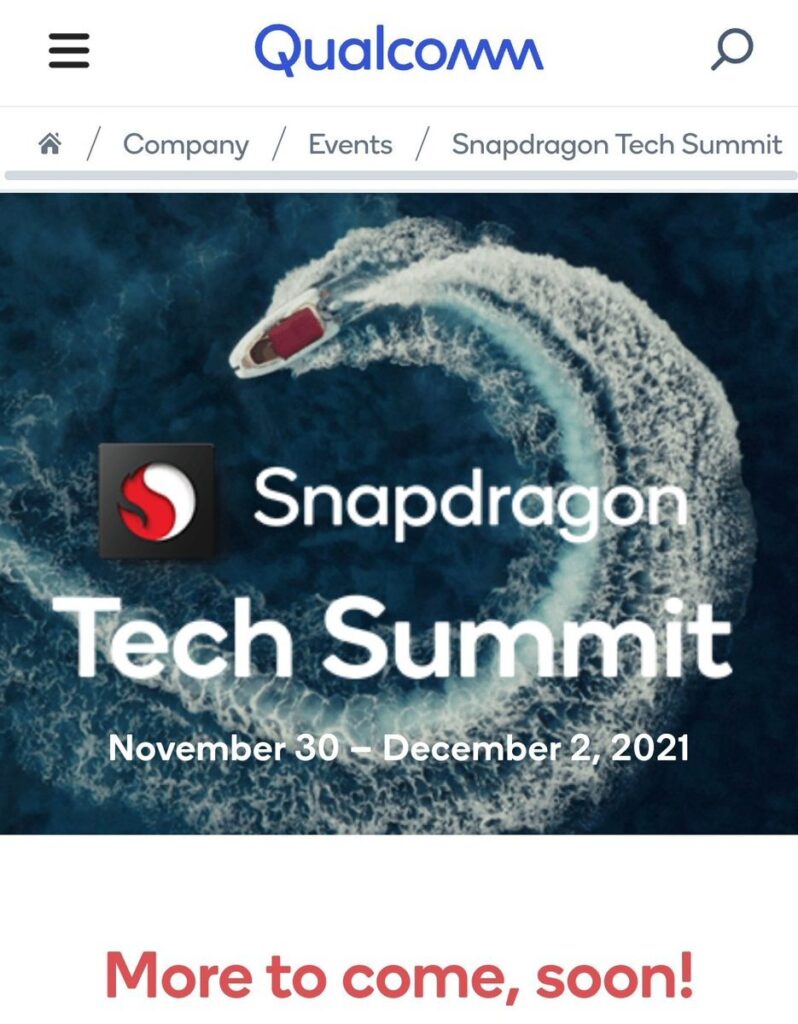 Earlier this Tuesday, Qualcomm announced that these chips are designed for entry and mid-range 5G smartphones.
It also announced the Snapdragon 695 5G based on 6nm architecture. This chip will succeed the 8nm Snapdragon 690 5G used in prominent devices such as the OnePlus Nord N10 5G. This chip features an octa-core ARM-compatible Kryo 660 CPU cluster clocked up to 2.2GHz. It provides a 15% boost in performance in comparison to the Snapdragon 690, which was based on the Kryo 560.
The Snapdragon 695 5G chipset supports a 108MP photo capture and dual 1080p video capture and is reportedly 30% faster on graphics performance than the 690 with its Adreno 619 GPU.
The chip includes support for sub-6GHz and mmWave bands, and can work globally, Qualcomm claimed. The modem supports up to 2.5GBps of 5G download speeds, and 1.5GBps of upload.
Keep in mind that we cannot know that these specs of the chips are final or not as the official specs are yet to be released. We will keep you updated through the Snapdragon Tech Summit!
Also read: