The after-effects of the global pandemic are hurting gamers more than ever because you cannot find CPUs and GPUs at correct prices; still, if you could manage the CPU, this is the worst phase for GPU availability in the last couple of years.
ASUS ROG Strix GT15, GT35 and GA35 gaming PCs are a great choice for gamers who need a "value for money" gaming PC without compromising performance. On Amazon India, it is discounted most of the times, and you can get them at attractive prices most of the times.
While the GT15 and GT35 series comprise Intel Gaming PCs, GA35 are powered by AMD Ryzen CPUs, Amazon India is throwing some great deals on all of them, let's have a look.
Here are the best deals on AMD Ryzen powered GA35 gaming PCs:
Variant 1: Ryzen 7 3800X, 32GB RAM/2TB HDD + 1TB SSD, RTX 2080 Super
Deal Price: ₹ 2,18,990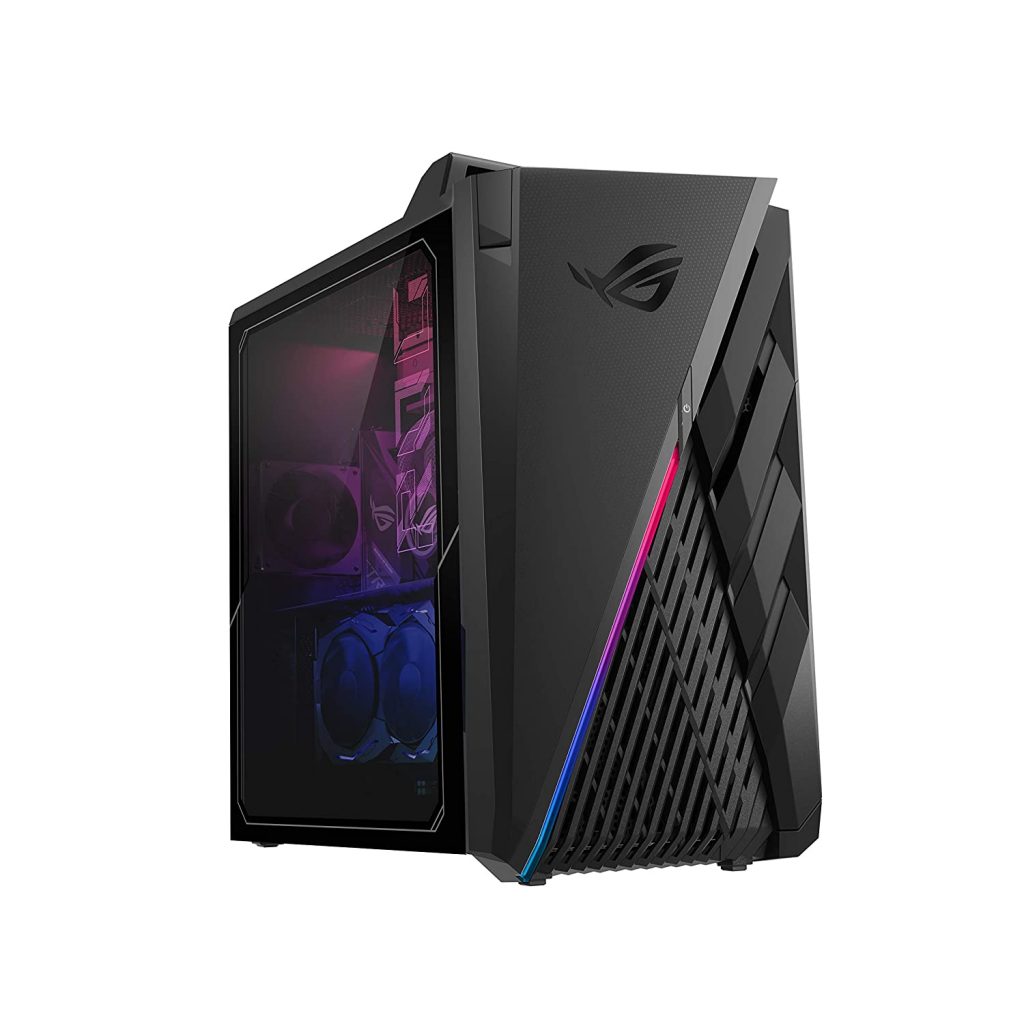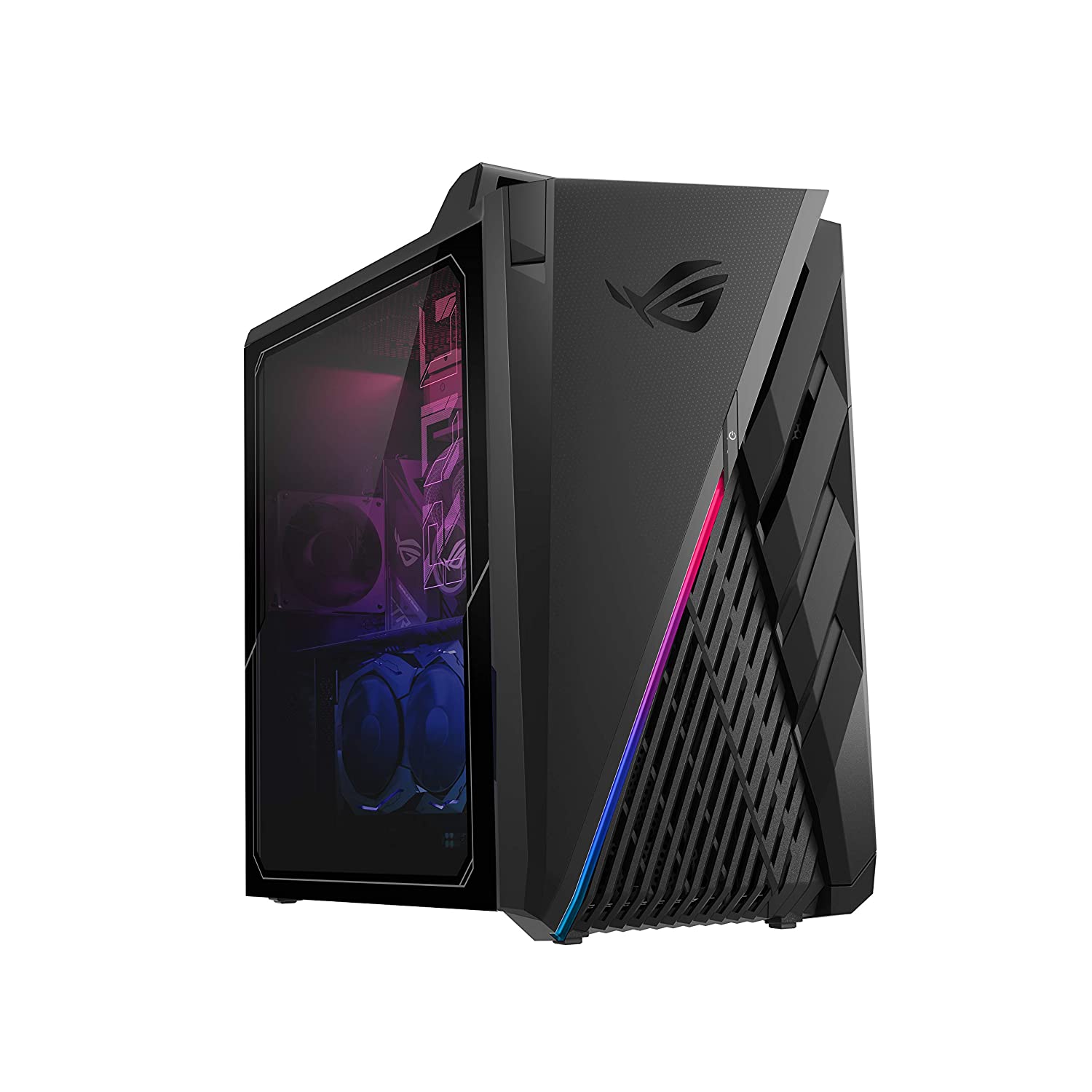 Processor: AMD Ryzen 7-3800X, 3.9 GHz Base Speed, Up to 4.5 GHz Turbo Boost Speed, 8 Cores, 16 Threads, 32MB Cache
Memory & Storage: 32GB (2x 16GB) DDR4 3200MHz Dual Channel RAM with | Storage: 2TB SATA 7200RPM 3.5″ HDD + 1TB M.2 NVMe PCIe 4.0 SSD
Graphics: NVIDIA GeForce RTX 2080 SUPER GDDR6 8GB VRAM (1x HDMI, 2x DP, 1x USB Type-C)
Motherboard: AMD X570 Chipset | Form Factor: ATX | Serial ATA: 8 x SATA 6.0Gb/s ports | Thermal : 240mm Liquid Cooler | Power Supply (PSU) : 700W 80 PLUS (GOLD)
Expansion Slot: 2 x PCIe 4.0 x1 | 3 x PCIe 4.0 x16 | 2 x M.2 connector for SSD | 4 x DDR4 U-DIMM Slots | 2 x 2.5-inch Hot-Swap Bays | 1 x 3.5-inch Drive Bay
Chassis: Transparent side panel | Customizable RGB light effects with Aura Sync | Size: 45 Litres | Weight: 15 Kg
Operating System: Pre-Loaded Windows 10 Home with Lifetime Validity | Software: Includes 1 month Trial for New Microsoft Office 365 Customers
Other: Wi-Fi 5 (802.11ac) 2*2 | Bluetooth 5.0 | Audio: Sonic Studio | SupremeFX S1220A CODEC
Front I/O Port : 2x USB 3.2 Gen 1 Type-A | 2x USB 3.2 Gen 1 Type-C | 1x Headphone | 1x Microphone
Rear I/O Port: 1x Mic-in | 1x Center / Sub Woofer | 1x Front Speaker Out (Line Out) | 1x Rear Speaker Out | 1x Line-in | 1x S/PDIF-Out | 1x RJ45 Gigabit Ethernet | 2x HDMI-Out | 1x DisplayPort | 4x USB 3.2 Gen 1 Type-A | 3x USB 3.2 Gen 2 Type-A | 1x USB 3.2 Gen 2 Type-C
Buy from here: https://amzn.to/3uxoRNR
Variant 2: Ryzen 7 3800X, 16GB RAM/1TB HDD + 512GB SSD, RTX 2070 Super
Deal Price: ₹ 1,76,171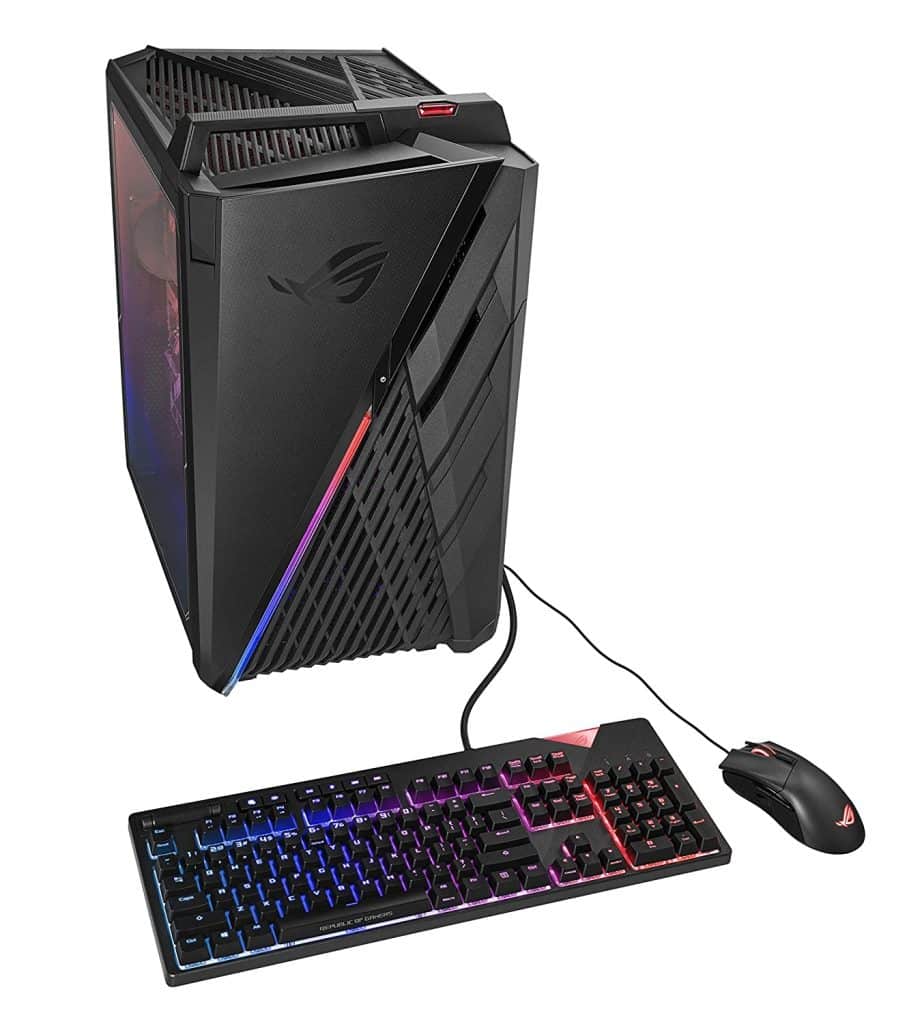 Processor: AMD Ryzen 7-3800X, 3.9 GHz Base Speed, Up to 4.5 GHz Turbo Boost Speed, 8 Cores, 16 Threads, 32MB Cache
Memory & Storage: 16GB (2x 8GB) DDR4 3200MHz Dual Channel RAM with | Storage: 1TB SATA 7200RPM 3.5″ HDD + 512GB M.2 NVMe PCIe 3.0 SSD
Graphics: NVIDIA GeForce RTX 2070 SUPER GDDR6 8GB VRAM (1x HDMI, 3x DP)
Motherboard: AMD X570 Chipset | Form Factor: ATX | Serial ATA: 8 x SATA 6.0Gb/s ports | Thermal : 240mm Liquid Cooler | Power Supply (PSU) : 700W 80 PLUS (GOLD)
Expansion Slot: 2 x PCIe 4.0 x1 | 3 x PCIe 4.0 x16 | 2 x M.2 connector for SSD | 4 x DDR4 U-DIMM Slots | 2 x 2.5-inch Hot-Swap Bays | 1 x 3.5-inch Drive Bay
Chassis : Transparent side panel | Customizable RGB light effects with Aura Sync | Size: 45 Litres | Weight : 15 Kg
Operating System: Pre-Loaded Windows 10 Home with Lifetime Validity | Software: Includes 1 month Trial for New Microsoft Office 365 Customers
Other: Wi-Fi 5 (802.11ac) 2*2 | Bluetooth 5.0 | Audio: Sonic Studio | SupremeFX S1220A CODEC
Front I/O Port : 2x USB 3.2 Gen 1 Type-A | 2x USB 3.2 Gen 1 Type-C | 1x Headphone | 1x Microphone
Rear I/O Port: 1x Mic-in | 1x Center / Sub Woofer | 1x Front Speaker Out (Line Out) | 1x Rear Speaker Out | 1x Line-in | 1x S/PDIF-Out | 1x RJ45 Gigabit Ethernet | 2x HDMI-Out | 1x DisplayPort | 4x USB 3.2 Gen 1 Type-A | 3x USB 3.2 Gen 2 Type-A | 1x USB 3.2 Gen 2 Type-C
Buy from here: https://amzn.to/3vwXG7h
Variant 3: Ryzen 7 3800X, 16GB RAM/1TB HDD + 512GB SSD, RTX 2060 Super
Deal Price: ₹ 1,76,171 – ₹ 13,092 via coupon = ₹ 163,079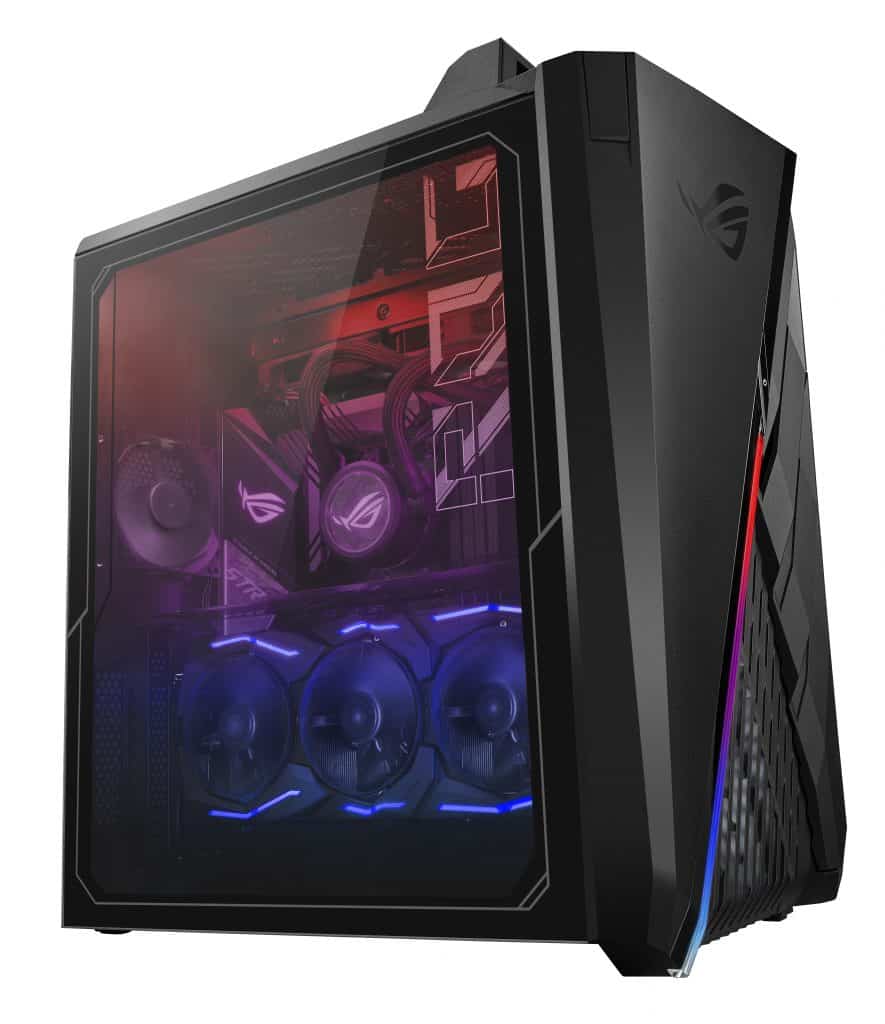 Processor: AMD Ryzen 7-3800X, 3.9 GHz Base Speed, Up to 4.5 GHz Turbo Boost Speed, 8 Cores, 16 Threads, 32MB Cache
Memory & Storage: 16GB DDR4 3200MHz RAM with | Storage: 1TB SATA 7200RPM 3.5″ HDD + 512GB M.2 NVMe PCIe 3.0 SSD
Graphics: NVIDIA GeForce RTX 2060 SUPER GDDR6 8GB VRAM (2x HDMI, 2x DP)
Motherboard: AMD X570 Chipset | Form Factor: ATX | Serial ATA: 8 x SATA 6.0Gb/s ports | Thermal : 240mm Liquid Cooler | Power Supply (PSU) : 500W 80 PLUS
Expansion Slot: 2 x PCIe 4.0 x1 | 3 x PCIe 4.0 x16 | 2 x M.2 connector for SSD | 4 x DDR4 U-DIMM Slots | 2 x 2.5-inch Hot-Swap Bays | 1 x 3.5-inch Drive Bay
Chassis : Transparent side panel | Customizable RGB light effects with Aura Sync | Size: 45 Litres | Weight : 15 Kg
Operating System: Pre-Loaded Windows 10 Home with Lifetime Validity | Software: Includes 1 month Trial for New Microsoft Office 365 Customers
Other: Wi-Fi 5 (802.11ac) 2*2 | Bluetooth 5.0 | Audio: Sonic Studio | SupremeFX S1220A CODEC
Front I/O Port : 2x USB 3.2 Gen 1 Type-A | 2x USB 3.2 Gen 1 Type-C | 1x Headphone | 1x Microphone
Rear I/O Port: 1x Mic-in | 1x Center / Sub Woofer | 1x Front Speaker Out (Line Out) | 1x Rear Speaker Out | 1x Line-in | 1x S/PDIF-Out | 1x RJ45 Gigabit Ethernet | 2x HDMI-Out | 1x DisplayPort | 4x USB 3.2 Gen 1 Type-A | 3x USB 3.2 Gen 2 Type-A | 1x USB 3.2 Gen 2 Type-C
Buy from here: https://amzn.to/3vx0XTX
Variant 4: Ryzen 9 3900X, 16GB RAM/1TB HDD + 1TB SSD, RTX 2080 Super
Deal Price: ₹ 2,40,090 – ₹ 1,000 via coupon = ₹ 2,39,090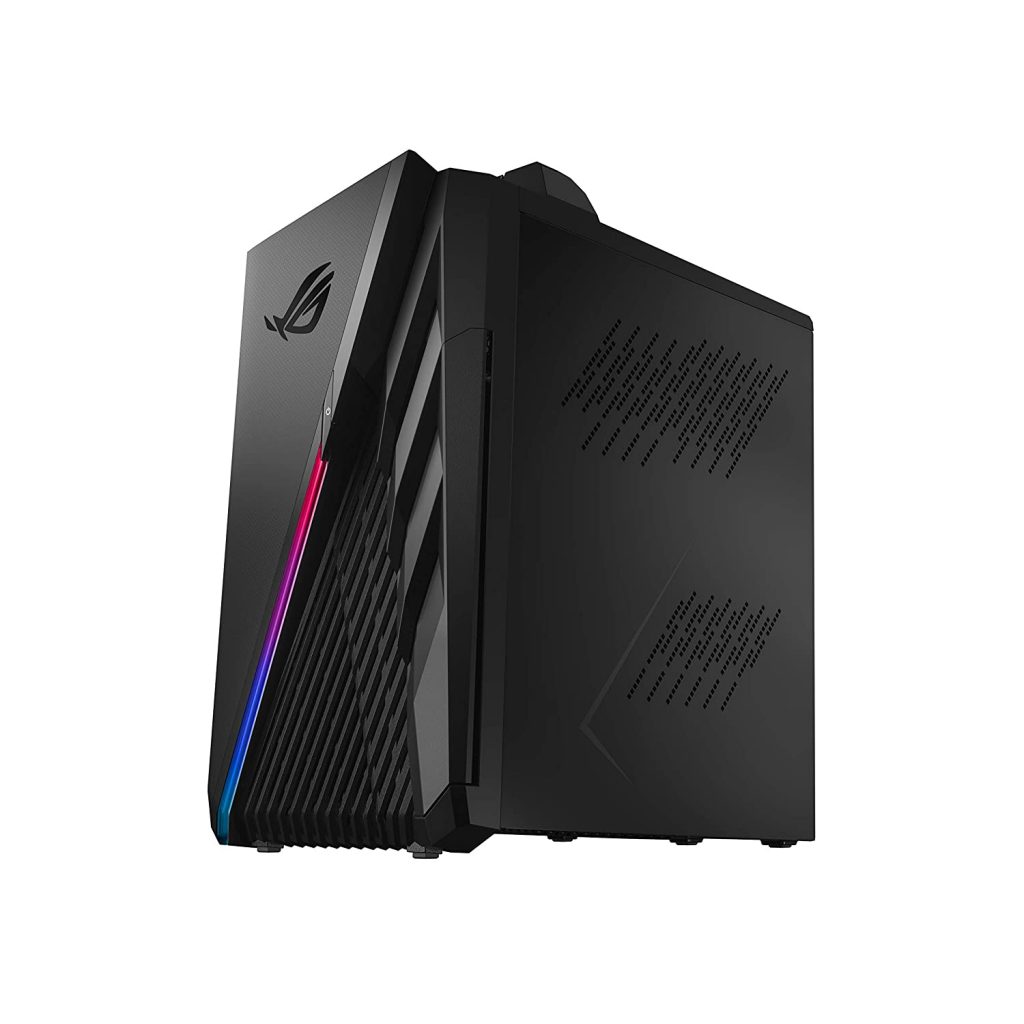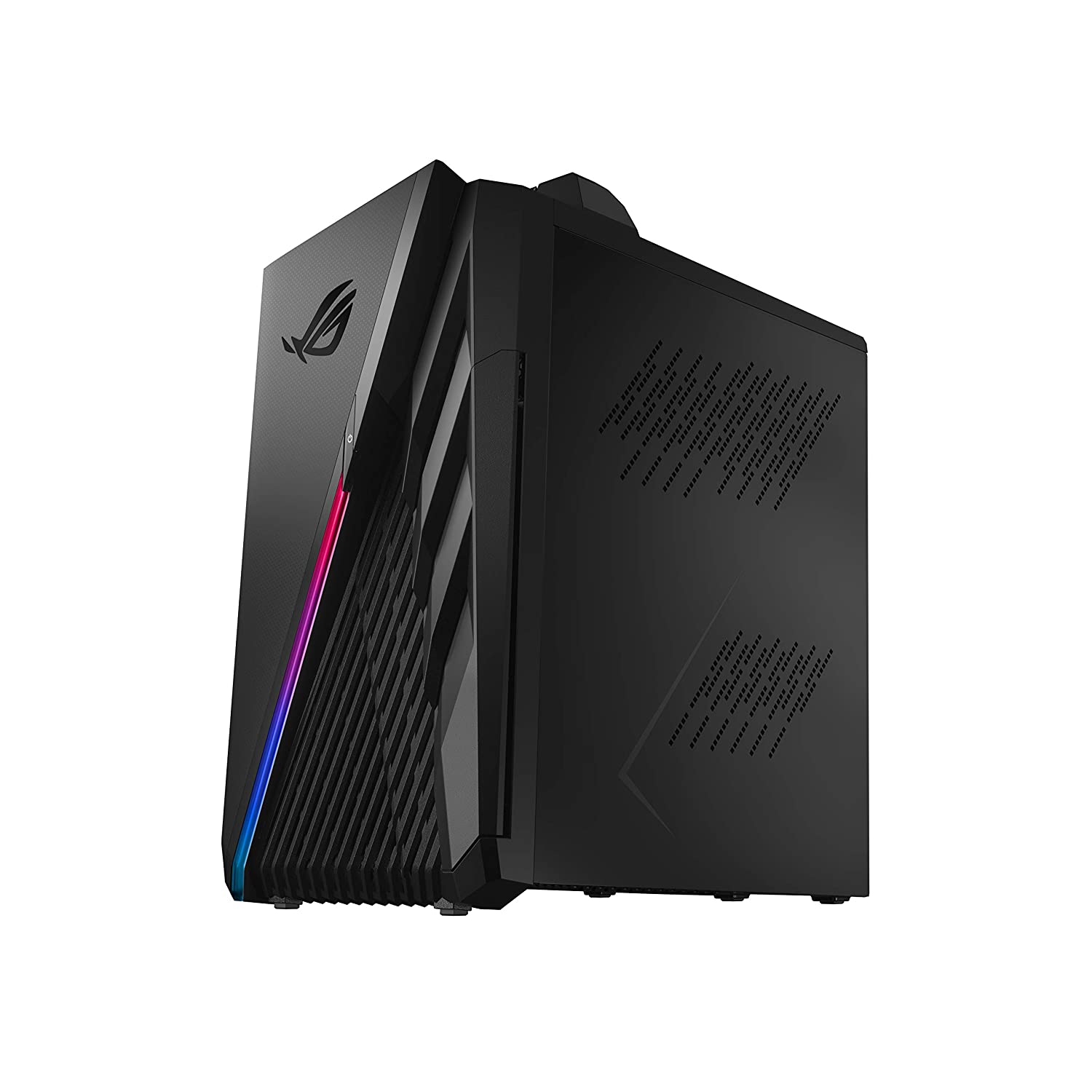 Processor: AMD Ryzen 9 3900X, 3.8 GHz Base Speed, Up to 4.6 GHz Turbo Boost Speed, 12 Cores, 24 Threads, 64MB Cache
Memory & Storage: 16GB (2x 8GB) DDR4 3200MHz Dual Channel RAM with | Storage: 1TB SATA 7200RPM 3.5″ HDD + 1TB M.2 NVMe PCIe 4.0 SSD
Graphics: NVIDIA GeForce RTX 2080 SUPER GDDR6 8GB VRAM (1x HDMI, 2x DP, 1x USB Type-C)
Motherboard: AMD X570 Chipset | Form Factor: ATX | Serial ATA: 8 x SATA 6.0Gb/s ports | Thermal : 240mm Liquid Cooler | Power Supply (PSU) : 700W 80 PLUS (GOLD)
Expansion Slot: 2 x PCIe 4.0 x1 | 3 x PCIe 4.0 x16 | 2 x M.2 connector for SSD | 4 x DDR4 U-DIMM Slots | 2 x 2.5-inch Hot-Swap Bays | 1 x 3.5-inch Drive Bay
Chassis: Transparent side panel | Customizable RGB light effects with Aura Sync | Size: 45 Litres | Weight: 15 Kg
Operating System: Pre-Loaded Windows 10 Home with Lifetime Validity | Software: Includes 1 month Trial for New Microsoft Office 365 Customers
Other: Wi-Fi 5 (802.11ac) 2*2 | Bluetooth 5.0 | Audio: Sonic Studio | SupremeFX S1220A CODEC
Front I/O Port : 2x USB 3.2 Gen 1 Type-A | 2x USB 3.2 Gen 1 Type-C | 1x Headphone | 1x Microphone
Rear I/O Port: 1x Mic-in | 1x Center / Sub Woofer | 1x Front Speaker Out (Line Out) | 1x Rear Speaker Out | 1x Line-in | 1x S/PDIF-Out | 1x RJ45 Gigabit Ethernet | 2x HDMI-Out | 1x DisplayPort | 4x USB 3.2 Gen 1 Type-A | 3x USB 3.2 Gen 2 Type-A | 1x USB 3.2 Gen 2 Type-C
Buy from here: https://amzn.to/34q5UCa
Here are the best deals on 10th Gen Intel powered GT35 gaming PCs:
Variant 1: Intel Core i9 10900KF, 32GB RAM/1TB NVMe SSD + 1TB HDD, RTX 2080 Super
Deal Price: ₹ 2,33,690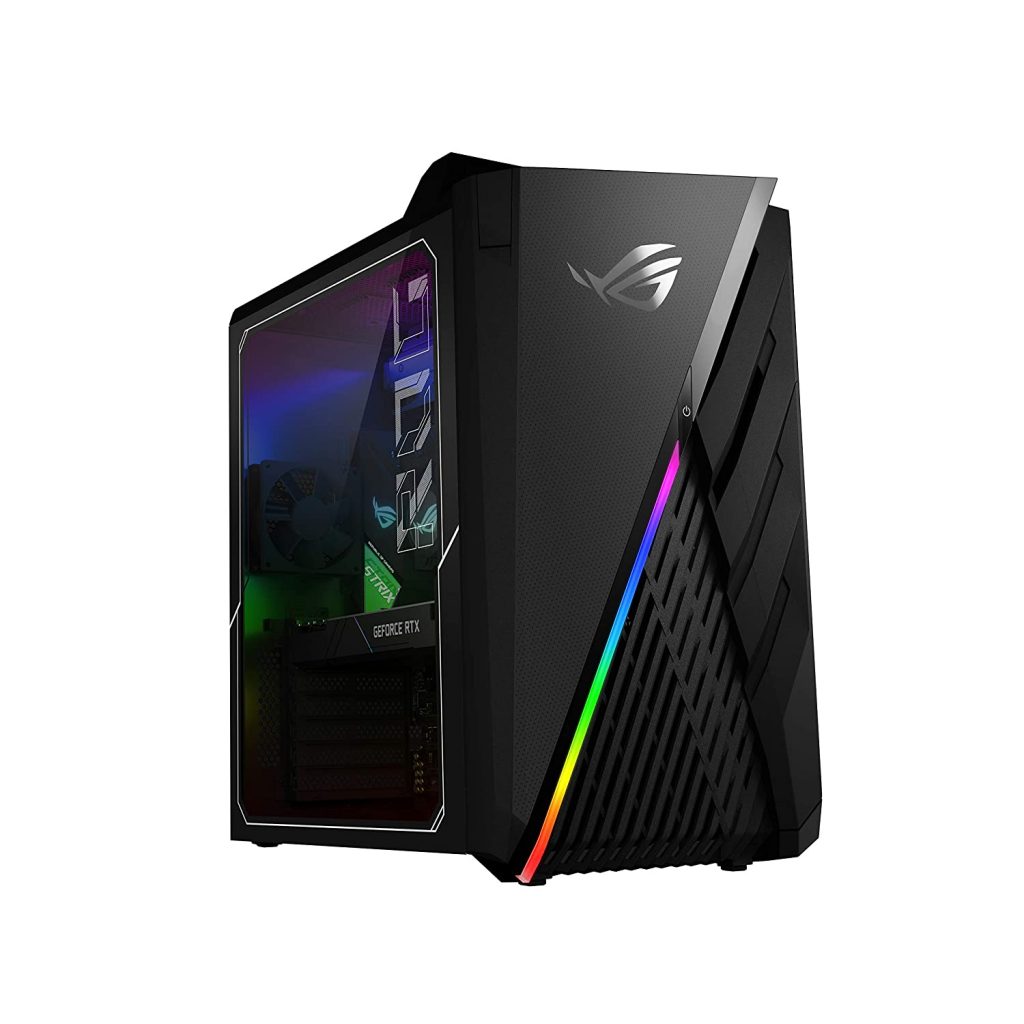 Processor: 10th Gen Intel Core i9-10900KF, 3.7 GHz Base Speed, Up to 5.3 GHz Turbo Boost Speed, 10 Cores, 20 Threads, 20MB Cache
Memory & Storage: 32GB (2x 16GB) DDR4 3200MHz Dual Channel RAM with | Storage: 1TB SATA 7200RPM 3.5″ HDD + 1TB M.2 NVMe PCIe 3.0 SSD
Graphics: NVIDIA GeForce RTX 2080 SUPER GDDR6 8GB VRAM (1x HDMI, 2x DP, 1x USB Type-C)
Motherboard: Intel Z490 Chipset | Thermal : 240mm Liquid Cooler | Power Supply (PSU) : 700W 80 PLUS (GOLD)
Expansion Slot: 2 x PCIe 3.0 x1 | 3 x PCIe 3.0 x16 | 2 x M.2 connector for SSD | 4 x DDR4 U-DIMM Slots | 2 x 2.5-inch Hot-Swap Bays | 1 x 3.5-inch Drive Bay
Chassis: Transparent side panel | Customizable RGB light effects with Aura Sync | Size: 45 Litres | Weight: 15 Kg
Operating System: Pre-Loaded Windows 10 Home with Lifetime Validity | Software: Includes 1 month Trial for New Microsoft Office 365 Customers
Other: Intel Wi-Fi 6 (Gig+) 2*2 | Bluetooth 5.0 | Audio: Sonic Studio | SupremeFX S1220A CODEC
Front I/O Port : 2x USB 3.2 Gen 1 Type-A | 2x USB 3.2 Gen 1 Type-C | 1x Headphone | 1x Microphone
Rear I/O Port: 1x USB 3.2 Gen 2 Type-C | 2x USB 3.2 Gen 1 Type-A | 2x USB 2.0 Type-A | 3x USB 3.2 Gen 2 Type-A | 1x Mic-in | 1x Center / Sub Woofer | 1x Front Speaker Out (Line Out) | 1x RJ45 2.5G Ethernet | 1x Rear Speaker Out | 1x Line-in | 1x S/PDIF-Out | 1x HDMI-Out | 1x DisplayPort
Buy from here: https://amzn.to/3fwaFjZ
Variant 2: Intel Core i7 10700KF, 32GB RAM/2TB HDD + 512GB NVMe SSD, RTX 2080 Super
Deal Price: ₹ 2,14,990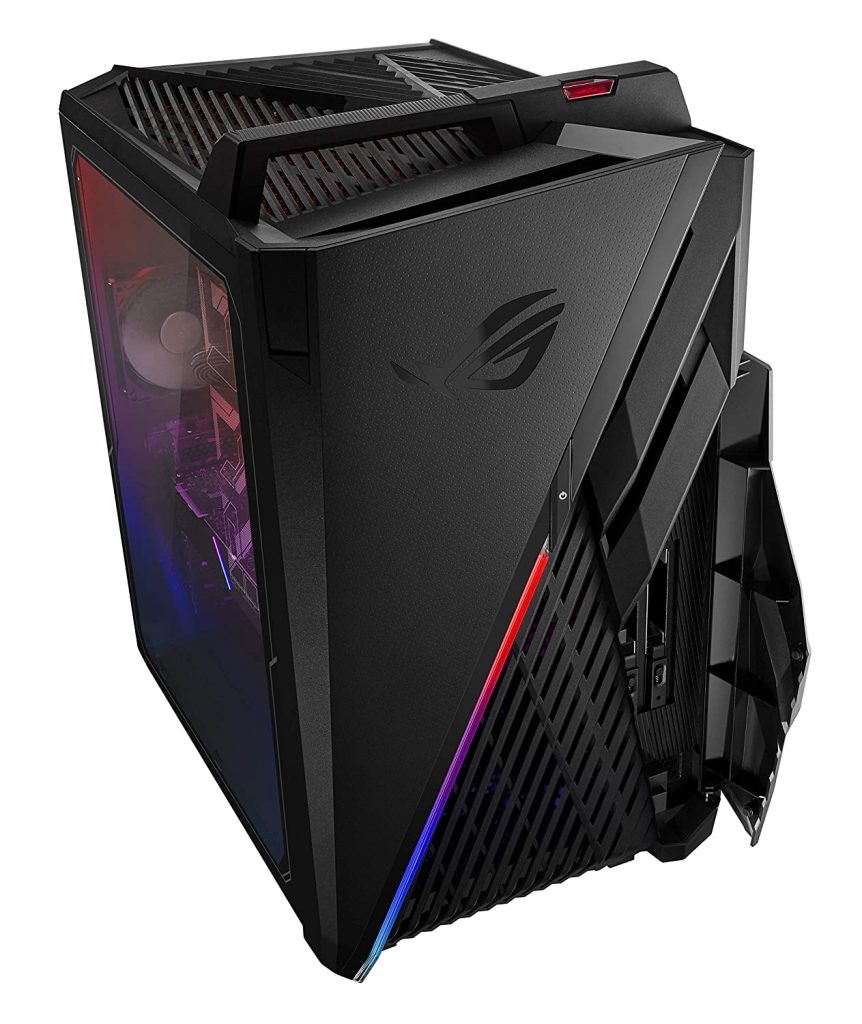 Processor: 10th Gen Intel Core i7-10700KF, 3.8 GHz Base Speed, Up to 5.0 GHz Turbo Boost Speed, 8 Cores, 16 Threads, 16MB Cache
Memory & Storage: 32GB (2x 16GB) DDR4 2933MHz Dual Channel RAM with | Storage: 2TB SATA 7200RPM 3.5″ HDD + 512GB M.2 NVMe PCIe 3.0 SSD
Graphics: NVIDIA GeForce RTX 2080 SUPER GDDR6 8GB VRAM (1x HDMI, 2x DP, 1x USB Type-C)
Motherboard: Intel Z490 Chipset | Thermal : 240mm Liquid Cooler | Power Supply (PSU) : 700W 80 PLUS (GOLD)
Expansion Slot: 2 x PCIe 3.0 x1 | 3 x PCIe 3.0 x16 | 2 x M.2 connector for SSD | 4 x DDR4 U-DIMM Slots | 2 x 2.5-inch Hot-Swap Bays | 1 x 3.5-inch Drive Bay
Chassis: Transparent side panel | Customizable RGB light effects with Aura Sync | Size: 45 Litres | Weight: 15 Kg
Operating System: Pre-Loaded Windows 10 Home with Lifetime Validity | Software: Includes 1 month Trial for New Microsoft Office 365 Customers
Other: Intel Wi-Fi 6 (Gig+) 2*2 | Bluetooth 5.0 | Audio: Sonic Studio | SupremeFX S1220A CODEC
Front I/O Port : 2x USB 3.2 Gen 1 Type-A | 2x USB 3.2 Gen 1 Type-C | 1x Headphone | 1x Microphone
Rear I/O Port: 1x USB 3.2 Gen 2 Type-C | 2x USB 3.2 Gen 1 Type-A | 2x USB 2.0 Type-A | 3x USB 3.2 Gen 2 Type-A | 1x Mic-in | 1x Center / Sub Woofer | 1x Front Speaker Out (Line Out) | 1x RJ45 2.5G Ethernet | 1x Rear Speaker Out | 1x Line-in | 1x S/PDIF-Out | 1x HDMI-Out | 1x DisplayPort
Buy from here: https://amzn.to/34tZjH2