Intel is supposed to make its high-performing gaming processors official May 11th but somehow they have been leaked early by HD-Tecnologia.
While the total lineup consists of just 5 processors, it is expected that Intel will make more available in some time. In the dedicated article, we covered the entire lineup, while here we will see Intel's bold claim that its mid-tier Core i5-11400H, the successor to the popular Core i5-10400H, will be able to defeat the flagship AMD Ryzen 9 5900HS.
As we already know, the 6-core Intel Core i5-11400H comes with a 2.7 GHz base clock speed and a boost of 4.5 GHz on both single and 2 cores. It comes with 12MB cache memory and DDR4-3200 RAM support. At the same time, our AMD Ryzen 9 5900HS comes with 8 Zen 3 cores and boasts a 3.0 GHz base and up to 4.6GHz boost clock speeds.

In the slideshow above, we see Intel's comparison while the manufacturer uses its sample system equipped with RTX 3060 Max-Q (65W) GPU versus ASUS's ROG Zephyrus G14, which packs RTX 3060 Max-Q with TDP at 80W.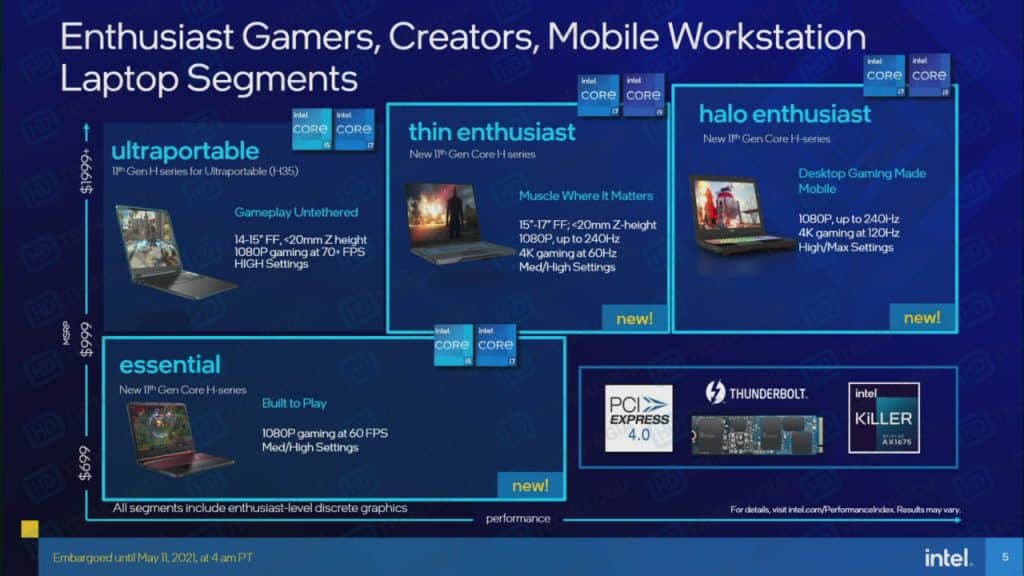 The main fact is that Intel is trying to show that despite the 15W difference in GPU power, the 6-core Intel Tiger Lake-H appears to be faster than AMD flagship CPU in 4 out of 7 games.
These slides are very common at launch as manufacturers try to show their brighter side; however, until and unless we see independent reviewers using all games to test, you cannot say anything. These Intel Tiger Lake-H will be occupying three new notebook segments: essential, thin enthusiast, and halo enthusiast.
The max setting these beefy Tiger Lake-H gaming processors promise is 1080p 240Hz panels or 4K at 120 Hz, while there is no mention of 1440p displays that are getting even more popular these days, like what is to be offered on the upcoming ROG Zephyrus M16.