Samsung has launched the Galaxy SmartTag+ in the global market yesterday. The Galaxy SmartTag+ was announced at the start of 2021 with the SmartTag but the launch of the former was revealed to be later in the year. This new product from the house of Samsung is equipped with both Bluetooth Low Energy (BLE) and ultra-wideband (UWB) technology.
It provides smart solutions by locating the tagged products with the aid of technology. Many times we find ourselves in a spot of losing key things like keys, watch, and other items. If these items are attached to the Galaxy SmartTag+ then you will be to locate them very easily by using the SmartThings Find service on your smartphone. With BLE and UWB's assistance, it accurately tracks the position of the tagged object.

It then uses augmented reality (AR) technology to use the smartphone's camera to visually direct the user to the object's position. The AR Finder which is on your smartphone tells you the distance from your tagged item. As soon as you come near to that lost object, a buzzer will be switched on to notify you. The presence of UWB technology is massive as it makes locating of object very precise, thus, the user has to put in minimal effort.
It does not only work when the lost object is near, but also when you have misplaced it somewhere far. The Executive Vice President of Samsung's Mobile Communications arm, K. J. Kim, has appreciated this technology and stated that Samsung will continue exploring more in this tech so that they can build helpful products for the customer.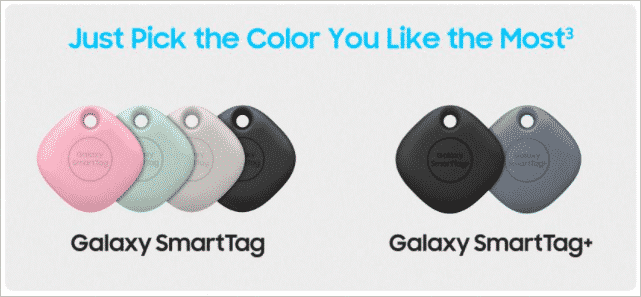 The range of the Bluetooth range is about 120 meters but reduces in attendance of obstacles. The SmartTag+ needs Android 8.0 or higher, as well as a minimum RAM capacity of 2.0GB. Another big point to note is that this product works only with devices of Galaxy which have UWB technology. The Galaxy SmartTag+ will be sold in the selected markets around the world from 16th April 2021, but it will be available in the United States in the coming weeks.
Also Read: