The day which we have been waiting for has finally arrived, NVIDIA has launched its new graphics cards based out of Ampere architecture, and its a generational leap in terms of performance. These new RTX 3000 GPUs deliver superior gaming performance even when RTX is turned on when compared to the last-gen.
NVIDIA's new Ray Tracing cores along with new Tensor cores increases the performance during games while maintaining efficiency as built on a refined 8nm process nodes by Samsung. As Jensen Huang stated, NVIDIA has completely engineered their GPUs to give drastic improvements over the last-gen.
To get almost 1.9x PERF/W improvement is note a joke and NVIDIA has partnered with Micron as well to use their faster GDDR6X memory with 19Gbps speed. Not only the new RTX 3080 is more powerful than the last-gen RTX 2080Ti but also the mid-range RTX 3070 will also be powerful over the last flagship GPU.

NVIDIA has done a lot of optimizations at the hardware level to achieve this kind of performance gains almost two times over last-gen, maintaining the efficiency, and improving the ray tracing qualities. With PCIe gen 4 and RTX IO, NVIDIA is trying to reduce game loading times and latencies, similar to what we will experience on the upcoming consoles.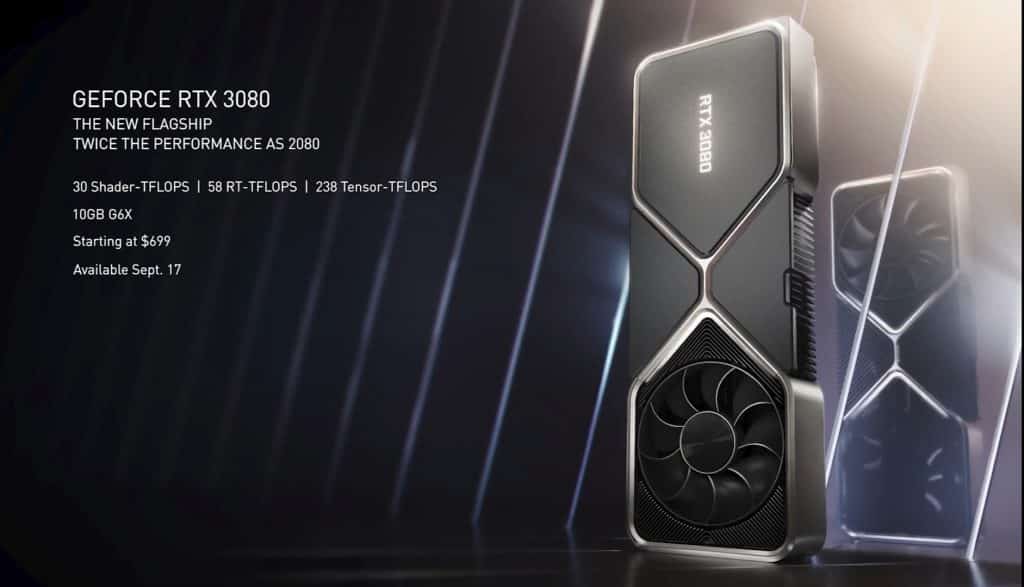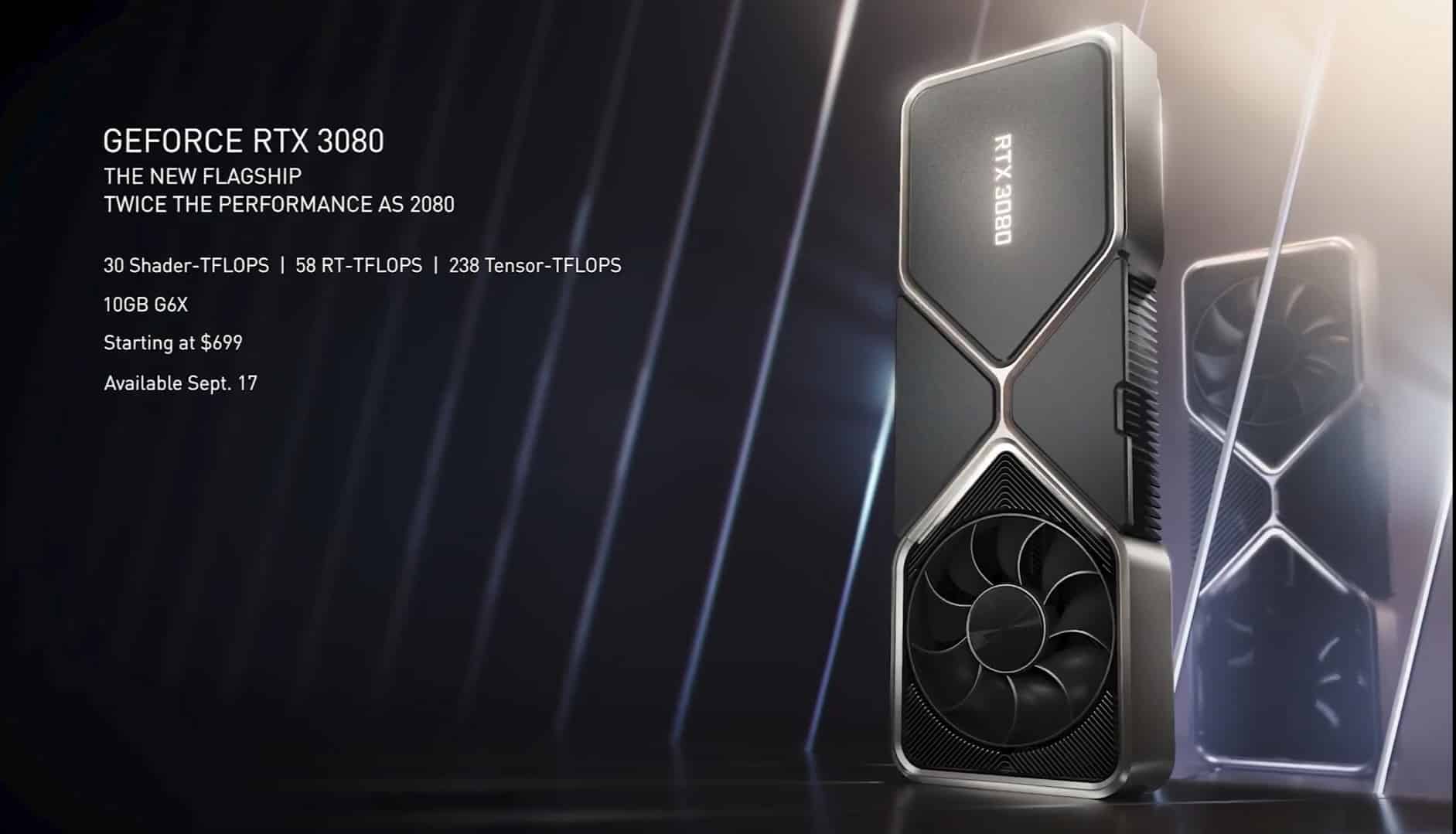 RTX 3080
This will be the new flagship GPU at the consumer standpoint as RTX 3090 will not be an option for the masses and Huang knew that, so started the presentation with the RTX 3080. Pricing it at $699 makes it's even more lucrative as it promises huge performance gains over the RTX 20 series flagships that cost incredibly more even though coming at high prices.
The new RTX 3080 has a complete design overhaul, now with 30 Shader-TFLOPS, 58 RT-FLOPS, and 238 Tensor-TFLOPS, which makes this even more powerful on the hardware front. Also coupled with high-speed GDDR6X memory running at 19Gbps, makes this an ideal 4K gaming GPU and is 2x faster than the original RTX 2080.
NVIDIA's new optimizations and DLSS 2.0 promises 4K 60 FPS gaming without any frame drops whatsoever which will make this even more popular among gamers who now have a lot of RTX enabled games in the market. As NVIDIA states: the RTX 3080 is the perfect mix of fast performance and cutting-edge capabilities, leading Huang to declare it NVIDIA's "new flagship GPU."
The NVIDIA GeForce RTX 3080 will be available from September 17th onwards at $699, we will see a lot of third party cards as well.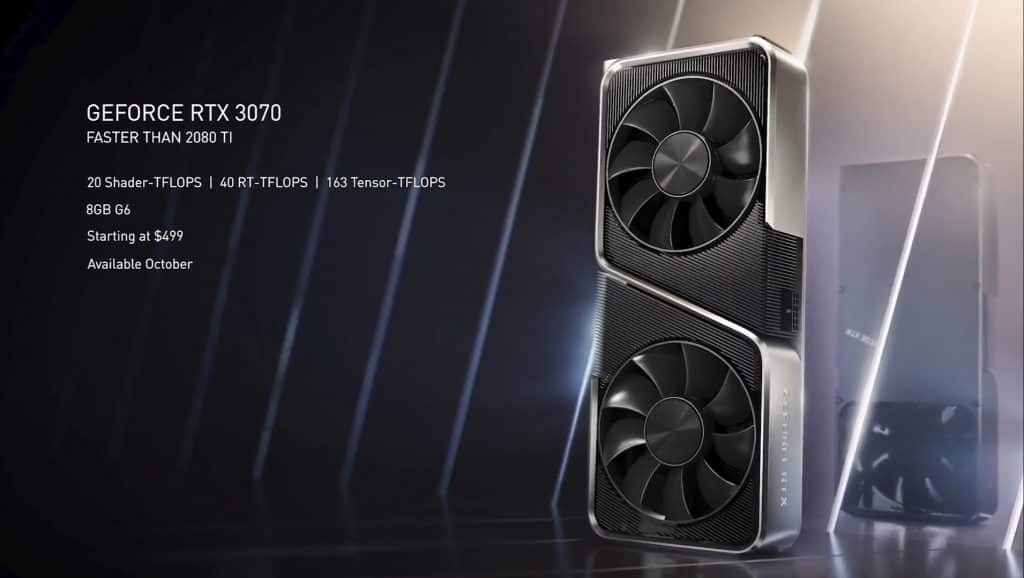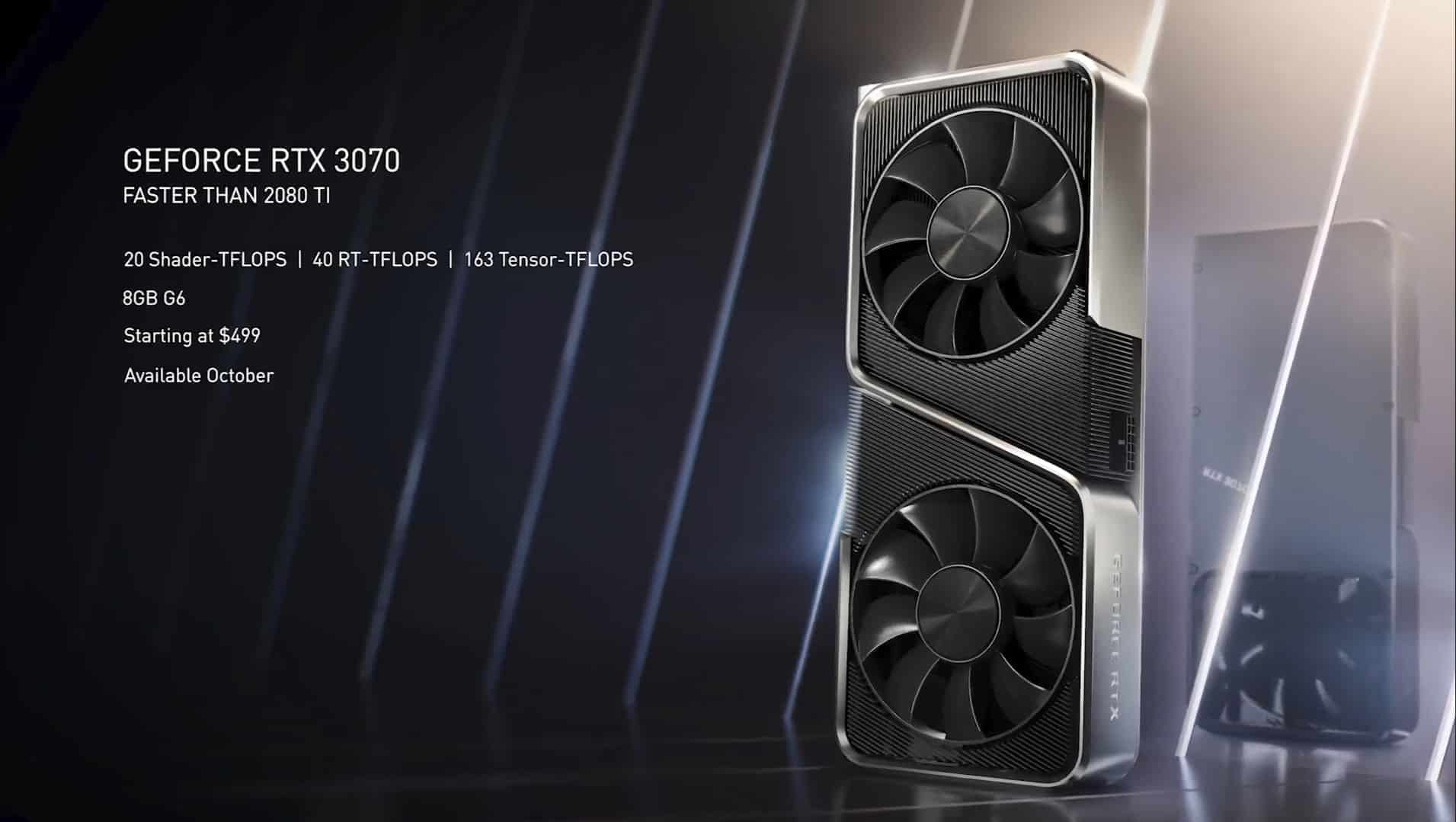 RTX 3070
The new mid-range RTX GPU that has no compromise when it comes to gaming and even is superior in terms of performance from the last flagship RTX 2080 Ti that used to cost $1,200. Yes, the new RTX 3070 that will cost $499 will be delivering better performance at half prices, this thinking only can actually bewilder you.
The architectural improvements and now with 20 Shader-TFLOPS, 40 RT-FLOPS, and 163 Tensor-TFLOPS, so you can expect amazing 1440p gaming performance even is RTX is turned on. As NVIDIA states the RTX 3070 hits the sweet spot of performance for games running with eye candy turned up. This new GPU will turn up a lot of new gamers, however, might disappoint you if you have bought a previous RTX 2080 GPU at a higher price recently.🤣
The new cooling design promises better thermal airflow from both ends and the unique design makes this even better and looks fancy as well. Overall, all of the three GPUs, including the monstrous RTX 3090 GPU has made an immediate impact among enthusiasts and its good to see NVIDIA has worked on its flaws and made it's new RTX 3000 GPUs much much better than before.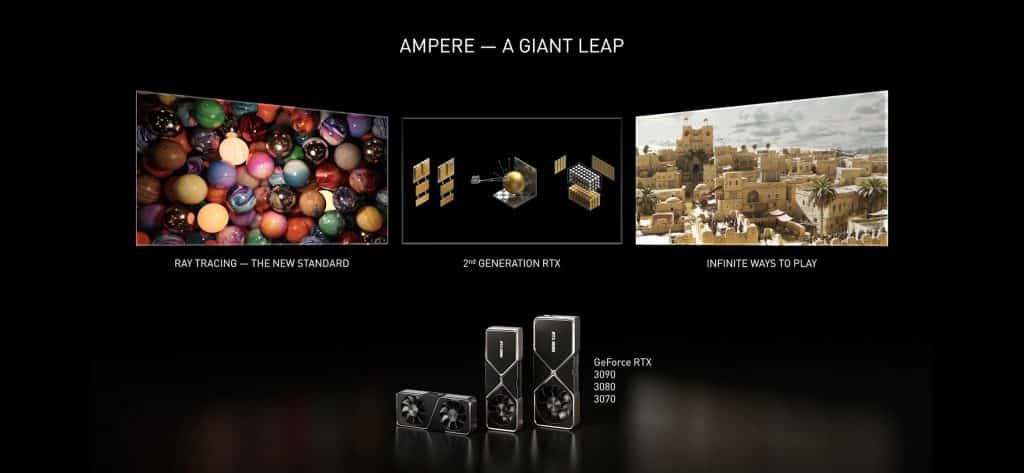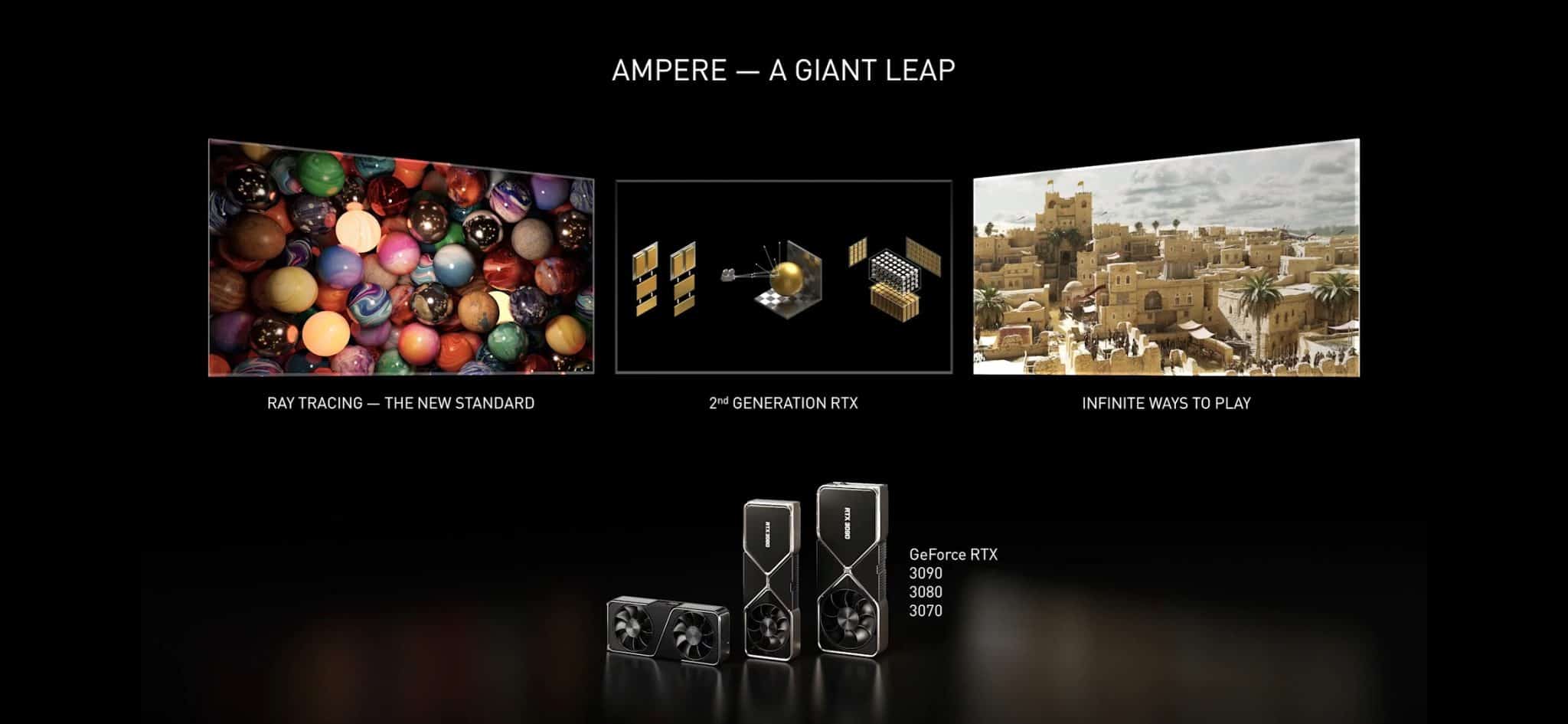 Truly, with Ampere, NVIDIA has promised a new direction to the ray-tracing gaming, and these GPUs, especially the RTX 3080 and RTX 3070 should be well received by the gaming community. Also, NVIDIA will launch the RTX 3060 in the coming days to complete its RTX 3000 lineup in style, giving gamers a lot of options to choose from with RTX on!!!
via NVIDIA
Do check out:
😎TechnoSports-stay UPDATED😎