The wait is over as today, Jensen Huang has announced the mammoth RTX 3090 GPU globally, wearing his leather jacket, at a whopping price of $1499. Ok, the price is huge, however, this is the only graphics card that can run games at 60 fps in 8K resolution. Yes, its 8K that too with DLSS 2.0 on, you can get unbelievable things with these new Ampere GPUs.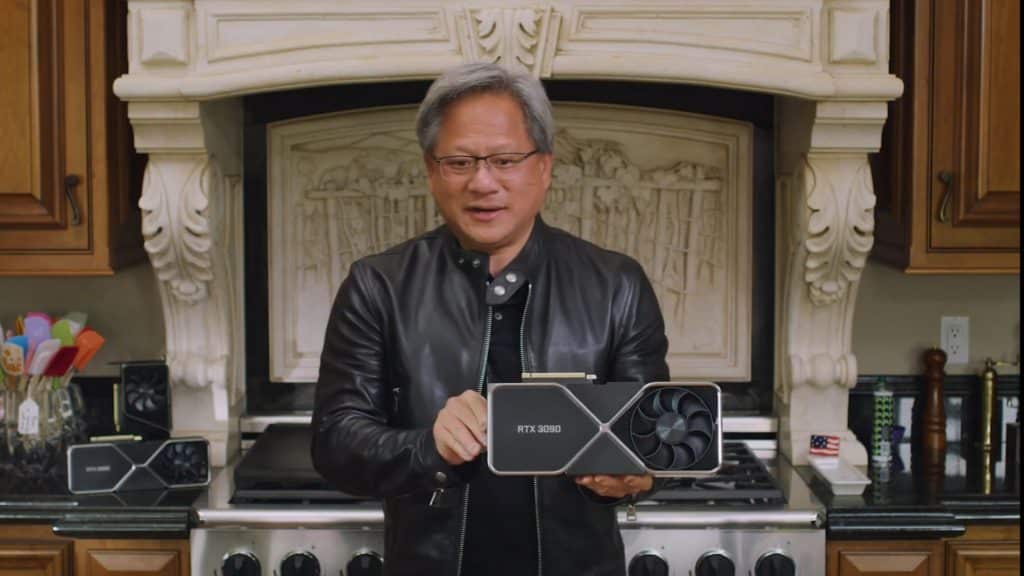 Obviously, the NVIDIA Ampere launch is "a giant step into the future" according to Huang, who was hosting the Livestream from the kitchen of his Silicon Valley home. The GPU looks exactly the same as pictured in a wide range of leaks for the past couple of weeks. NVIDIA's Turing architecture combined programmable shaders, RT Cores to accelerate ray-triangle and ray-bounding-box intersections, and the Tensor Core AI processing pipeline.
The RTX 20 series were not that convincing especially when DLSS was turned on, however, with Ampere and DLSS 2.0, things have changed drastically. NVIDIA has packed more Shader-TFLOPs, RT-FLOPS, and Tensor-TFLOPS to help fix the issue with ray tracing and actually reduce the load during gameplay using AI and the hardware. So, Ampere is a huge improvement over the last-gen when it comes to performance.
The new RTX 3090 features 36 Shader-TFLOPs, 69 RT-FLOPS, and 285 Tensor-TFLOPS, making this to be one of the most powerful commercial GPU ever. As per leaks, the GPU does also feature a whopping 24GB GDDR6X faster memory by Micron, making the card a very expensive one, but worth it.
This new beast runs at 19.5Gbps can tackle the most challenging AI algorithms and feed massive data-hungry workloads for true 8K gaming. It even comes with silencer — a three-slot, dual-axial, flow-through design — up to 10x quieter and keeps the GPU up to 30 degrees C cooler than the TITAN RTX.
"The 3090 is so big that for the very first time, we can play games at 60 frames per second in 8K," Huang said. "This is insane."
With the new NVIDIA GeForce RTX 3090, you can game at 8K resolution with RTX on with DLSS 8K, also it supports 8K HDR ShadowPlay, so you can enjoy games at high details on your 8K TV comfortably with the new flagship GPU. You can get one for yourself from September 24 onwards at $1499.
via NVIDIA
Do check out:
😎TechnoSports-stay UPDATED😎