Since its inception, Reliance Jio has come a long way with a lot of improvement in its speed and coverage along with many other amenities that have helped Indian people including, Jio Fiber, Jio Phone and a lot of lucrative offers for its customers. Jio has gained a healthy amount of subscribers each year making it the fastest-growing telecom company ever.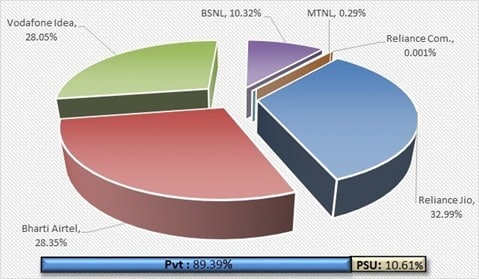 Jio emerges winner
According to TRAI's subscription report for the month of Feb 2020, Reliance Jio has gained a whopping 62 lakh subscribers in the country to make it the biggest telecom company currently.
If we see the graph as of February 2020, Jio now owns 32.99% market share in India, making it the clear winner over its two main competitors, Vodafone Idea and Bharti Airtel who have 28.05% and 28.35% market share respectively while BSNL is steady with 10.32% market share.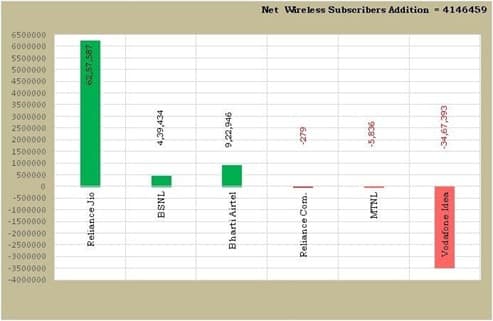 The Subscriber gain
The TRAI's report for February 2020 indicates how much loss or gain each telecom company obtained. So, the graph shows the 6.2 million new addition to wireless subscribers to Jio while BSNL and Bharti Airtel also have gained subscribers at a modest rate. The biggest setback in a number of subscribers has happened to Vodafone Idea, who lost a huge 3.4 million subscribers even after their merger and plans to retain its customers.
Jio added roughly around 7 times more subscribers than what it's primarily rival Bharti Airtel did. The share of urban and rural wireless subscribers in a total number of wireless subscribers was 55.42% and 44.58% respectively at the end of February 2020.
Who says 2020 is bad for everyone? Mukesh Ambani backed Reliance Jio is having a lovely time, having gained a series of investments upfront in this COVID-19 pandemic, making it debt-free this year. Now, with TRAI's latest report, Jio becomes the most preferred Telecom network in India.
Do check out:
😎TechnoSports-stay UPDATED😎