Coimbatore-based Boom Motors has launched its first electric bike in the form of Corbett 14, in India. The electric bike is being sold in two variants namely, the Corbett 14 and Corbett 14-X.
The former has been priced at 89,999 INR whereas the latter one has been priced at 1,24,999 INR (both prices ex-showroom). Further, Boom Motors opened the pre-bookings for both the Boom Corbett electric two-wheelers at an initial token amount of 499 INR.
The company has begin-up bookings for its e-scooter from the 12th of November, 2021. Let us take a look at the Boom Corbett 14, and the 14-EX specs: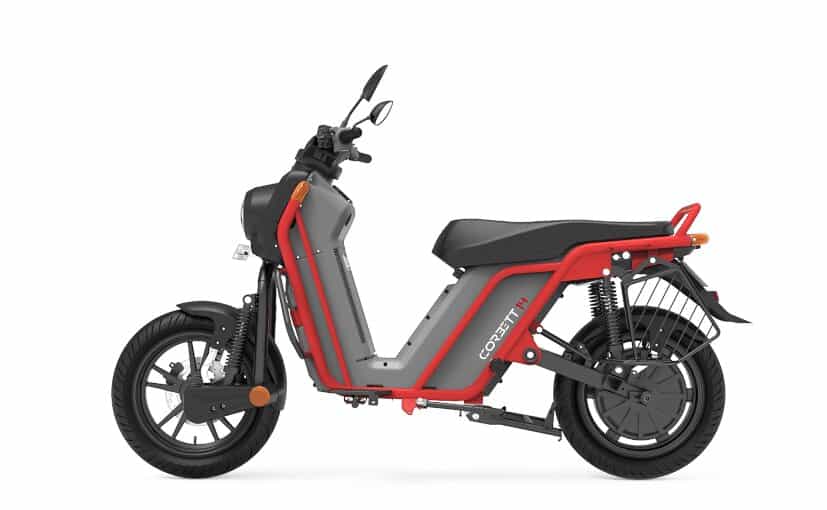 The Boom Corbett 14 features a 2.3kWh battery as well as an optional 4.6kWh battery, found on the 14-EX. The 14-EX because of that huge battery promises a range of up to 200KM on a single charge, whereas the base variant.
The Corbett 14 promises a range of up to 100KM. The batteries are swappable and come with a portable charger that can plug into household sockets. The vehicle can hit a top speed of 75kmph with the two-battery option, and supports 200KG loading, and can climb the steepest gradients.
The Boom Corbett electric two-wheeler is built on an exo-skeletal double-cradle chassis made of high-tensile steel.
Boom Motor precisely states the charging time stands at 2.5 hours with a fast charger and four hours on a standard charger on both the scooters. On the feature front, both the scooters come equipped with a LED headlamp, 30 litres of under-seat storage, and a tracking app that will tell you about the number of trees you saved, petrol consumption you have saved, CO2 emission reduced, as well as accident/theft detection and a parental mode with the usual speed indicator.
Boom Corbett launch offers and features:
Booking for the new Boom Motors Corbett electric bike, for a minimum token amount of 499 INR.
Initially, the brand is also offering an introductory discount of 3,000 INR for the Corbett 14 and 5,000 INR for the Corbett 14-EX. Deliveries of the electric bike will commence beginning January 2022.
Boom Motors is also the first EV company to offer customers to purchase its Boom Corbett
Also read: