The new Truly Wireless Headphones SBH2515BK/10 and TAT3225BK will be available at special inaugural offers on Flipkart's BSD Independence Day Sale from 5th – 9th August, 2021
SBH2515BK/10 boasts of 110+ hours of playtime while TAT3225BK is a complete entertainment solution for gen Z
New Delhi, 5 August 2021: Philips Audio offers an extensive range of TWSheadphones, headbands, neckbands, in-ear wired headphones and Bluetooth speakers that are sleek, stylish and durable. Expanding the range further, TPV Technology today announced the launch of two new Truly Wireless Headphones from the Philips audio range on the occasion of Independence Day. These TWS headphones bring a host of features including Hi-Fi Audio, excellent battery backup, seamless connectivity, and low latency for true wireless freedom and a great sound experience. The Philips SBH2515BK/10 and TAT3225BK will be priced at MRP of INR 9999 and INR 7990 respectively and will be available on Flipkart.com from 5th to 9th August 2021 at special introductory offer prices.  
The popularity of TWS earphones is on an all-time high with the category growing at 284.4% YoY with a 35% share in the overall ear wear category in 1Q21 (Source: IDC, 1Q21). Moreover, while the pandemic had a slowdown effect on many categories, the TWS category was aided by the work-from-home and study-from-home trend that gained momentum during the lockdown. Recognizing that TWS earphones are becoming a fixture in the daily lives of consumers, the new range comes with enhanced features like longer playtime with 110+ hours which supports multiple days of use with a single charge, bigger driver size for enhanced sound quality, easy pairing, seamless connectivity with latest Bluetooth technology, and sweat-resistant IPX ratings to cater to the varying needs of a diverse audience.
The Philips SBH2515BK/10 comes with 110+ hours of playtime with a USB charging case that doesn't just charge your headphones but also your phone. Not only is it a great product for people who are always on long calls but also for travellers who need long battery life to enjoy stress-free vacations. Philips TAT3225BK on the other hand is a full entertainment package that's stylish, has a 13 mm speaker driver to ensure strong bass, the latest Bluetooth 5.2 and IPX4 rating to fulfil all the utility demands of the Gen Z consumer.
Commenting on the announcement of the launch Mr Shailesh Prabhu, Country Head, TPV Technology India Pvt. Ltd. said, "The new range of Philips TWS headphones are multi-functional, offering you complete freedom and the assurance of a great audio experience. TWS as a category has been on a constant rise and their utility has only increased in the past years. They have become a key requirement for virtual meetings, e-learning and entertainment at home. These new TWS earphones are the perfect companion for the younger, style-conscious consumers who love to enjoy music, videos, gaming and more on the go."  
SBH2515BK/10 – Philips In-ear true wireless headphones
110+ hours playtime
These true wireless in-ear headphones offer a mammoth 110+ hours of playtime with a fully powered charging case. One charge from the case takes around 1.5 hours, and gives you around 5 hours playtime or talk time so now you can hit the road without any battery woes.
USB charging case
The charging case with a built-in 3350 mAH battery doesn't just charge your headphones–it also charges your phone. Simply plug your smart device into the case via the USB port and never run out of power
Comfortable and secure
You can rock your sounds in real comfort thanks to the snug-fitting, lightweight design. The soft rubberized wing tips fit securely under the fold of your outer ear. Interchangeable rubber ear-tip covers let you find the perfect in-ear fit-creating a tight seal so you won't miss a beat.
Always great sound
The 6 mm neodymium acoustic drivers give you great sound and punchy bass. The oval-shaped acoustic tube maximizes passive noise isolation. Mono mode gives you the option to leave one ear free for when you want to stay aware of the world around you.
Smart Bluetooth pairing
Your headphones are ready to pair the instant you take them out of the case. Once they're paired, the headphones remember the last device they were paired with.
Multi-function button
Easily control music and calls via the multi-function button. You can now control an array of activities like changing your music track, skipping songs, accept or rejecting calls all through a simple button-press. The built-in mic with echo cancellation keeps sounding clear when you do want to talk.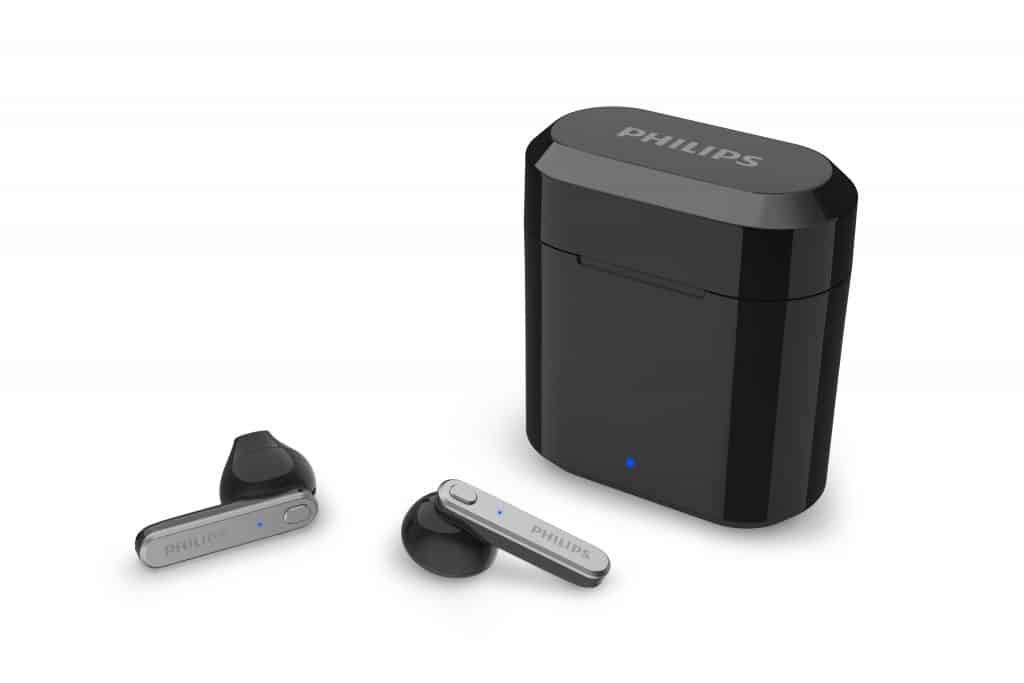 TAT3225BK- Philips In-ear wireless headphones with mic
From vital calls to a workout playlist, movies, gaming music and more
With Bluetooth 5.2 latest version you can keep going without worrying about call drops or earphones getting disconnected randomly while listening to your favourite tracks. You can switch easily between earphones as you need. Mono mode on the earphones allows you to actively use only one earphone if you want. Built-in mic with echo cancellation ensures clear audio while having a conversation.
IPX4 Certified
These earphones are splash and sweat-resistant, making them the perfect companion for your outdoor jog, or even for long term usage in humid conditions.
Powerful 13 mm drivers and up to 24 hours playtime
These earbuds are equipped with 13 mm drivers, which give not just rich bass; but also provide the best in call clarity – so whether you are listening to music or taking a call – these headphones have got you covered. You get 6 hours of playtime and an additional 18 hours with the charging case; which is sufficient enough for a full day of use. Should you run out of battery, charging those takes just 2 hours for both the earbuds and the case.
Feels good – Looks good
The TAT3225BK are ergonomically designed for a snug fit. Their compact design ensures that the earphones fit into the pocket easily and provide a secure in-ear fit that enables you to do movement-heavy work without worrying about the earphones coming off.
Easy paring, Easy use
Smart paring automatically finds your Bluetooth device, and once they're paired, the headphones remember the last device they were paired with.