India was reduced to 233/6 at stumps of Day 1 of the day-night Test by Australia in Adelaide today.
India won the toss and opted to bat first against Australia in the first Test.
Prithvi Shaw was sent back on a duck by Mitchell Starc in the first over itself. Prithvi tried to block a good length ball but left a little gap between bat and ball which took the inside edge and hit the stumps behind sending him back reeling.
Skipper Virat Kohli scored the highest with 74 runs before getting run out. Skipper Kohli first scored a 68-run partnership with the resolute and set in stone batsman, Cheteshwar Pujara. Then the skipper scored an 88-run partnership with vice-captain Ajinkya Rahane. But a confusion by Ajinkya Rahane led to the run-out of Virat Kohli, which was the changing point in the match.
From a decent score 188 runs for 3, India took the score to 206 for 6 with Rahane and, Hanuma Vihari who scored only 16 runs. Both of the middle order batsmen found the pace and swing generated by the pink ball under lights too difficult to handle. 
Later on, Wriddhiman Saha scored 9 runs and Ravichandran Ashwin for 15 runs at the crease.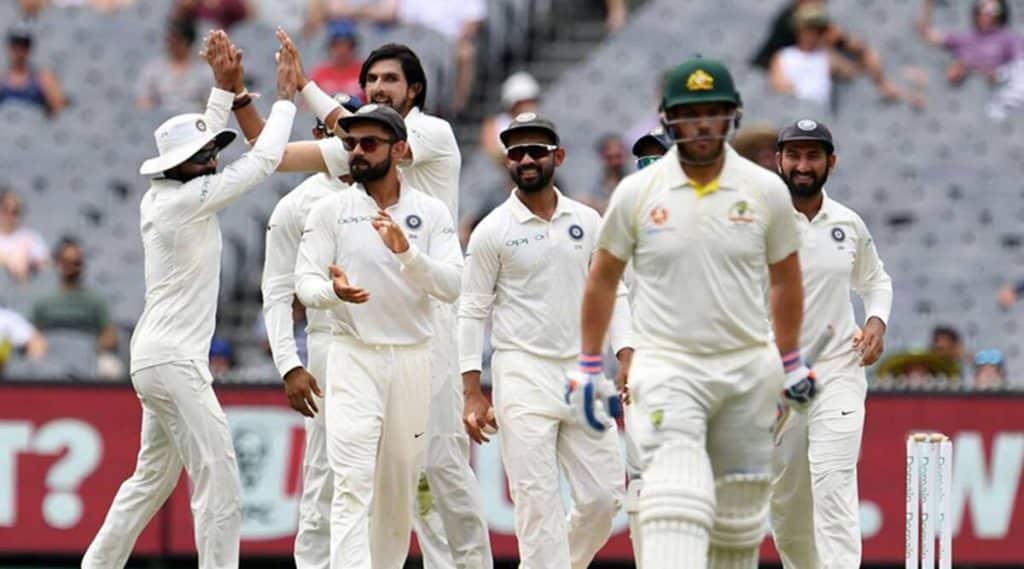 Even the former India Captain and legend, Sunil Gavaskar was disappointed by Prithvi Shaw and Mayank Agarwal over their way of dismissal after both the openers failed to give the visitors a good start in the first Test at Adelaide.
"Even today, have a look at where his bat ends. There is such a big gap between bat and pad. Just the second delivery of the game and you want to make sure that you are playing with soft hands. You are playing as late as possible. The whole idea in Test match cricket is that you don't go there. Then you are leaving that much of a gap between bat and pad, allowing for any late movement, either to get an inside edge or snick between bat and pad," told Sunil Gavaskar.
"The trick is to try and play as close to the pads as possible, which means your bat speed has to be minimal at the start of the innings. As you grow in confidence, yes then you go and play your shots. But at the start when you are not even off the mark, you want to try and reduce your bat speed. Don't leave any gap between bat and pad," Gavaskar added.
"Well again, you can have a look at this. He's (Mayank) played very hard at the ball, later on. This particular shot shows that the bat is close to the pad. It wasn't. The ball snicked through there was such a big gap..a truck could have gone. A truck could have gone between that bat and pad. So that's what the Indians are making a big mistake," Gavaskar further said on Mayank's dismissal.
On the Day 1 of first test match of Gavaskar-Border trophy, India was sent reeling by Australia at the end of the day and has definitely learnt that the Men In Blue needs more set-in-stone batsmen and also an exceptionally well bowling lineup against Australia with a more strong strategy.