- Advertisement -
Apple has made some really bold claims with their new M1 chip and touted it to be the world's fastest chip, now, it did not exactly say which chip it was comparing against but its claims seem to be genuine after the leaked Geekbench scores.
The Cupertino giant ditched Intel for its own ARM-based SoC for new Macs and with the help of 5nm process they've built an incredible low-power consuming chip with incredible performance.
As we all know the MacBook Air will have no fans this time and so the new M1 chip on this laptop will passively be cooled, however, Apple never really stopped bragging about the new MacBook Air's performance. Now, as pointed out by Notebookcheck, a new Geekbench 5 listing for the M1 MacBook Air says the new Apple Silicon is faster than an 8-core Intel Core i9-9880H found on a 16-inch MacBook Pro.
- Advertisement -
It seems the graphs that Apple was showing was indeed correct as it promised 2x more performance with just 1/2 the power as that of other laptop chips. The CPU performance per Watt is claimed to be the best in the market, thanks to the ARM architecture on a 5nm process, you are getting insane performance at just 10W TDP.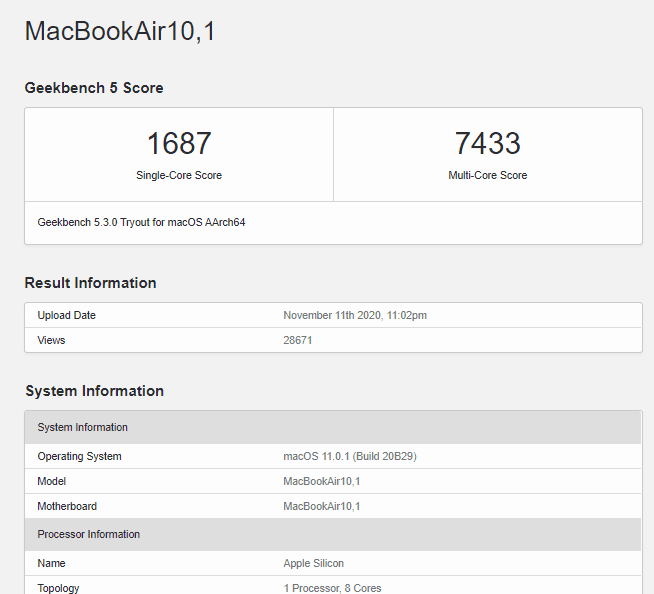 As per the Geekbench listing, the new MacBook Air runs macOS 11.0.1, using an Apple Silicon processor. So, the passively cooled laptop scored an impressive 1687 and 7433 points in the single and multi-core tests respectively.
Now, if this is compared with a Core i9-9880H running on a 16-inch MacBook Pro, the Intel CPU is 35% worse in Geekbench 5's single-core test, whereas, about 15% worse in the multi-core test. The average scores for a Core i9 CPU on a 16-inch MacBook Pro are around 1100 for single-core and 6000-6500 for multi-core. 
- Advertisement -
This kind of performance at low TDPs is absolutely unimaginable and that too this is the first chip from Apple. Why? Because the Apple M1 chip on a MacBook Air has no cooling whereas the Core i9-9880H running on a 16-inch MacBook Pro does have a great cooling system and takes more TDP (45W) than the M1 chip.
As per the Geekbench listing, the M1 chip has a base clock speed of 3.2 GHz, whereas a Core i9-9880H, has a base clock of just 2.3 GHz. Well, Apple has used a big.LITTLE architecture of ARM and still all the specs of the chip has not been revealed yet, so, if however, the Geekbench scores come out to be true then we do really need to give Apple the credit of making the M1 chip.
Do check out:
- Advertisement -
😎TechnoSports-stay UPDATED😎
- Advertisement -