- Advertisement -
Okay, so Apple has finally announced its flagship M1 chip that will be the heart of all the new Apple devices, including the MacBook Air, MacBook Pro, and the Mac Mini. Built on the latest 5nm process, Apple's new chip delivers breakthrough performance at ultra-lower power consumption.
Needless to say Apple has brought all of its expertise in making its outstanding smartphone chips into the new M1 chip. Features like Neural Engine, Secure Enclave has helped Apple built an ecosystem of new Macs that are both powerful and secure, running on the new macOS Big Sur.
Yes, Apple is genius in combining hardware and software, so this helps them getting the best performance out of its software even if they are new to this business. The time and effort made to build this new incredible chip proves the bold reason to ditch Intel as they hardly gave any performance advantage over the years.
- Advertisement -
Using ARM architecture on an x86 system is not an easy task because Qualcomm has previously done this but failed to deliver best performance and efficiency. However, Apple has used the latest 5nm process to stuff 16 billion transistors, much like what they did on A14 Bionic, and used 8 core design as well.
Although Apple has not revealed anything about the clock speed higher clock speeds are expected and Apple did claim that its cores are world's fastest. Now, that's a bold claim that needs further inspection, however, the 4 performance cores in the M1 chip have:
192KB instruction cache,
128KB data cache,
Shared 12MB L2 cache
This on paper looks pretty great and using 5nm process, Apple can further tune their chips as well. Whereas the 4 high-efficiency cores come with:
128KB instruction cache,
64KB data cache,
Shared 4MB L2 cache
- Advertisement -
This combo of high performance and efficiency cores helps Apple to cram in more battery life for its MacBooks without many upgrades. The chip at the heart of every Mac is just great on paper and the performance also looks promising as well.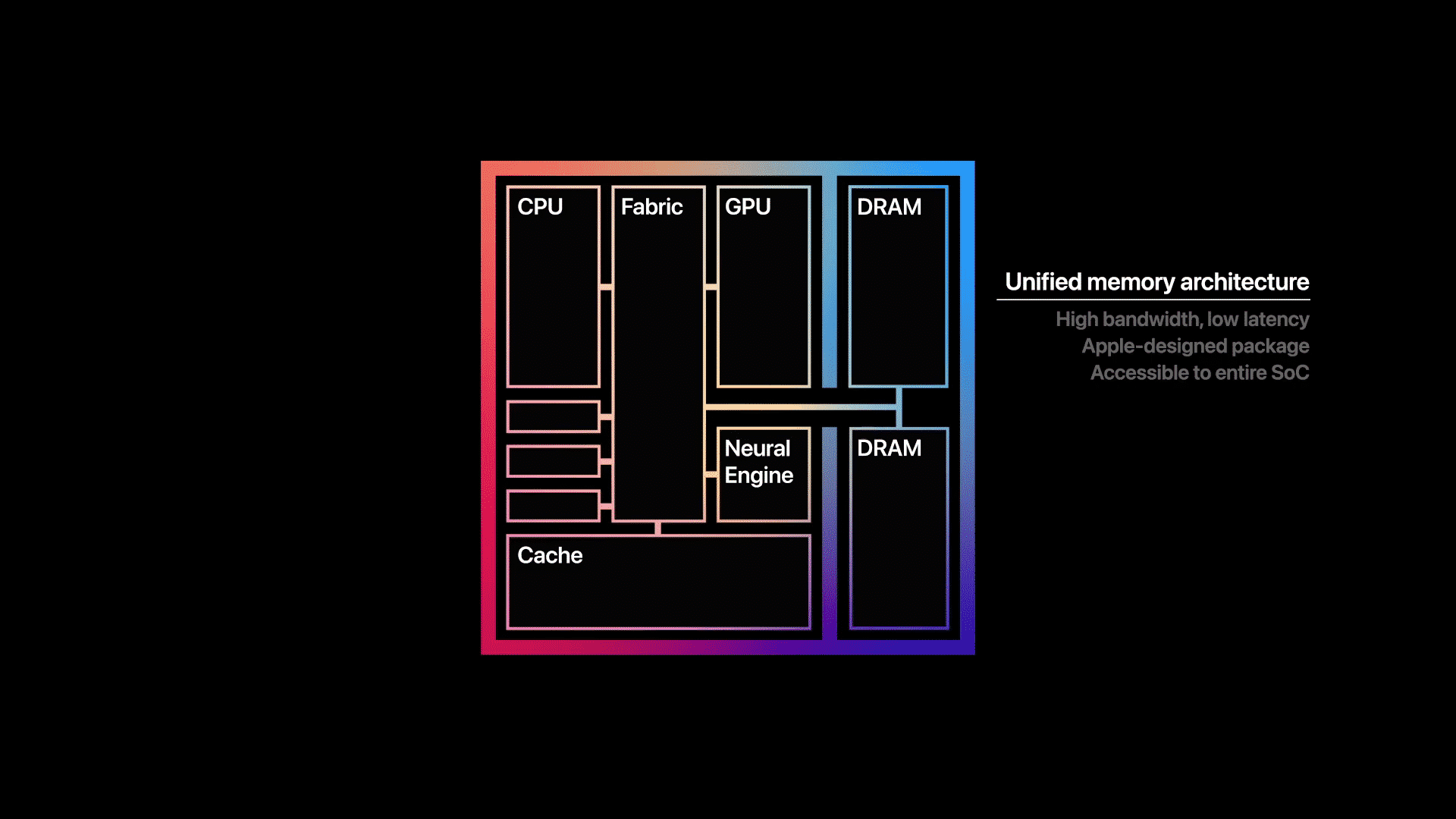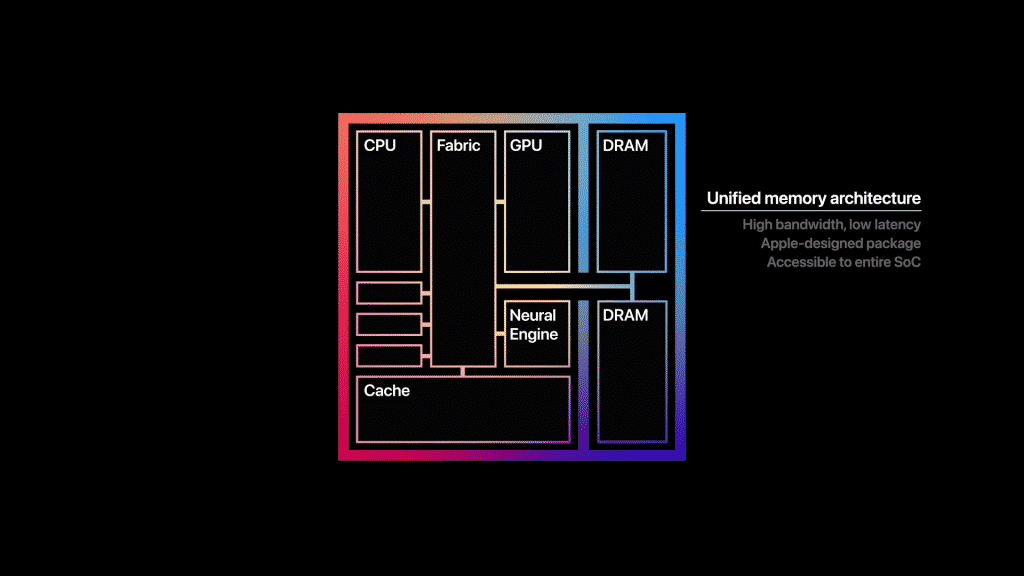 The architecture behind all of this is interesting as well, because this is a new approach which only Apple could have thought having made Apple Bionic chips for quite sometime now. It connects the cores with the cache and uses a unified memory architecture to give the highest memory bandwidth to both the CPU and GPU cores.
The cache is accessible to all cores, something that AMD has done in Zen 3 architecture, and the GPU and the Neural Engine are all connected with a fabric, which should be fast enough. The inclusion of a Neural Engine will have its own advantage as things will be much faster in Machine learning-based applications.
- Advertisement -
Apple says the efficiency of its new CPU cores are huge because we see Apple is telling it delivers 2x performance than latest laptops consuming just 1/2 the power. The CPU performance per Watt is claimed to be the best in the market and it wouldn't be impossible because of the ARM architecture on a 5nm process.
Apple has also used a 8-core GPU that promises best integrated graphics performance in the industry. It comes with 128 execution units, running up to 24,576 concurrent threads, delivering 2.6 teraflops of graphics performance. This is a heck lot of GPU horsepower for an integrated graphics design.
Apple does claim its new M1 chip to deliver the best-in-class integrated graphics that lets you edit 4K videos, use heavy applications like Adobe Premiere Pro, Photoshop, Final Cut Pro at highest resolutions, support for 6K displays, media encoding and decoding engines and what not. Truly, getting this level of GPU performance on a Mac is amazing.
This makes the new Macs much more useful and powerful than Intel-powered ones that cannot match this kind of all-around performance undoubtedly. In a nutshell, the new Apple M1 chip shows its engineering prowess, and what Apple has achieved in a short time is comparable or say a bit advanced than Intel as well.
The inclusion of 16-core Neural Engine into the new M1 chip helps to deliver great AI and machine learning performance which was never heard or used of. Developers can use this horsepower to make its applications even more useful and fast, capable of executing 11 trillion operations per second.
Secure Enclave is a new way of defining Apple's class leading security and this time too Apple has kept special attention to the security of its chips.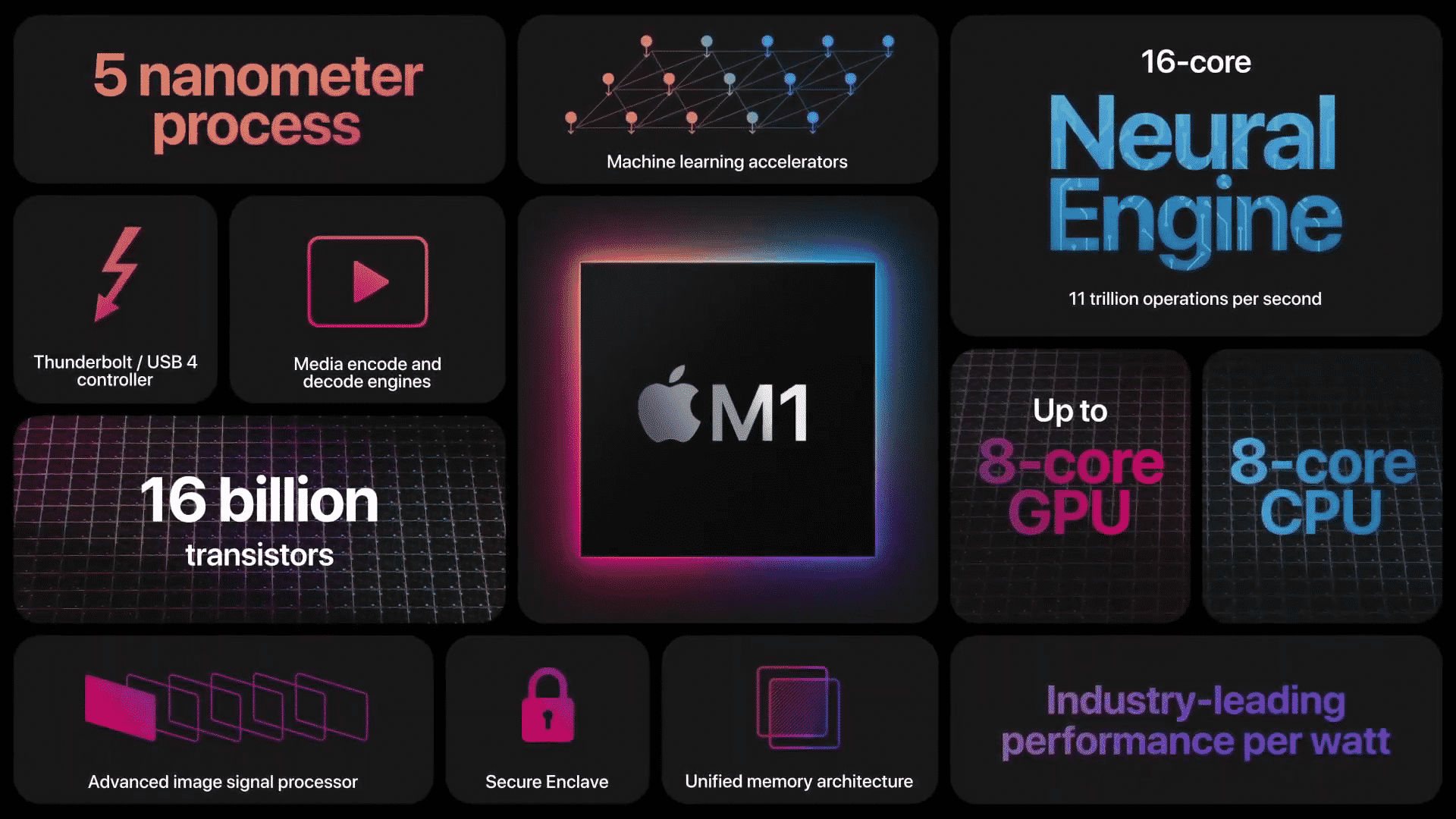 As a whole, the new Apple M1 chip is a never-seen or heard of tiny package that is much efficient, powerful, and useful, could be the best chip made for professionals who love Mac products or always wanted to get one.
Bringing needed features like Thunderbolt / USB 4 controller, Wi-Fi 6, HDR video processor, high-efficiency audio processor, and much more, makes the new M1 chip even more valuable. Retaining efficiency, Apple has promised a lot in its event which will be a point to figure out in the coming days.
Getting such power on a thin and light MacBook Air or getting more out of a cheaper Mac Mini has never been heard before is indeed possible, thanks to the new Apple M1 chip. Obviously, this transition will not be that fast, but the future of computing on Apple Silicon indeed looks promising!
Let us know your thoughts in the comments down below…😁
Do check out:
😎TechnoSports-stay UPDATED😎
- Advertisement -