Previously, this strange 10 core Intel CPU named Core i9-10850K spotted on Geekbench which raised new speculations and now the same CPU is listed on various retail sellers as well. Intel seems to be making a budget version of the Core i9-10900K, which is priced way above expectation and the inflated prices have in turn helped the Ryzen counter-parts.
New 10 Core Intel Core i9-10850K Desktop CPU
When it was spotted on Geekbench it delivered almost a flagship-level performance with all its 10 cores and 20 threads. When compared to the Core i9-10900K CPU, the upcoming CPU comes with 100 MHz lower base and boost clock speed.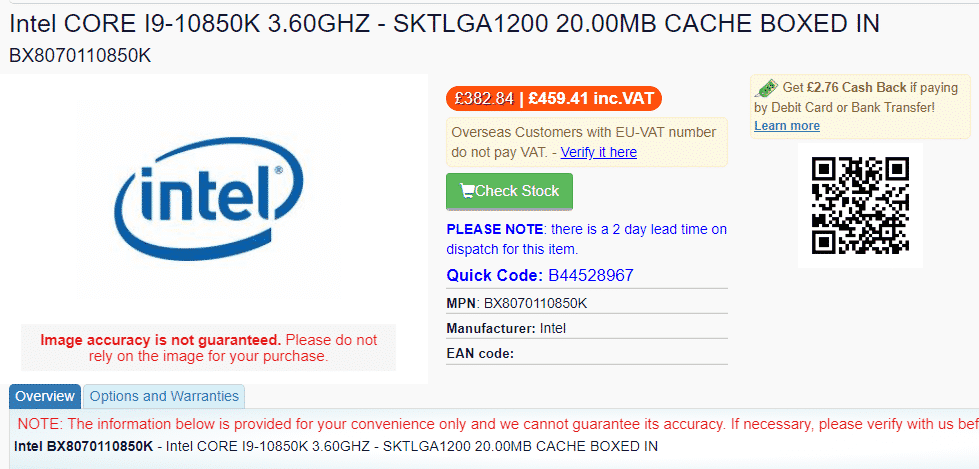 So as we see in the leaked listing that the new CPU clock speeds will be configured at 3.60 GHz base & 5.2 GHz boost, in accordance with the previous leaks. The Intel CPU, however, retains 20 MB of L3 & a total of 2.5 MB L2 cache. Even though there's no mention of TDP but as this is an overclockable 10 core monster it should have 125W TDP.
However, as this is a cut-down version of the original Core i9-10900K, so it should cost lesser than the original flagship CPU and rumours suggests the CPU be costing around $450 as the pre listings show the price as £459.41 (including VAT).
Still, how much Intel does to convince its buyers, the pricing scheme still favours AMD whose 12-core Ryzen 9 3900X is still a better choice even after a year of launch. Now with discounts, the CPU is available for around $400 which ultimately makes it a better deal honestly, Intel has to do something extraordinary to bring back its lost faith among users.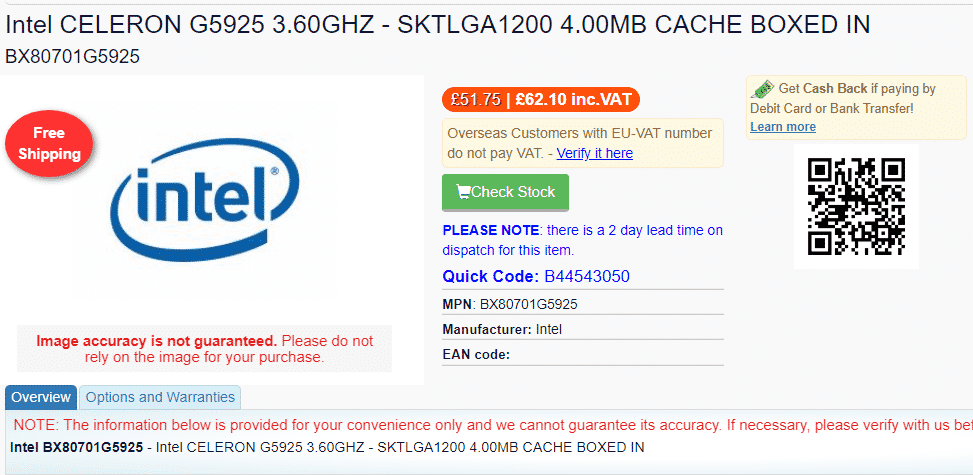 New Intel Celeron CPUs
Intel seems to be planning to replenish its low-end CPUs in the form of new Intel Celeron chips, not one, two but three new Celeron chips: the Celeron G5925, Celeron G5905, and the Celeron G5905T. These low-end CPUs still come with two cores and two threads along with 4 MB of L3 cache, while AMD's new Athlon PRO 3000 desktop APUs have more cores and threads than Intel.
The main difference in between these three Celeron chips is in the clock speeds: 3.60 GHz, 3.50 GHz, and 3.3 GHz respectively. The two regular variants will come with a TDP of 58W while the 'T' variant features a modest 35W TDP.
With the leaked retail listing you get an idea of the pricing as well, so, the new Celeron chips should retail around $50 but the specific prices are shown to be £62.20 for the G5925 while £51.06 for the G5905. The CPUs will retail with 16 PCIe Gen 3.0 lanes and come with Intel UHD-610 integrated graphics.
These CPUs will use Intel's LGA 1200 socket whose motherboards are really costly now, so using a dual-core chip in 2020 makes no sense at all using a better motherboard socket.
Intel is doing all wrong, as these new AMD Athlon PRO 3000 APUs have more cores & threads, better clock speeds and can be paired with an inexpensive AM4 platform. It's pointless to make things much more like a business and better to think from a user perspective which Intel is losing day by day.
via Wccftech
Do check out:
😎TechnoSports-stay UPDATED😎