For the past few days OnePlus is posting about "New Beginning" in its recent online promotions via their social media handles. Recently there is a big fuss about the OnePlus Z or Nord smartphone that may redefine a new budget segment for the brand. We have covered some news about the new budget-oriented smartphone of the brand. There were several leaks and official hints regarding that smartphone as well.
OnePlus had sent some invites to follow a new private Instagram account @OnePlusLiteZThing where they have just posted four images revealing about a new smartphone that is in making. The name indicates something special as it does not says anything about OnePlus' particular series. It mentions both "Lite" and "Z" simultaneously and clearly indicates a new segment is going to pop-up in the near future.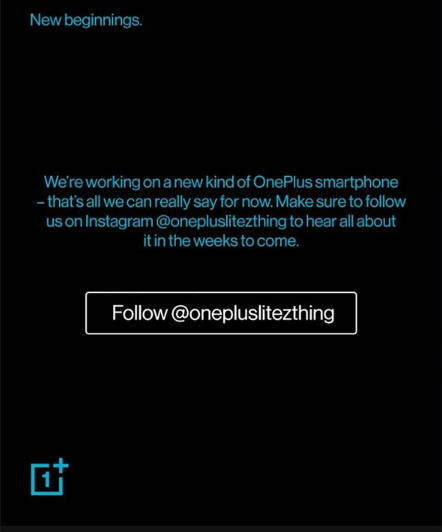 The recent post in the Instagram account gave a code that converts into "July" after decoding it. This only indicates that the launch of the "new kind of OnePlus smartphone" will launch in July. The forum post by CEO Pete Lau is a bit more direct where he promises the same "premium, flagship experience" but delivered as part of a "new, more affordable smartphone product line".
In the beginning when there were only rumors of the smartphone then OnePlus Z was the most common name we were using to identify it, but recently a new name occurred instead of 'Z' it is replaced with 'Nord'. We still don't know which one is the final name for this device but we do know that it will be graded down and will have toned down features instead of such flagship specifications at a very less price.
Specifications were tipped via several leaks and we have discussed them in previous articles.