Apple came into the discussion lately as rumors claim that the brand is working on Smart Glasses and is expected to sell Augmented Reality (AR) glasses in the future. On the other hand, Chinese display maker BOE is developing smart glasses with a defog mode and heating unit, a patent filing shows. A report from last year's claim that BOE had been contracted last year to work on iPhone displays, and can also happen that both the companies are in contract for developing Augmented Reality (AR) glasses which could defog itself when needed.
As per reports, the glasses which Apple and BOE are developing can accurately detect and remove water droplets from the lenses. If this happens then it will be a blessing for those who wear glasses as it has to be worn all the time and they have to encounter such foggy glass situation frequently. So, the glasses will definitely be made for all time use.
According to reports, the glasses have a frame, lenses, a driving unit, a heating unit, and a control unit. There will be a touch control function on the glasses that will work for different functions. Moreover, it is also mentioned that both the touch areas would be insulated from each other as they would have different functions.
Capacitors will be placed inside to detect the mist accumulated on the glass, and to be more precise, it will be responsible for detecting the tiny water droplets on the glasses. Thus it will indicate the heating unit to heat up for a preset time and evaporate the water droplets until it is totally gone. The patent calls this feature 'demisting'. As per reports, this will be done very quickly as a blurred vision for a long time can cause trouble. It should be faster than a hand wiping off the glasses.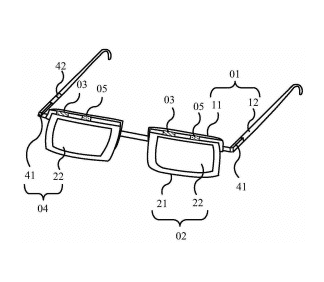 Now talking about Apple's Smart Glasses it won't be waterproof but if BOE is working for then it can work up to a certain humidity. These glasses will be useful when someone faces a temperature change all of a sudden or while breathing wearing a mask and a glass at the same time.
The heating unit is more likely to consume a considerable amount of charge from the battery placed inside. As batteries have some limit and as these glasses would be meant for wearing all the time Apple has to think of another solution for this power distribution as if it doesn't do so, we will see a smart glass with some limited run time.