Intel's 10th gen CPUs are soon going to be available in the market and it will be made available for laptops first. In a true sense, these chips will be next-gen products due to the 10nm architecture.
With Comet Lake, Intel will continue their 14nm process onto their mobile CPU.
At the Computex 2019, Intel unveiled their 10th gen mobile CPUs and promised to bring to laptops soon. Now with various leaks, we can expect the laptops to hit the market in the coming months.

But as I remember Intel showed that they will be having 10nm mobile CPUs up to four cores and eight threads only, with 8MB of L3 cache, and have a maximum turbo frequency of 4.1 GHz.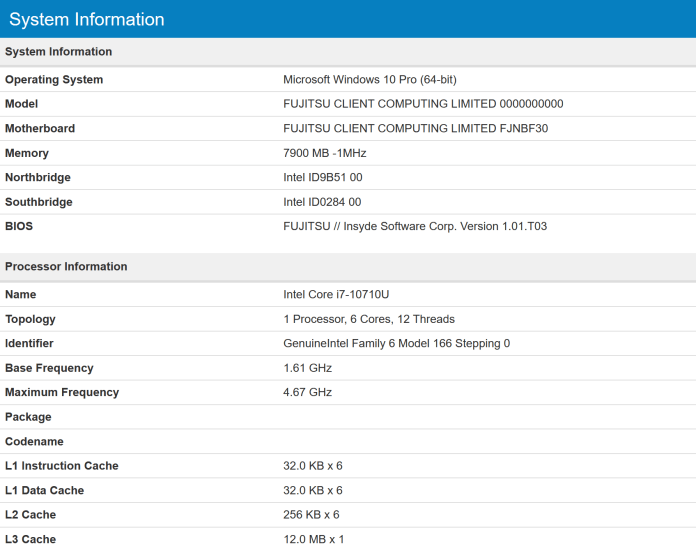 According to leaks, we see the 14nm Comet Lake Intel Core i7-10710U CPU at the benchmarks with 6 cores and 12 threads. It runs at 1.61GHz base clock and a boost of 4.67GHz which is just incredible considering its a mobile CPU.
The cache size here is up to 12MB of shared L3 cache and 256KB of L2 cache and 32KB of L1 per core. You can expect better single-core performance, as well as multi-core performance on the upcoming 14nm Comet Lake-U, powered notebooks.
Both the improved clock speeds along with increased cache memory helps these CPUs to perform well at lower TDPs.
So the Comet Lake CPUs seems to be quite promising now having up to 6 cores and soon we will see OEMs using these laptops in the coming days.
Do check out:
😎TechnoSports-stay UPDATED😎