The latest images of Google's flagship Pixel series smartphone hint at the presence of an under-display camera. A recent leak from LetsGoDigital, claims that one of the Pixel smartphones of Google is currently under development or at its initial phases that might get an under-display camera. The article where the report has been shared has also shown the working principle of the smartphone. According to the mechanism shared in the report, it seems that the company has only been working on the R&D of the smartphone and some patent designs might be on the way for final clearance.
An under-display camera is one that is integrated within the screen into the phone's display. It uses a special low reflective glass with high transmittance.
This time Google intends to come out with 2 Pixel models, the Pixel 6 and the Pixel 6 Pro unlike the previous release of the Pixel which did not feature a Pro variant.
In the below image we can see the exact mechanism discussed for an upcoming Pixel design. The phone seems to have prism or mirror like structure beneath the display and above the front facing camera. The prism or mirror like structure will face the camera reflecting light from the display and pointing it to the camera lens thus making the front camera active. The front camera will become inactive when the prism or mirror faces an obstacle that does not do anything, thus making the display normal.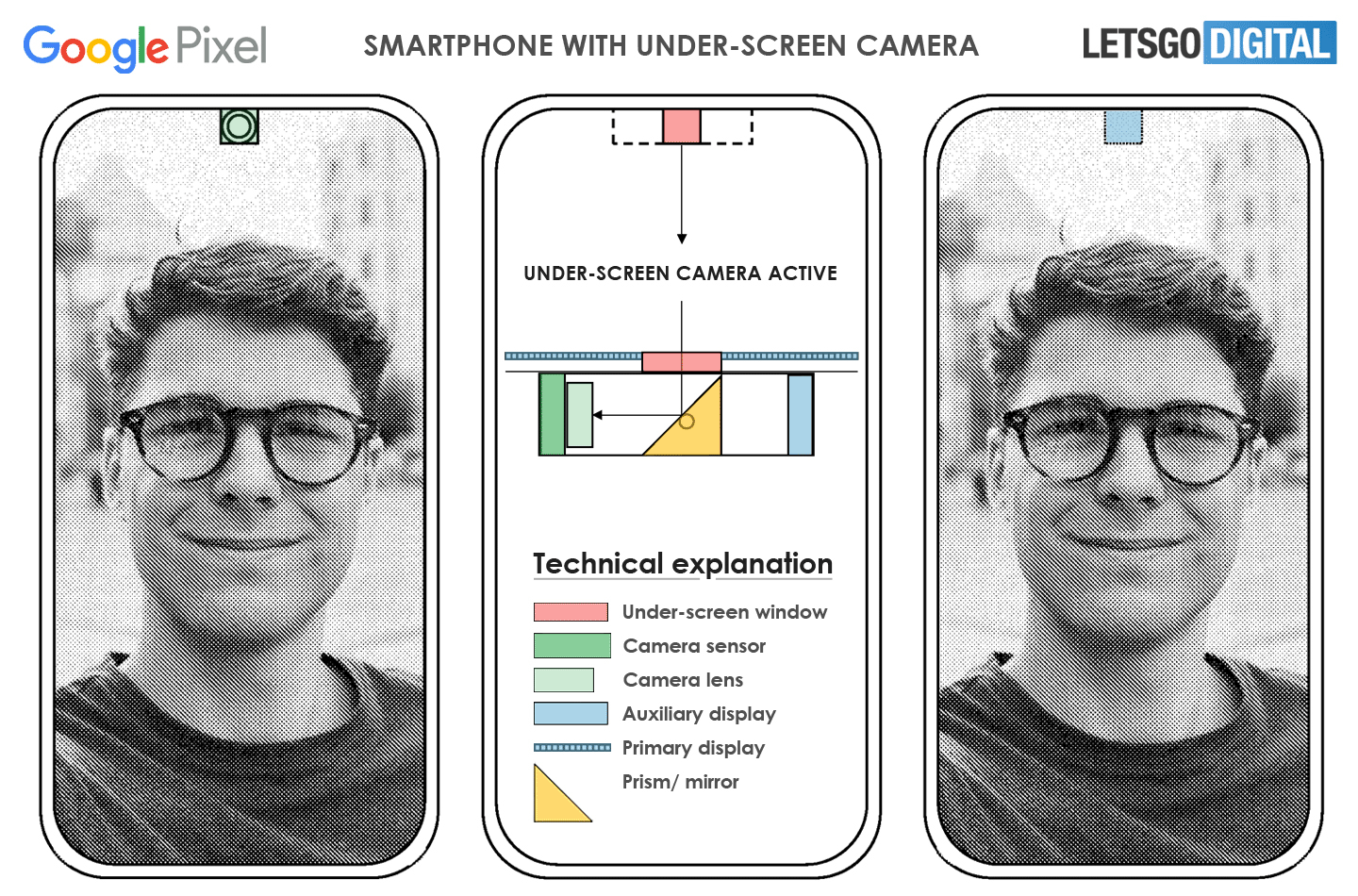 The new design revamp has attracted a lot of eyes towards the Pixel. The rear part of the Pixel has a thick bar that extends throughout like a strip. The camera seems to be slightly elevated which makes it a first among Pixel devices as they have never ventured into the camera bump design trend before.
A dual tone finish on the rear gives the device a classy look. Images of a champagne tone device rumored to be a premium version surfaced as well.
The device gets a bezel-less display, there are rumors relating to the presence of a tertiary camera but that is expected to be limited to the Pixel 6 Pro.
The Pixel 6 will have an under-display fingerprint scanner and may feature a 120Hz high refresh rate OLED display as on other premium models. The Pixel 6 pro will feature a triple camera setup whereas the Pixel 6 will feature a dual-camera setup, no further details are known as of yet. When it comes to the release date, the Pixel 6 and Pixel 6 Pro may be out towards the end of 2021.
A while back Google's mobile hardware roadmap surfaced revealing 3 codenames "raven", "oriole" and "passport". "Raven" and "oriole" are supposedly the pixel 6 models whereas "passport" could be their mysterious pixel foldable.
Google is also rumored to be working on its own chipset, codenamed Whitechapel it is being developed by Samsung and could have similarities with the Exynos line of chipsets.
Also read: