ASUS has been on the run redefine the premium notebook range with its Zenbook laptops for quite some time now. However, recently they have stepped up their game by using OLED displays on its existing Zenbook laptops, making them the best you can get in the market.
I have used the new ASUS Zenbook 14 with Ryzen 7 5700U and the ASUS Zenbook 13 OLED with Ryzen 7 5800U. I have thoroughly enjoyed using both of these as my daily drivers for quite some time now, and the complaints that I had with the normal Zenbook 14 is solved on this OLED variant.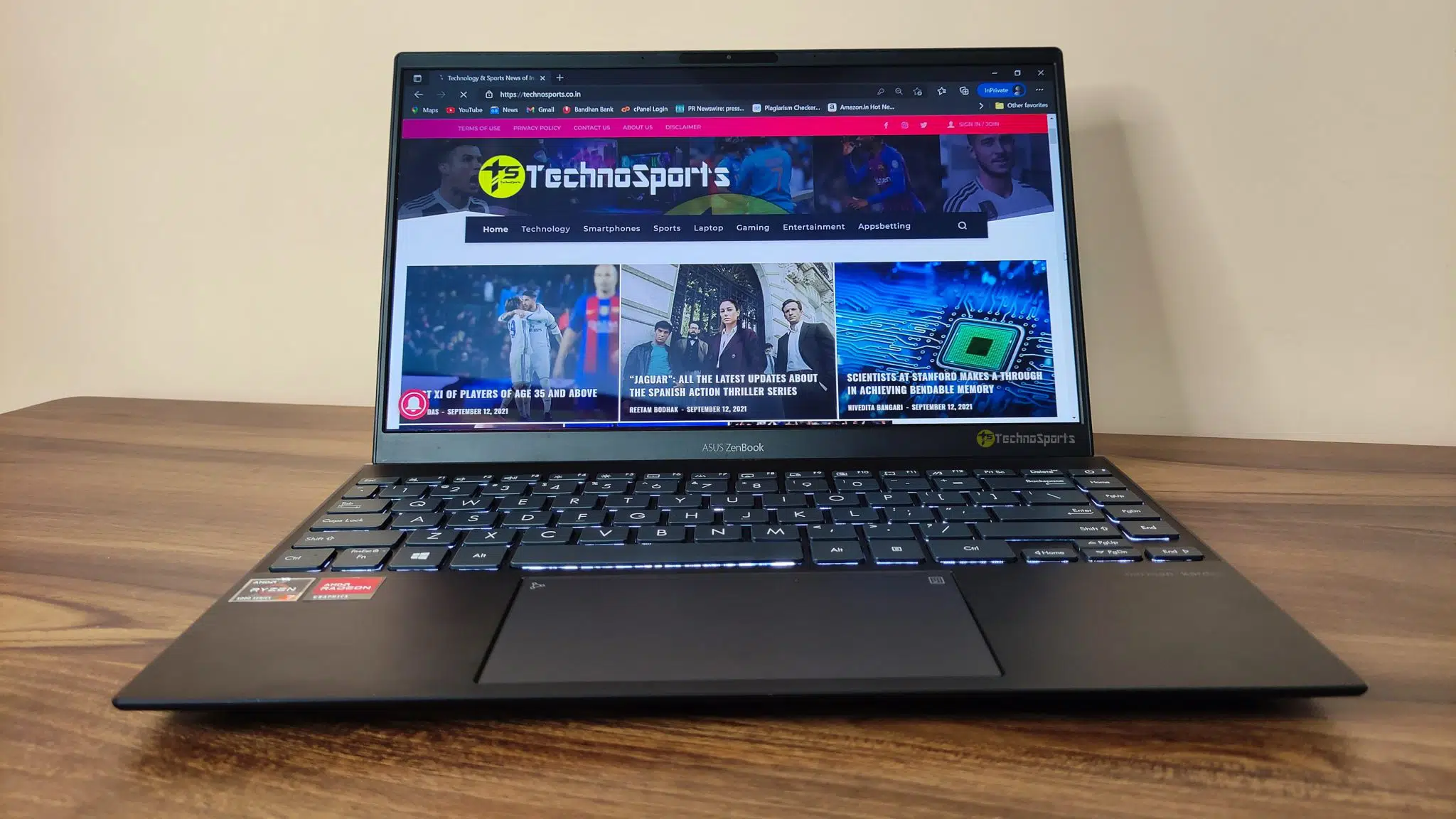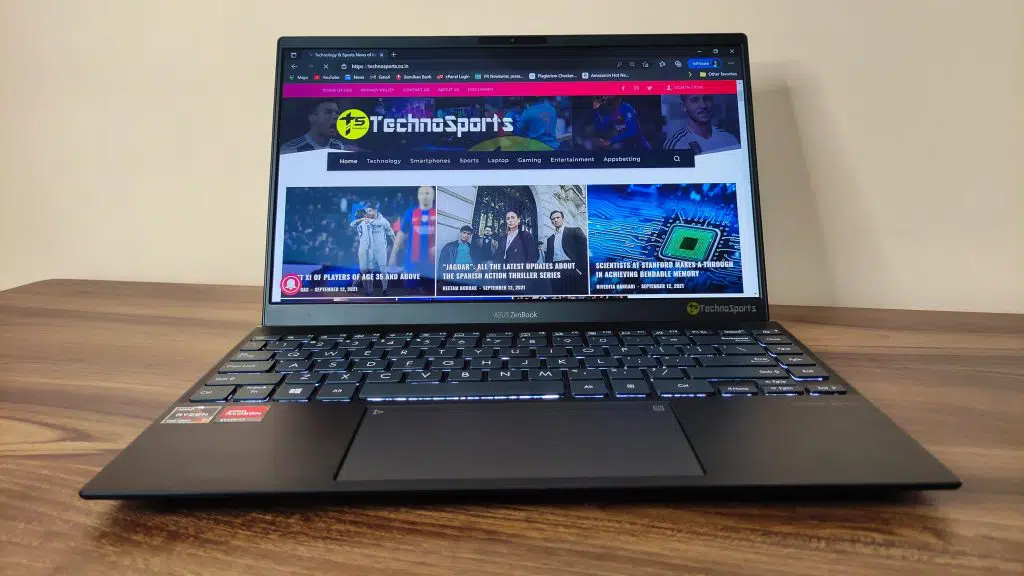 Whilst I told you the Zenbook 14 is a perfect MacBook alternative for people, this ASUS Zenbook 13 OLED takes the game even further and simply goes ahead of the MacBook in terms of its display and specs offered. The key highlight of the laptop is the OLED display here, and honestly, it is one of the best displays I have ever seen on a laptop.
- Advertisement -

Well, nothing is perfect, so I will help you decide which laptop you should be opting for and why the ASUS Zenbook 13 OLED with AMD Ryzen 7 5800U could be the next premium notebook though it costs ₹99,990.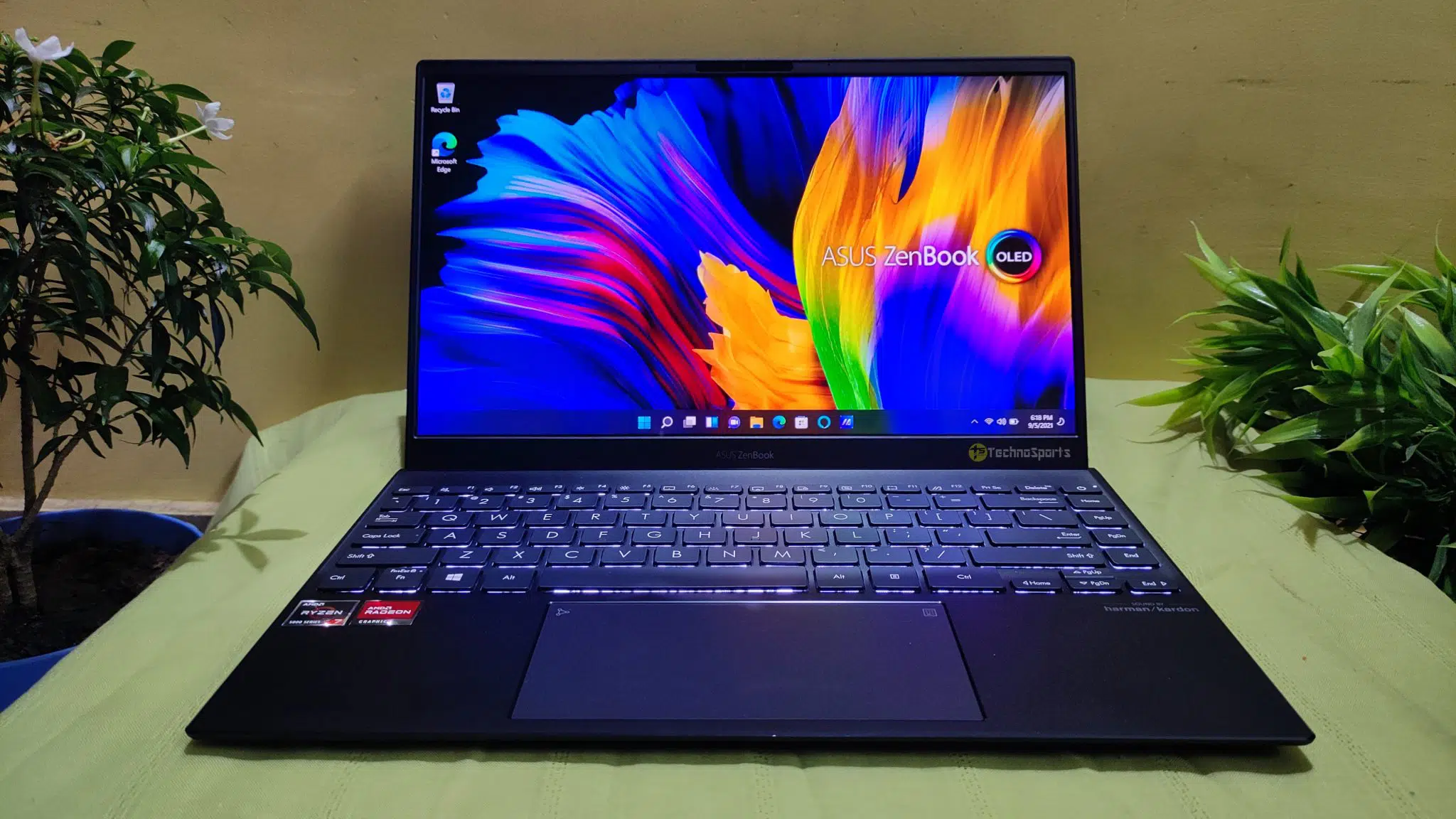 Also, being the latest unit, this came with Windows 11 pre-installed out-of-the-box and it is one of the first laptops to ship with new Windows packing all the latest features you were hoping to receive soon. Here are the details of the laptop variant I received for review:
Specifications
Processor | Graphics: AMD Ryzen 7 5800U Processor, 1.9 GHz (16MB Cache, up to 4.4 GHz, 8 Cores, 16 Threads) | Integrated AMD Radeon Graphics
Memory & Storage: 16 GB LPDDR4X Onboard RAM | Storage: 1 TB M.2 NVMe PCIe 3.0 SSD
Display: 13.3-inch, OLED, FHD (1920 x 1080) 16:9, Glossy display, 400nits, DCI-P3: 100%, Pantone Validated, 100% sRGB, 4-sided NanoEdge design with up to 88% screen-to-body ratio, IPS-level wide-view technology
Software Included: Pre-Install MS Office Home and Student 2019 with lifetime validity, McAfee with 1-year validity | Operating System: Pre-loaded Windows 10 Home with lifetime validity (or Windows 11 pre-installed)
Keyboard | I/O Ports & Others: Edge-to-edge design, full-size backlit, with 1.4mm key travel | Touchpad: Glass-covered, Precision Touchpad with NumberPad 2.0, i.e., integrated LED-illuminated numeric keypad
Ports: 1x HDMI 2.0a, 1x USB 3.1 Type A (Gen1), 2x USB 3.2 Gen 2 Type-C, 1x Micro SD card reader & IR HD web camera with Windows Hello support| Face recognition login
Connectivity: Wi-Fi 6 (Gig+) (802.11ax) 2*2 | Bluetooth 5.0
Design & Build
The thing I like about the Zenbook lineup is its design and premiumness it brings, the metal body feels premium yet weighs light. It weighs only 1.14kg but the build quality is great with no body flex or any screen wobbles, you can also open the screen with one hand.
Also it's the world's lightest OLED AMD laptop and is just 13.9mm thin, I love the portability of this laptop without any sacrifice on specs, performance and obviously that gorgeous OLED display. The ErgoLift hinge on these Zenbook laptops automatically lifts the rear of the laptop slightly helps in both thermals and typing.
The ASUS Zenbook 13 OLED is very comfortable to carry and use it on your lap, I am glad that these premium laptops have become so much versatile, light and still stay strong.
Display
One of the key features of this laptop has to be the 13.3-inch FHD OLED display which is really bright, up to 400nits of peak brightness. In a typical Zenbook style fashion, the display is a four-sided NanoEdge design that maximises the display in a small form factor.
So, essentially if you are someone who does not like a small display would have to keep this in mind as the display is a bit small. However, that 88% screen-to-body ratio makes you feel like you have more display in the chassis, but I would have loved a 16:10 aspect ratio from ASUS in future.
Coming to the quality of the display, I have never seen such a high-quality, colour accurate display before on a laptop this size. I tried the OLED panel in the ASUS Zenbook Pro Duo 15; however, I feel this one is the most accurate of all of them. We tested the display with SyperXPro, and here are the results:
As you see, the display covers 100% of the sRGB, 97% of AdobeRGB, 100% of DCI P3 and 96% NTSC colour gamut; well, this is the best display I have ever had seen. The Asus Zenbook 13 OLED is highly recommended for those who are looking for the best displays in a small form factor.
I also ran other tests like brightness, response and others, so here are the results: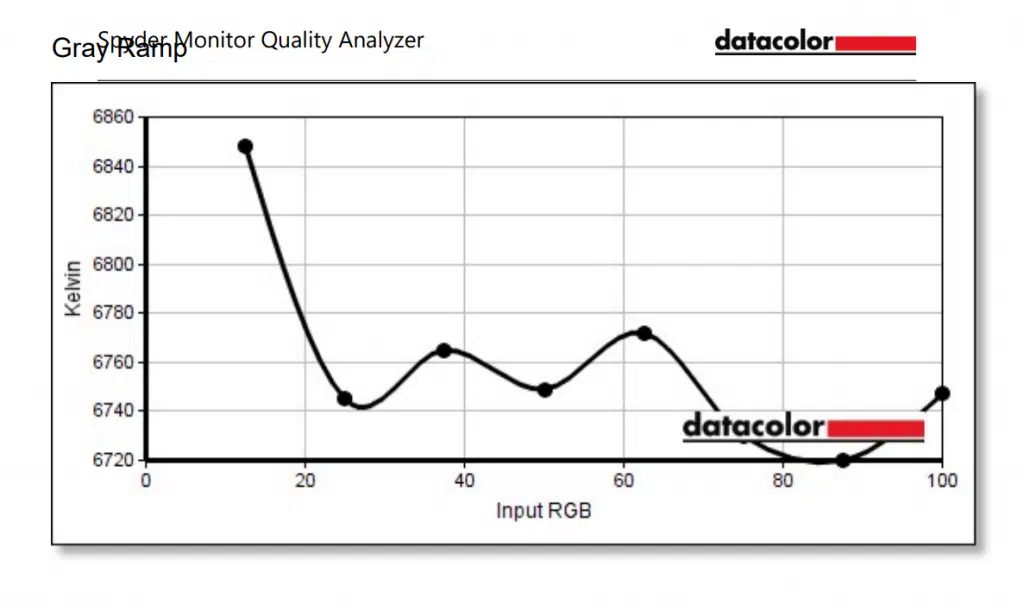 In terms of display, I have no complaints at all and kudos to ASUS for using such a high quality OLED panel; as you see, it genuinely has 400 nits of peak brightness, enough for even outdoors.
So, the major problem I had with the ASUS Zenbook 14, or you might have, is the brightness and the colour accuracy, contrast you see here won't be there on any LCD panels. Mostly I use the laptop at half or 60% of the brightness indoors, and if you take outdoors, using 100% of the brightness would be enough for any work.
The blacks and whites are so excellent that you will enjoy doing productivity work that requires a high level of colour accuracy. I also enjoyed watching movies, Netflix works flawlessly and the colours are always punchier, so for entertainment, too this is a must-have laptop display.
Performance
You could be sceptical about the performance of this laptop as it has a very slim body and should it be that efficient as well as powerful? Yes, it is, packing the latest AMD Ryzen 7 5800U in it, this is AMD's top-level U-series mobile chip inside it that draws low power yet gets your job done.
Packing 8 cores and 16 threads in this small form factor, this laptop's performance is more than enough for basic and medium-end workloads. Plugin the charger, or use the performance mode, thanks to the 16GB RAM and 1TB NVMe SSD, you can do heavy workloads like video editing, photo editing without any hiccups.
The APU inside has integrated graphics which is even great for playing basic games like CSGO and even casual FIFA sessions with friends. However, this laptop is targeted towards professional who need that great OLED display and want to work on essential projects that requires high precision in terms colour.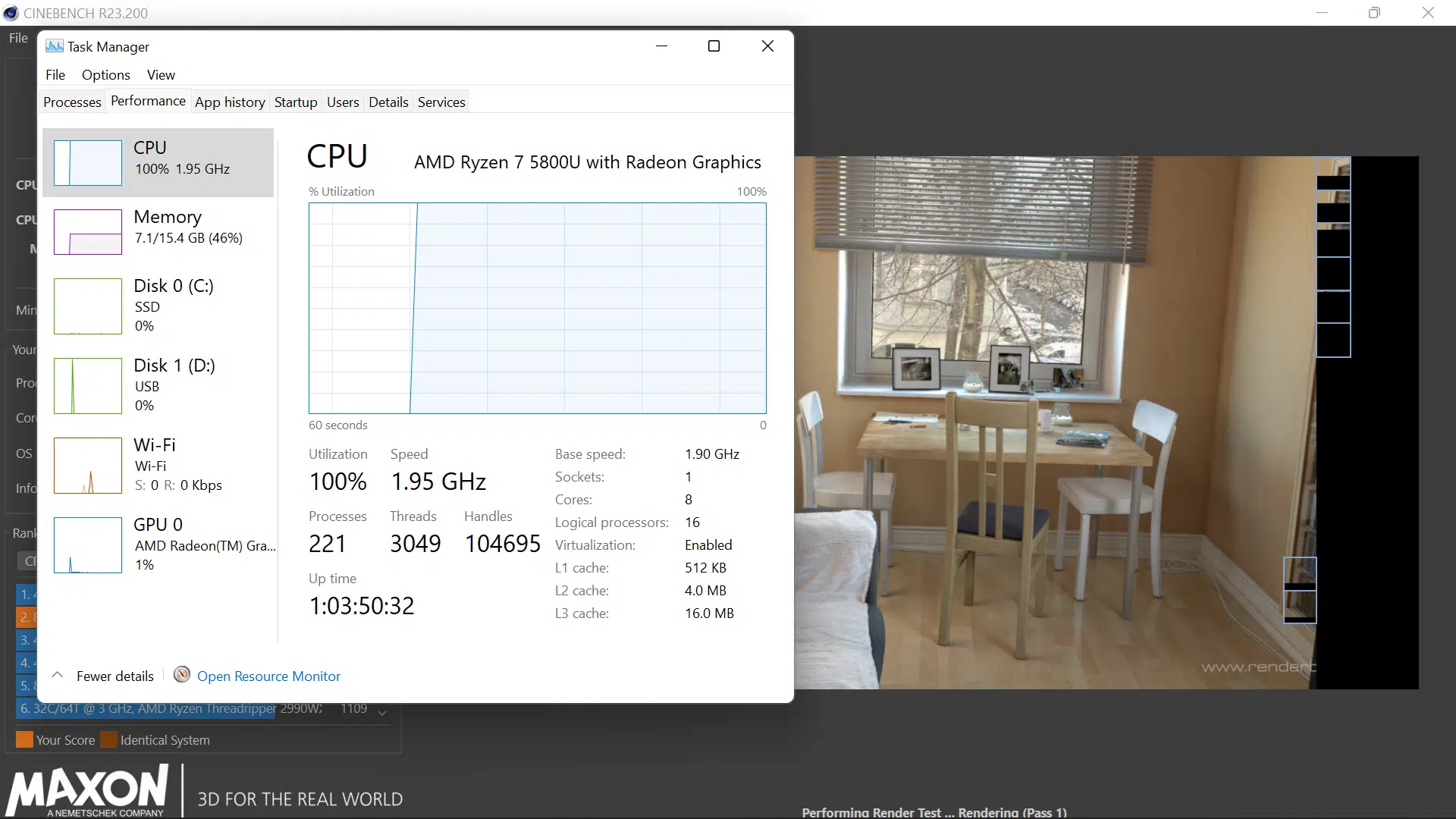 So, having used this laptop for days now, I can assure you for daily work, the ASUS Zenbook 13 OLED won't disappoint you at all. Also, I personally use an AMD Ryzen 7 4700U and much like last-gen these Ryzen 5000 series processors are also improved and efficient thanks to the 7nm process & Zen 3 architecture.
Here are some benchmarks for your reference to know more about the laptop's performance:
As you see the Ryzen 7 5800U is very powerful while still being efficient as I never had to hear any fan noise and the temperatures of the laptop stayed very cool most of the times. The Zenbook 14 with Ryzen 7 5700U had a bit lower single-core performance and it gets improved with a newer Zen 3 based Ryzen 7 5800U.
As you see the SSD speeds are decent, not anything to exaggerate, almost same speeds as other Zenbooks but having a 1TB of NVMe SSD is good for the future.
Ports & Connectivity
Much like the Zenbook 14, you do not have ample ports here as its meant for portability and it doesn't have Thunderbolt support. However, it has the same ports like the Zenbook 14 featuring two USB 3.2 Gen 2 Type-C given on the left side that supports both display output and power delivery via its small 65W adapter. Also, you have an HDMI 2.0a port on the left hand side.
Then you have one USB 3.1 Type-A port on the right hand, a MicroSD card reader and yes no headphone jack, sadly, but you will get a Type-C to 3.5mm headphone jack dongle in the box. For connectivity, you have the Wi-Fi 6 (Gig+) (802.11ax) 2*2 and Bluetooth 5.0 support, enough for everyday tasks and even gaming.
Audio & Webcam
I am thrilled to say much like the Zenbook 14, this Zenbook 13 OLED also packs powerful Harman Kardon certified bottom-firing speakers which are very loud. However, the quality of them are really great and so listening to music or watching movies just gets better.
Also, it has both Cortana, and Alexa voice-recognition support and I used them without any issues, helping to reduce your work if you feel lazy yourself. The webcam here is a standard 720p HD camera which is just ok for video calls and meetings while the IR sensor on the front is pretty helpful for faster logins thanks to Windows Hello even at night.
Keyboard and Trackpad
The ASUS ZenBook 13 OLED also sports an edge-to-edge keyboard design seen on other Zenbooks and I like the spacing between the keys. The backlight keys work great during the night and because of its 1.4mm key-travel, I liked using the keyboard for typing for hours.
The keys are mushier to type on and indeed feels premium, so if you are a writer like me or even prefer to type for work, you feel find this laptop's keyboard pretty comfortable to type on. Also, in contrast to ASUS's Vivobook series, the Zenbook ones have bigger trackpads, not as big as Macbooks but still good enough for basic use.
Though I like the square-shaped trackpad, like on MacBook, the rectangular one is also good for everyday use and also you have the NumberPad 2.0. This is a pretty handy feature, a dual-function touchpad with an integrated LED-illuminated numeric keypad, quite cool when I am using it for calculations & stuff.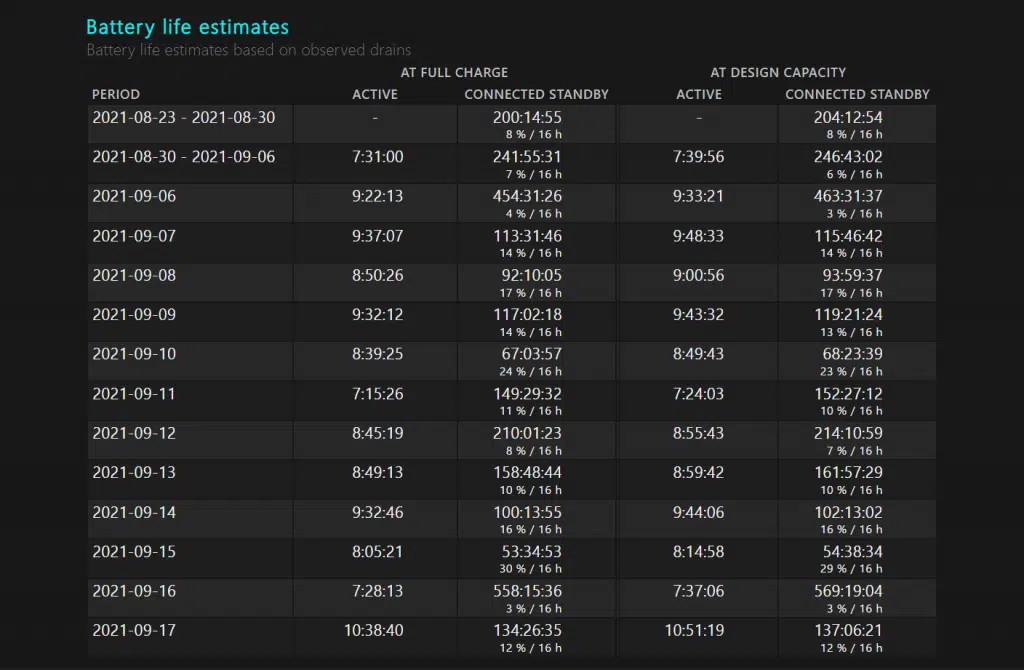 Battery life
In spite of having an OLED panel, the ASUS Zenbook 13 OLED is very efficient as it gives up to 16 hours of battery life according to ASUS and supports fast-charging via USB-C port or even be charged via power bank.
However, still, the laptop as you see can provide up to 10 hours of battery life easily and that for me is pretty good as I can live without a charger for almost a day. Also, the standby time for the laptop is good, thanks to the efficient AMD chip inside it.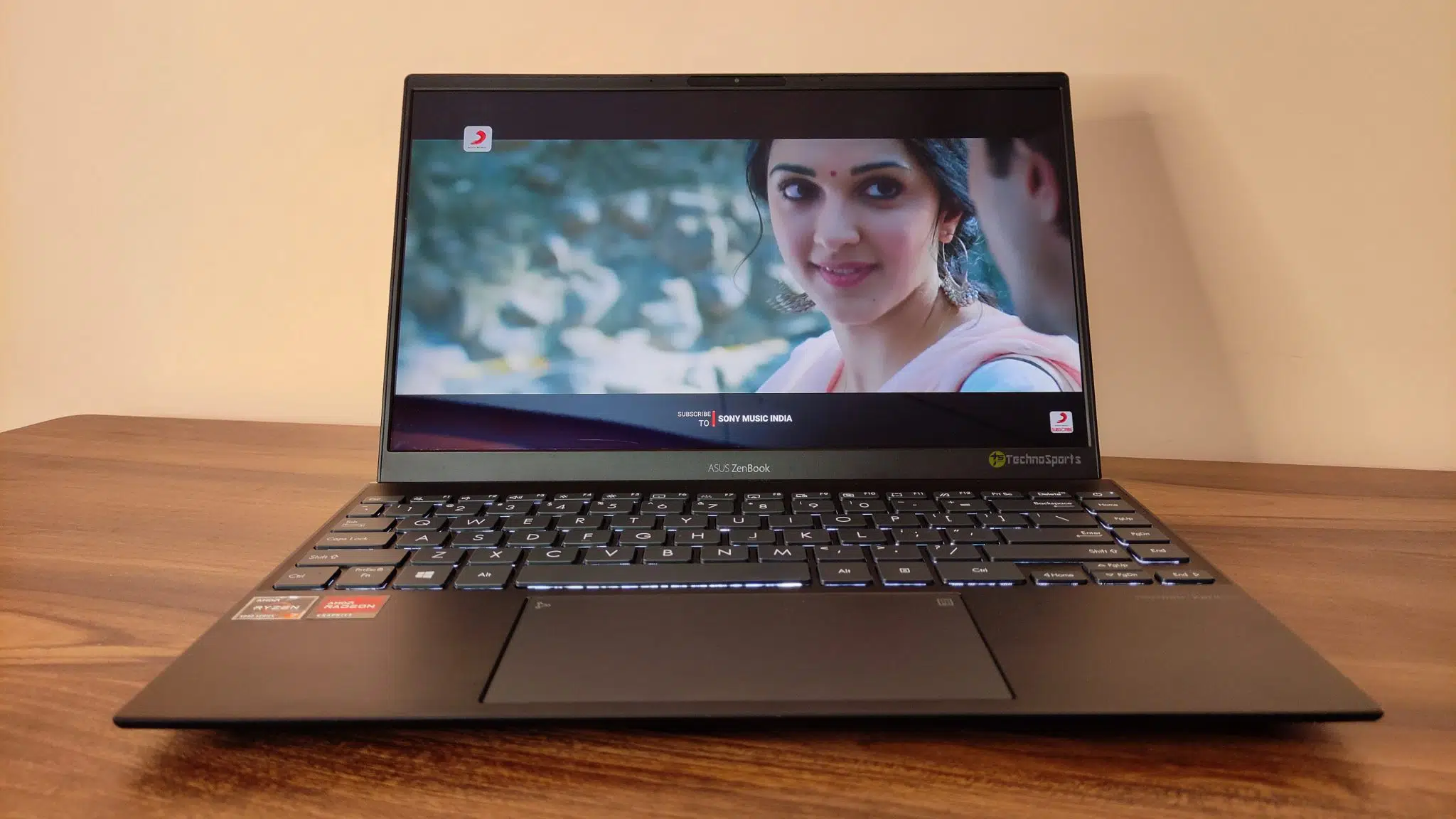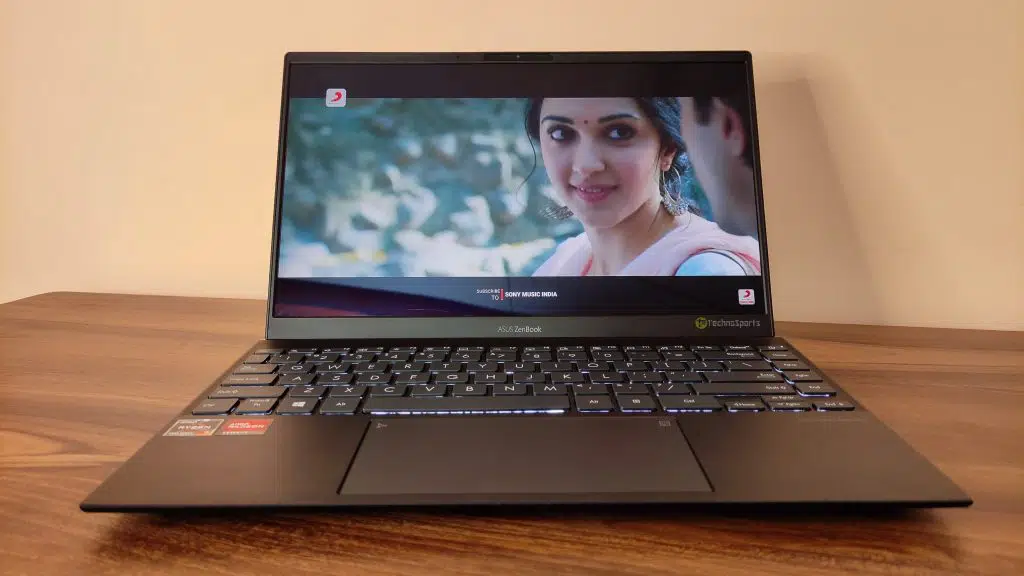 Pros & Cons
Here are all the pros and cons of the ASUS ZenBook 13 OLED:
Pros
Sleek, lightweight, good build quality
Good performance thanks to AMD Ryzen 7 5800U processor & 16GB RAM
Excellent Battery Life with Type-C charging
Best display for the price, highly-recommended for creators
Great trackpad and keyboard
Loud & crisp speakers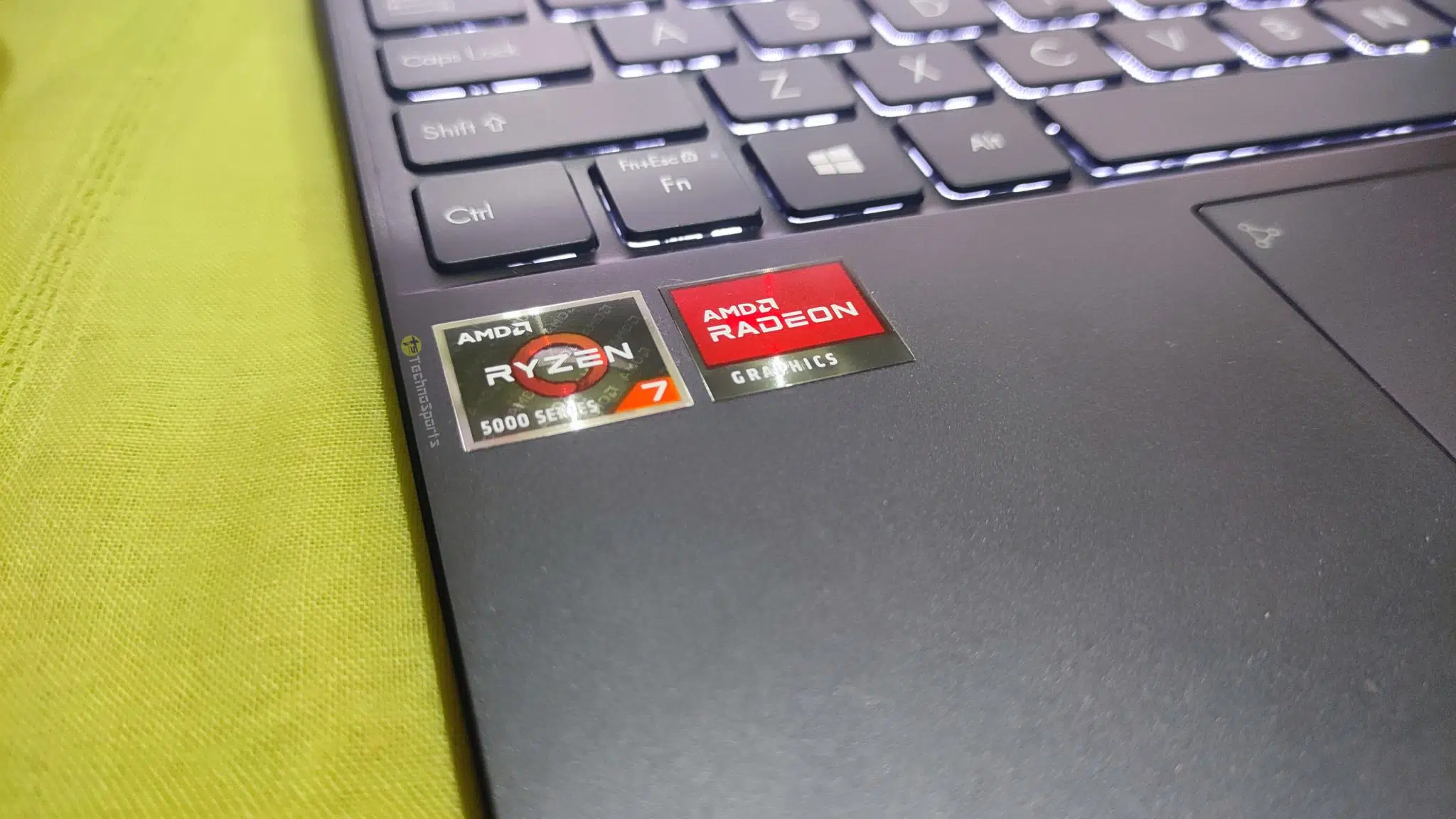 Cons
No headphone jack
No Thunderbolt port
13.3-inch display could be a concern for those who love bigger displays
Verdict
Overall, for a price of Rs.1 lakh, this laptop justifies its value and obviously, the key highlight will be its OLED display. The ASUS ZenBook 13 OLED is targeted towards professionals who need the best display for their work with no compromise on performance nor battery.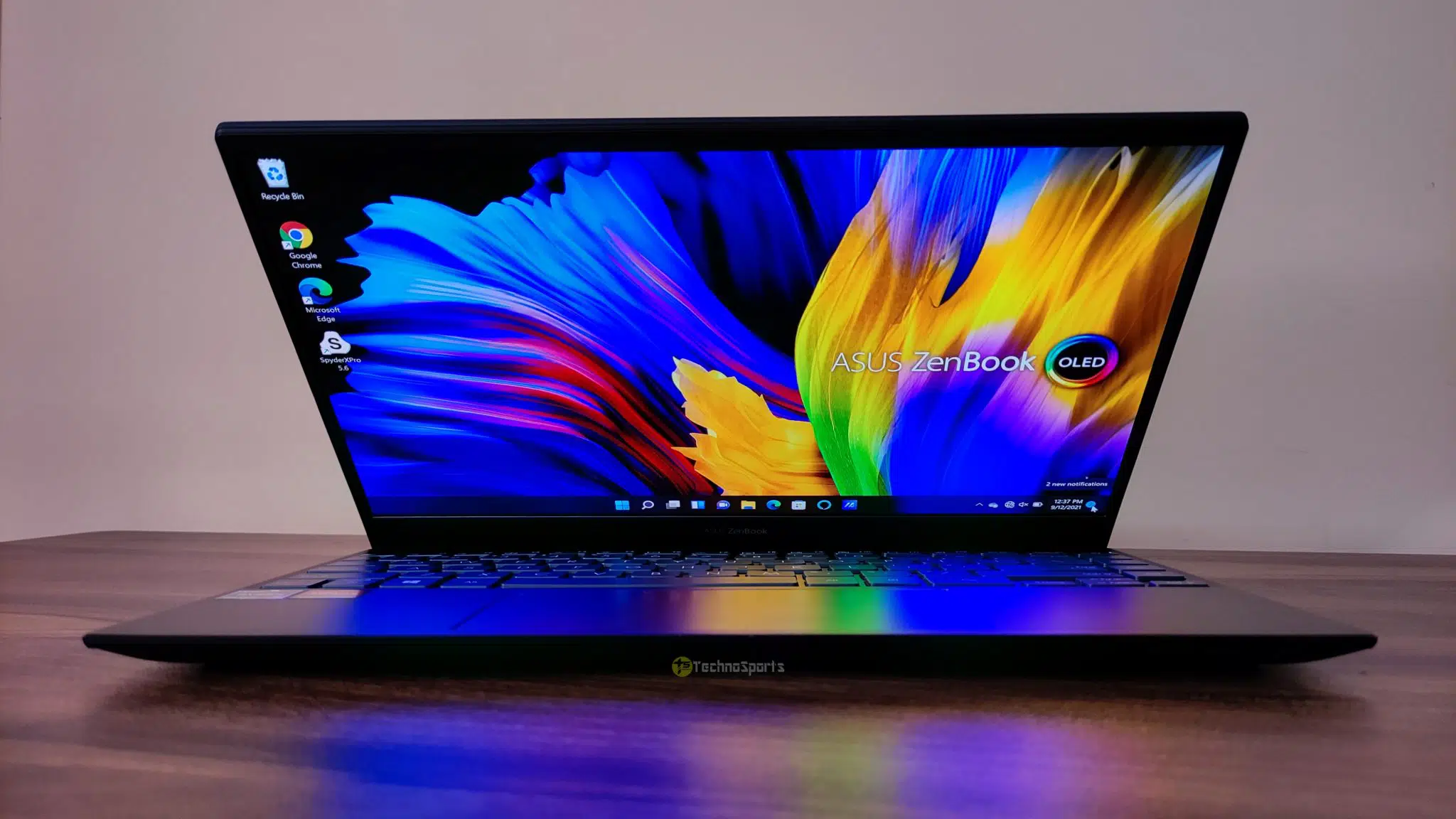 Simply it is a reliable laptop for those who need the industry best panel with best-in-class colour accuracy. Also, thanks to the AMD Ryzen 7 5800U you have no problems whatsoever opening multiple tabs or doing quick video editing on this laptop, also for watching movies the OLED panel will make your day.
A single charge can get almost a full day of work, so overall this laptop is highly recommended if this fits into your profile and you are ready to pay for it. However, if you do not like a small 13.3-inch display, a 14-inch OLED variant of the same Zenbook will be coming soon in India as it's globally announced already.
Buy from here: https://amzn.to/2Xp0reG
- Advertisement -