Premium notebooks have been flooding the market for quite some time now, but if you ask for consistency in delivering the best performance in a thin & light form factor, only a few companies can do so.
One is obviously Apple, and the other is ASUS; while Apple's MacBook Air is a true gem, ASUS's ZenBook 14 is another great laptop that has improved with each generation. I am a Windows user and love using those laptops, so if you are like me and want a premium notebook, make sure you check this review.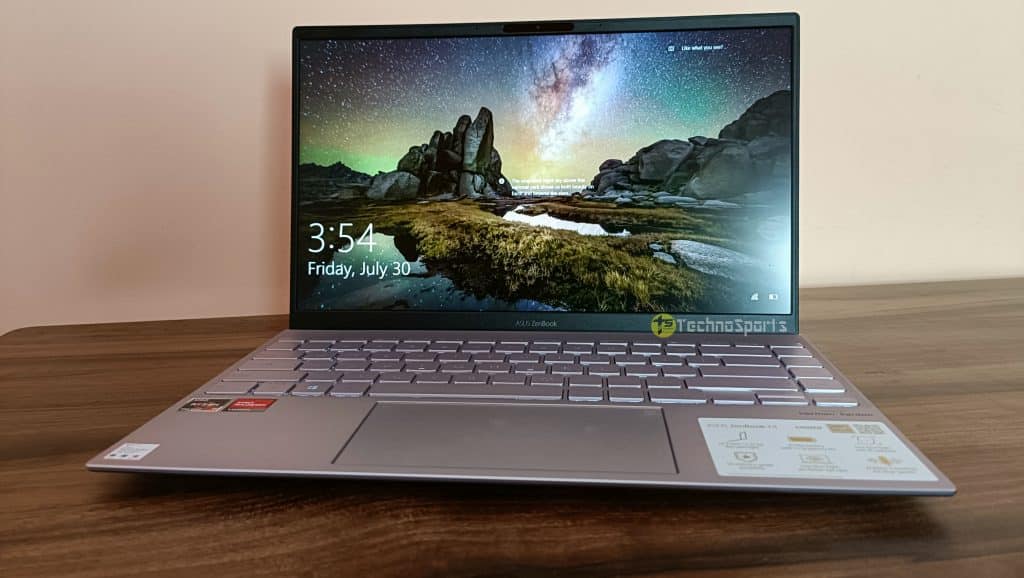 A premium notebook is known for its build quality, display, battery life, and performance; external factors like keyboard & trackpad, audio, connectivity, and other features continue. This ASUS ZenBook 14 (UM425UA) promises all of this, having an AMD Ryzen 7 5700U inside of it, packing 8 cores and 16 threads.
Why am I taking a MacBook here as a comparison? Because a MacBook Air with an M1 chip is now less expensive than this laptop, so obviously, you will doubt to go for which one? So, this ASUS ZenBook 14, sent to me, is a top-of-the-line model and here are the specs of it: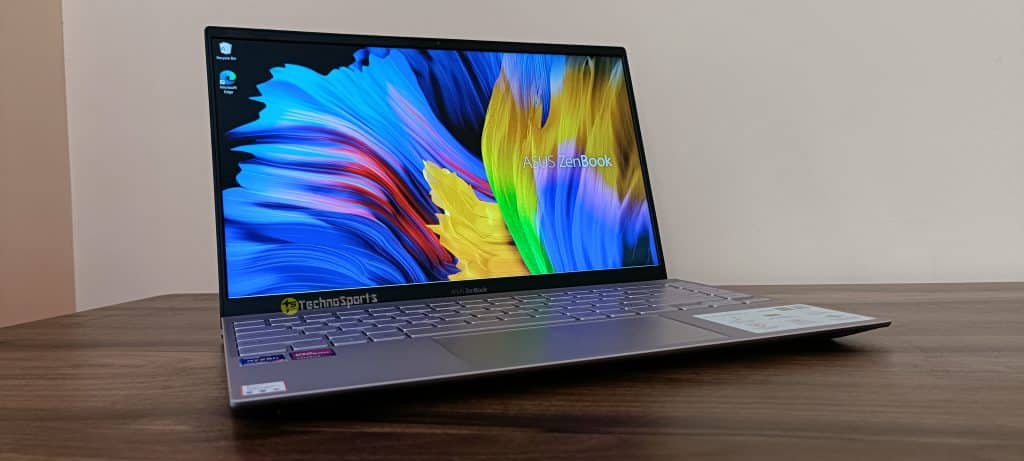 Specifications
Processor: AMD Ryzen 7 5700U, 8 cores, 16 Threads, 1.8 GHz Base Speed, Up to 4.3GHz Max Boost Speed, 8MB L3 Cache
Memory: 16GB onboard LPDDR4X 4266MHz RAM, with | Storage: 512GB M.2 NVMe PCIe 3.0 SSD, Suport Up to 1TB
Graphics: Integrated AMD Radeon Graphics
Display: 14-inch (35.56 cms) LED-backlit LCD FHD (1920 x 1080), 16:9, anti-glare Panel, 250nits brightness, 100% sRGB, 4-sided NanoEdge design with up to 90% screen-to-body ratio, IPS-level wide-view technology
Software Included: Pre-installed Office Home and Student 2019 with lifetime validity | Operating System: Pre-loaded Windows 10 Home with lifetime validity
Design & battery: NanoEdge Bezel | 1.43 cm Thin | Metallic Chassis |Thin and Light Laptop | Laptop weight: 1.22 kg | 67WHrs, 4-cell, lithium-polymer battery | Up to 22 hours battery life ;Note: Battery life depends on conditions of usage
Keyboard: Edge-to-edge design, full-size backlit, with 1.4mm key travel | Touchpad : Glass-covered, Precision Touchpad with NumberPad 2.0, i.e., integrated LED-illuminated numeric keypad
I/O Ports: 1x HDMI 2.1 | 1x USB 3.2 Gen 2 Type-A | 2x USB 3.2 Gen 2 Type-C support display / power delivery | Micro SD card reader
Other: IR HD web camera with Windows Hello support| Face recognition login | Wi-Fi 6 (Gig+) (802.11ax) 2*2 | Bluetooth 5.0 | US MIL-STD 810G military-grade standard| with Cortana and Alexa voice-recognition support
Design & Build
This is one of the most premium, light-weight Windows devices I have ever used, weighing just 1.2kg, exactly similar to that of a MacBook Air. The ASUS ZenBook 14 is very easy to hold or carry as it's also one of the world's thinnest 14-inch AMD-powered laptops.
Having a metal lid and built using magnesium-alloy gives both premiumness and makes the laptop very light. It has a super-sleek profile that measures just 14.3 mm thin, so you even slid this laptop into your backpack or even your purse.
Undoubtedly, it is one of the best designs you can get on a Windows device, making it a portable option for on-the-go productivity. Also, you can open this laptop with a single hand, so the balance and weight distribution have been done in a perfect way.
Display
It has a 14-inch display with a 4-sided NanoEdge design with up to a 90% screen-to-body ratio, giving you the maximum screen you could ask for in a small chassis. The ASUS ZenBook 14 has a very colour accurate display, covering 100% sRGB colour gamut, ideal for creators and professionals.
This has an anti-glare panel that doesn't reflect and is ideal when you use it outdoors, but the only nitpicking here is that the display has a peak brightness of up to 250nits, making it harder to use it outdoors. If you have some concerns with the laptop's brightness, then do opt for the 400-nit display option.
The display is good for everyday work, watching movies, doing PhotoShop work, or even editing videos so that you will have no complaints regarding the display for office, productivity work, or entertainment.
Performance
This is a key area that all of you would be keen on looking at; yes, it packs an AMD Ryzen 7 5700U, sporting 8 Zen 2 cores and 16 threads in such a small form factor. This APU can handle everyday work, opening dozens of apps together, working on PhotoShop, Premiere Pro, and heavy applications.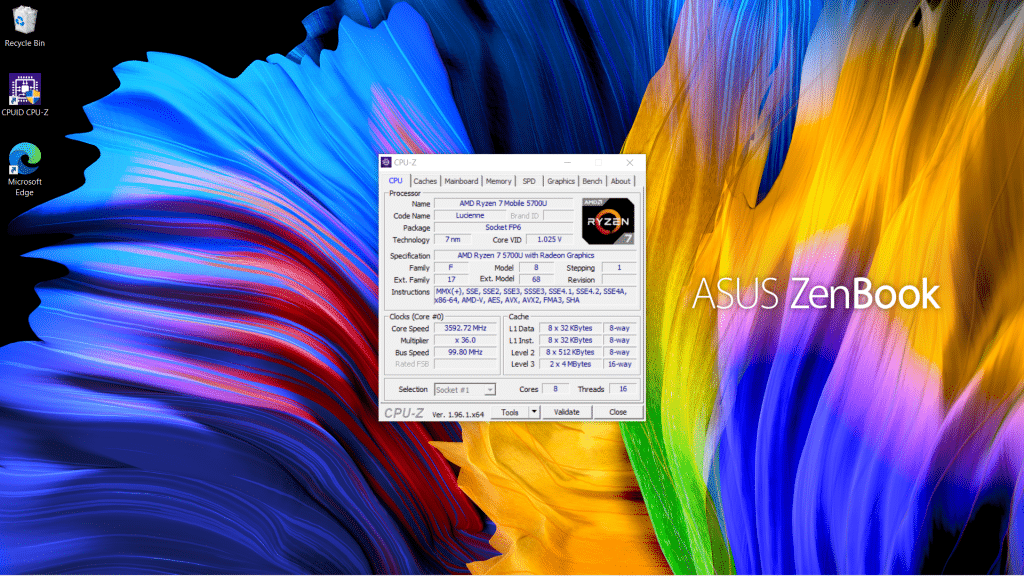 It is a very efficient AMD processor, and paired with great cooling from ASUS; this laptop never goes wildly hot. This gives similar performance to the Ryzen 7 4800U, but ASUS has kept an aggressively cooling profile to keep temps low, so a slight decrease in performance is expected.
That ErgoLift hinge automatically lifts the laptop's rear slightly when it's opened, tilting the keyboard to the optimum typing angle. So, this helps in typing and helps to blow away the heat if any gets generated; indeed, it is one of the efficient Windows laptops I have ever tested that does not get too loud for fans or has heating issues.
Here are some benchmarks for your reference:
The SSD here is not the fastest as it has read speeds of up to 1890MB/s but has good write speeds of up to 1736MB/s, however, a budget Dell Inspiron 14 7415 2-in-1 laptop, which we recently reviewed has better speeds of up to 3500 mb/s read and over 2200 mb/s write speeds.
The 16GB LPDDR4X RAM is the max this laptop supports, and for daily usage or even for productivity, I feel it's more than enough for a regular user. The Vega 7 iGPU is also there for helping you get through productivity workloads and even for casual gaming sessions, you can easily play games like GTA V, FIFA 21, Apex Legends, Fortnite and others on this laptop comfortably.
Overall, it's not an M1 chip killer but yes, for a Windows laptop that is this thin & light, this is a great deal of performance, a newer Zen 3 based Ryzen 7 5800U could have helped the laptop to have better single-core performance.
Ports & Connectivity
In terms of ports, you know the difference between not using an Intel CPU as it doesn't have Thunderbolt support; however, the two USB 3.2 Gen 2 Type-C given on the left side that supports both display output and power delivery via its small 65W adapter, and you have an HDMI 2.1 port at the left side.
On the right-hand side, you have only one USB 3.2 Gen 1 Type-A port, MicroSD card reader, no headphone jack, sadly, but you have a dongle in the box. In terms of connectivity, you have the latest Intel Wi-Fi 6 (802.11ax) and Bluetooth 5.0 (Dual-band) 2*2 support, so there are no issues in downloading, streaming or connecting to multiple Bluetooth devices at the same time.
Audio & Webcam
It is a tiny laptop in terms of form factor, and considering its weight; this has one of the loudest speakers on a laptop. The down-firing built-in speaker is pretty loud and very soothing to the ears thanks to Harman/Kardon tuning, also that ErgoLift hinge helps to amplify the sound even though the speakers are at the bottom.
Also, it has both Cortana, and Alexa voice-recognition support which works flawlessly helps to reduce your work if you feel lazy yourself. The webcam here is a standard
720p HD camera and the quality is ok-ish, nothing very extra-ordinary or too shabby, but has IR sensor, helpful for easy logins even at night, thanks to Windows Hello support.
Keyboard and Trackpad
The ASUS ZenBook 14 has an edge-to-edge keyboard, which you generally see on MacBooks, and so has a lot of surface area to type on, and the keys are also bigger. The Backlit Chiclet Keyboard is good to type on all day because of its 1.4mm key-travel, and having used a lot of ASUS laptops; the typing experience is good enough.
The trackpad here is excellent, and I really like this large trackpad; though it would be better if it were square-shaped like on MacBook, the rectangular one is also good for everyday use. Generally, I am not a fan of trackpads on small laptops as they aren't great and use a mouse, but this is the only 14-inch notebook that I was comfortable navigating using the trackpad without touching my mouse.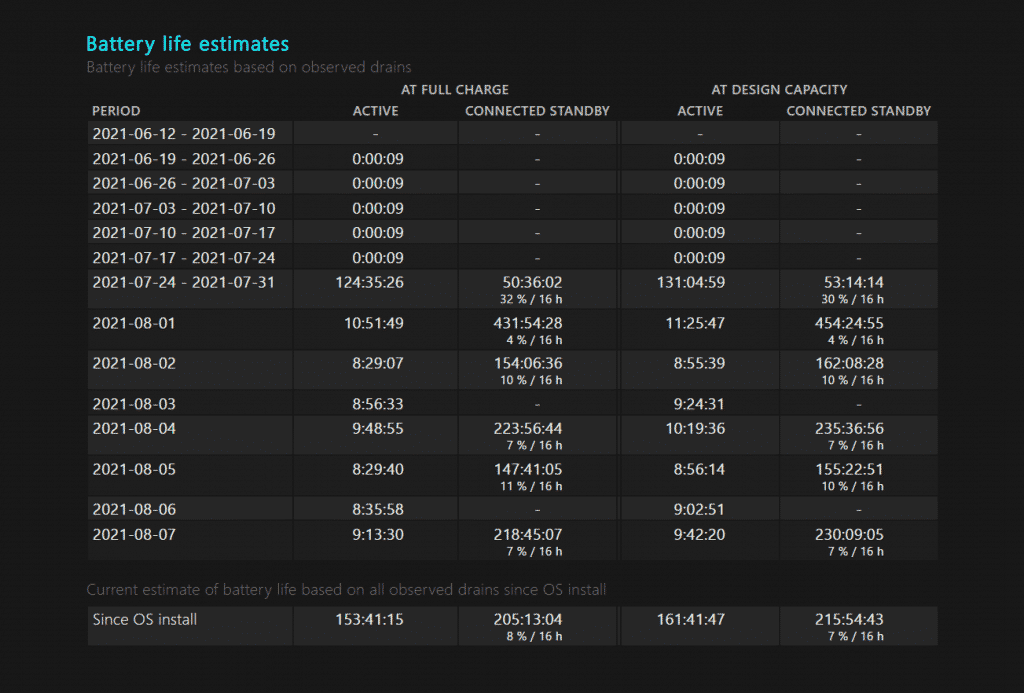 Battery life
This is one of the only Windows laptops that challenges the sublime battery life we see on MacBooks; previously, it was rated to last up to 22 hours; however, the recent version is supposed to give up to 16 hours of battery life. However, this variant is not the 400 nits, lower power consuming display, so this device's max battery life rating is 11 hours.
However, in real-life usage, you can actually stretch the battery life up to 11 hours with medium brightness and if you are like me working with almost full brightness all day, then expect up to 8-9 hours of battery life, which is again very impressive for a Windows laptop.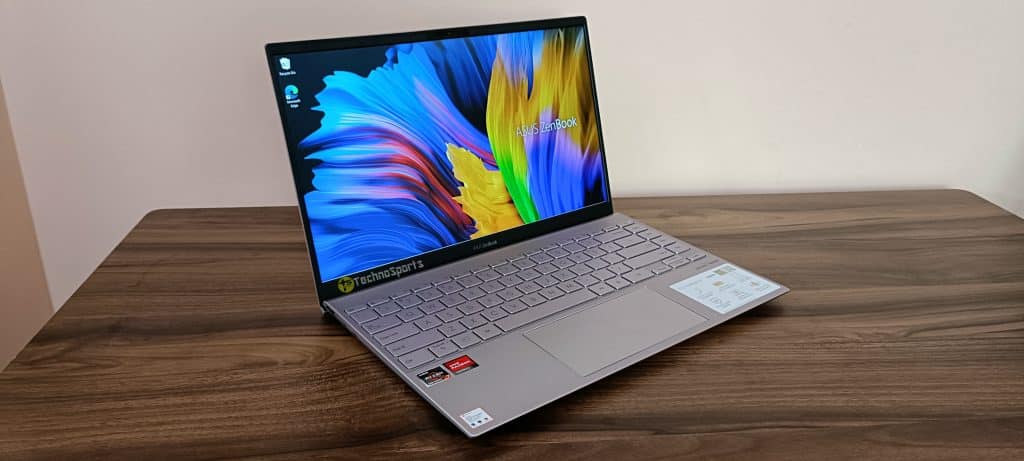 Pros & Cons
Here are all the pros and cons of the ASUS ZenBook 14:
Pros
Good performance with AMD Ryzen 7 5700U processors
Excellent Battery Life
Great build quality, durable and portable
Decent display and good connectivity
Great trackpad and keyboard
Cons
No headphone jack
No Thunderbolt port
The display's brightness could have been better
Verdict
The ASUS ZenBook 14 (UM425UA) is no doubt a premium Windows laptop with powerful AMD Ryzen 5000U processors, making it both efficient and usable for everyday work. It is very portable and light can be charged even with a power bank, ideal for travellers and workaholics.
From working on multiple Chrome tabs or watching movies, from editing a video to playing casual games, this 1.2kg laptop is the ideal solution for Windows users. So, you can easily consider this ZenBook 14 over MacBook if you love the Windows experience.
With a single full charge, you can get almost a full day of work or play sorted and the military durability and a small form factor make it an ideal companion for every day.
Buy from here with FREE One-Day: https://amzn.to/3jCO3iy
All the product images were taken on the recently launched Oppo Reno 6 5G.