ASUS has made itself a giant in the PC Gaming space with its Republic of Gamers or ROG branding, thanks to its impressive quality and unique element ROG has made its own name in the gaming space. So, we had to check out its flagship gaming headset – the ASUS ROG Theta 7.1 and review it as well.
The Taiwanese giant always adds a unique touch to its products that increase its brand value, especially associated with ROG and helps to attract more loyal customers. So, naturally, even if someone spends as close to ₹19,999 still they are getting a premium experience with a standout feature as a ROG fan.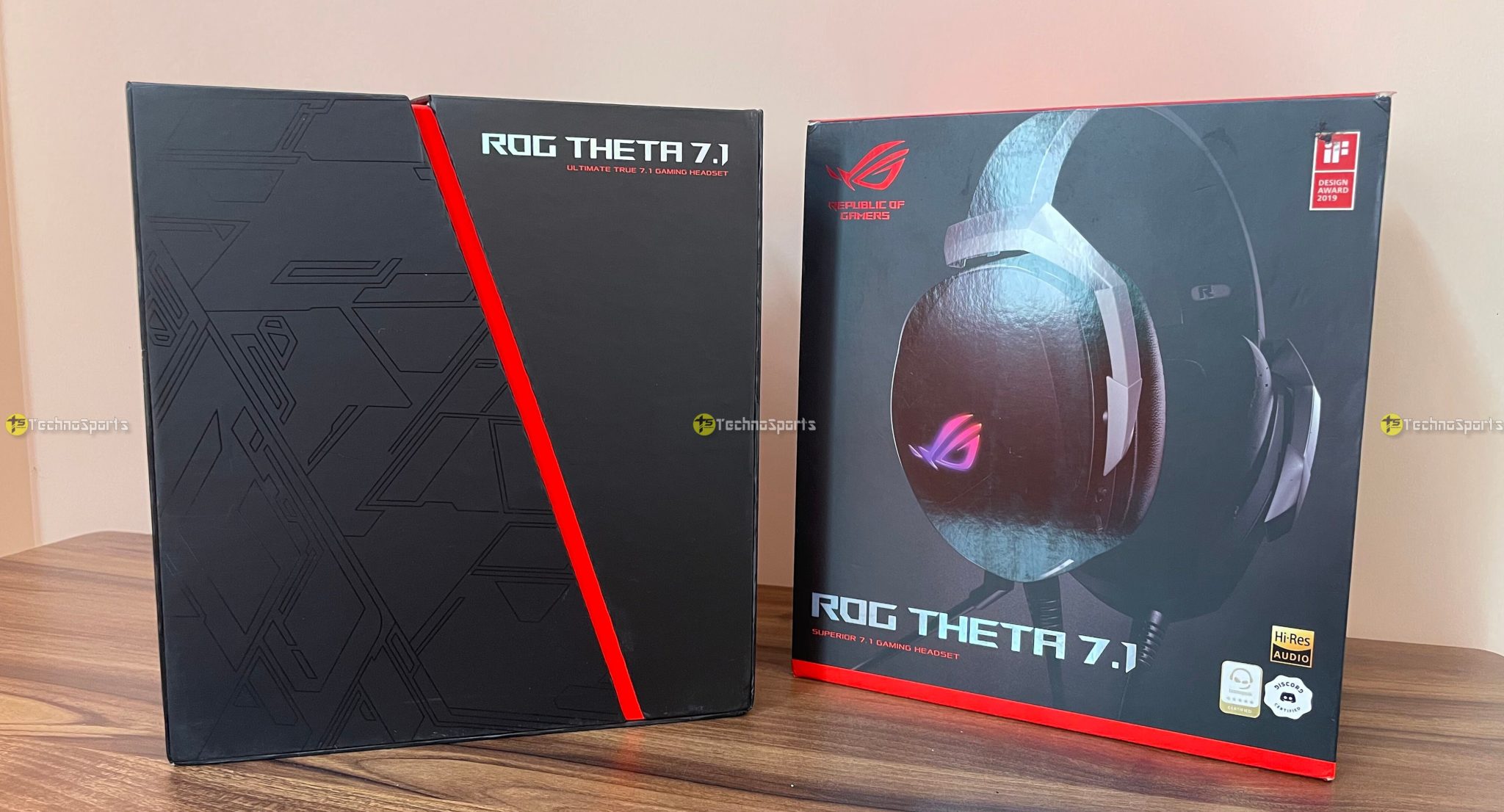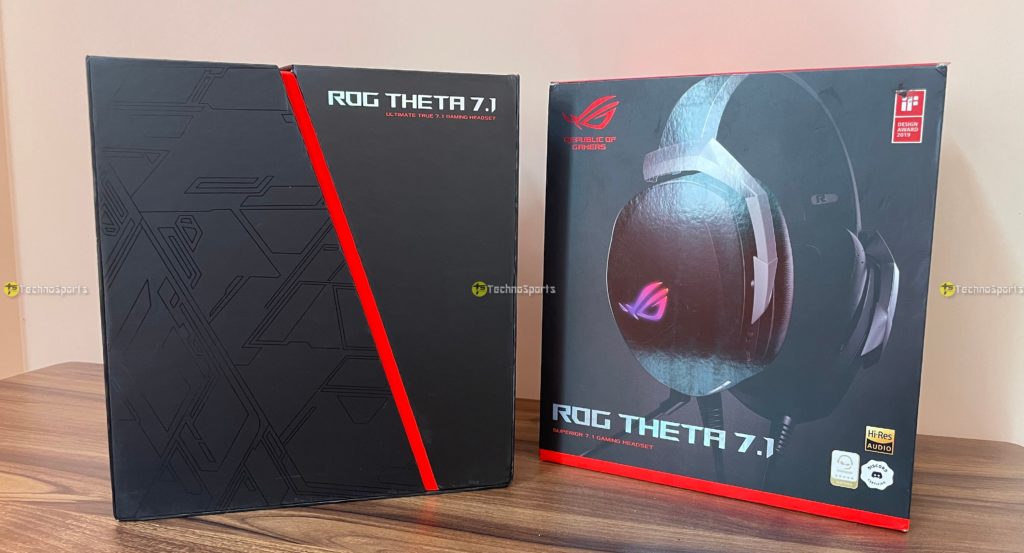 Specifications
7.1 surround sound with eight ASUS Essence drivers and virtual subwoofers for incredibly immersive gaming audio and powerful bass
AI noise-cancelling microphone offers crystal-clear in-game voice communication
Four ESS 9601 headphone drivers and exclusively customized ROG home-theater-grade 7.1 DAC provide exceptional lossless audio
USB-C connector for compatibility with PC, Mac, PS4, Nintendo Switch and smart devices
ROG Hybrid Ear Cushions with specialized fast-cooling fabric and eyewear-friendly design provide uncompromised comfort
Armoury II software enables tuning of virtual bass and other audio profiles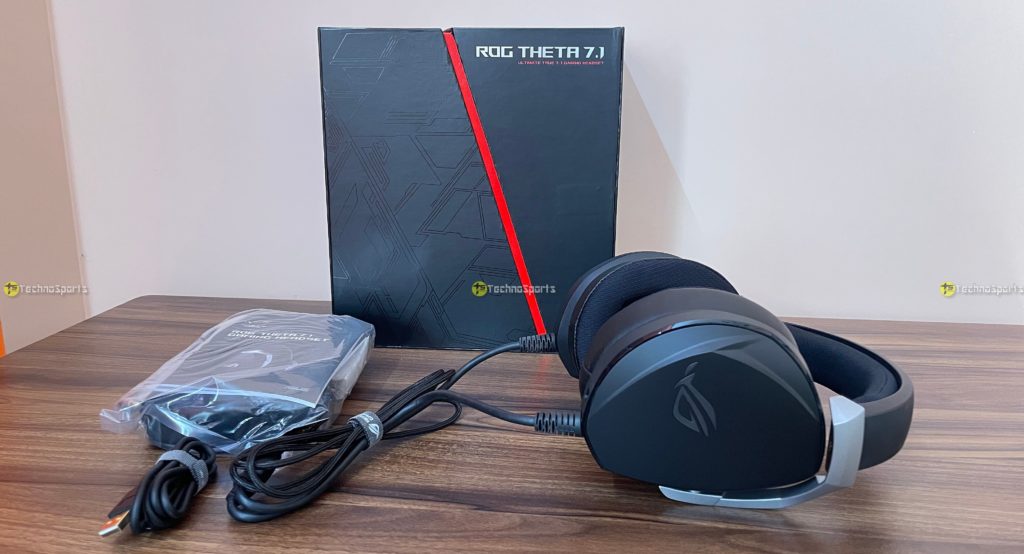 In the Box
Detachable microphone, User guide, ROG Hybrid ear cushion USB-C to USB 2.0 (Type-A) adapter, USB-C cable: 1.2m/ USB 2.0 cable: 1m
Design & Build Quality
The ROG Theta 7.1 is made out of plastic but has superior quality and this also makes it lighter than a lot of heavier ones out there. The HyperX Alpha S we tried using a more premium metallic headband, however, it felt quite heavy after intense gaming sessions, whereas, this ROG Theta 7.1 looks premium but is very easy to use.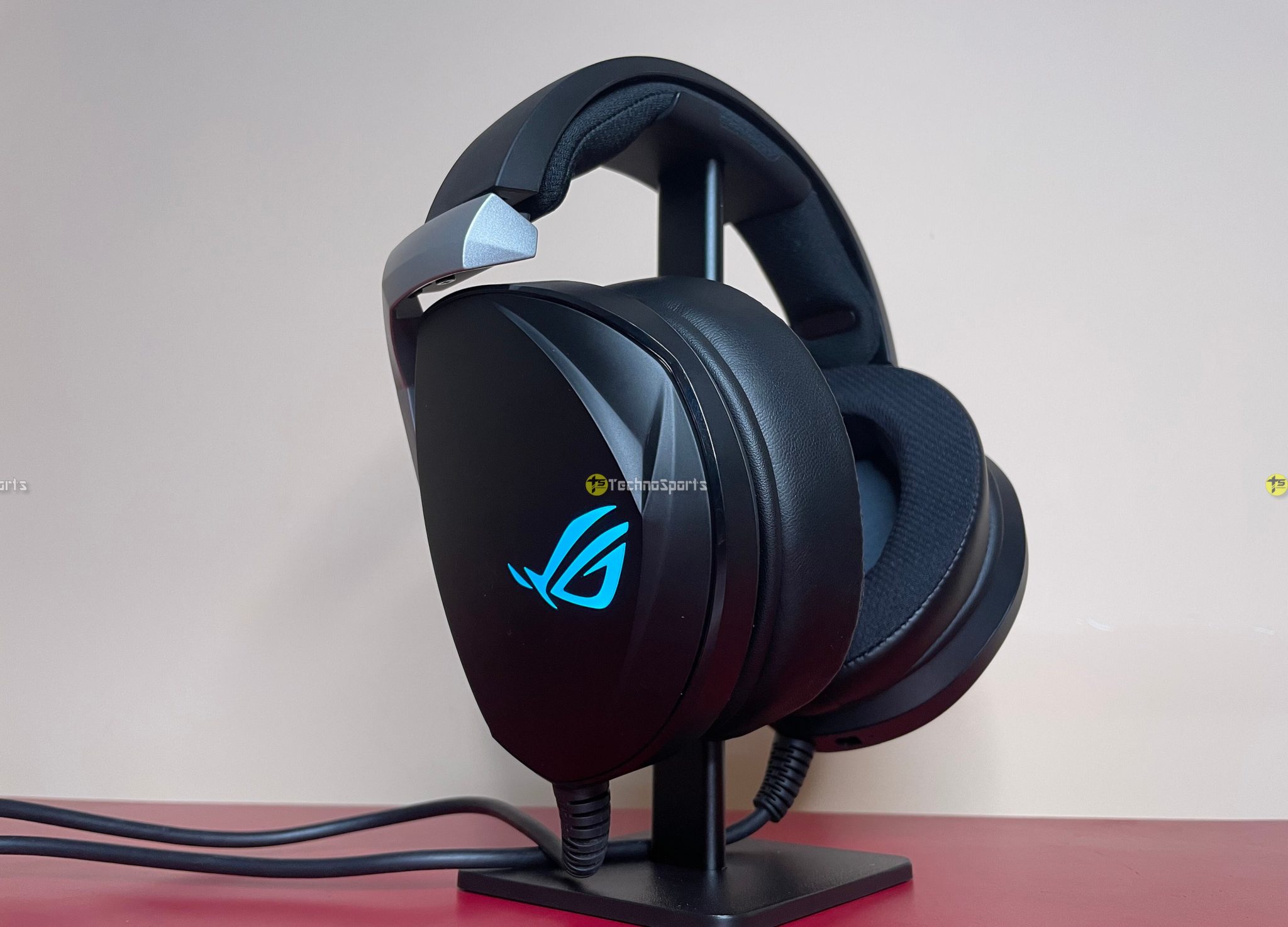 The build quality is good and doesn't feel cheap with a nice blend of plastic and metal quoting, however, as it weighs only 590 grams, and has this comfortable earcup, slipping the ROG Theta 7.1 into your ears is very easy.
The unique carvings and the design makes it look like a futuristic gaming headset and when the ROG logo list up, the headset looks really cool. By default, it uses the Color Cycle effect and with the ROG software, you can easily set your tone. Overall, the design looks really nice and even without using heavy metal, there's a premiumness to this headset.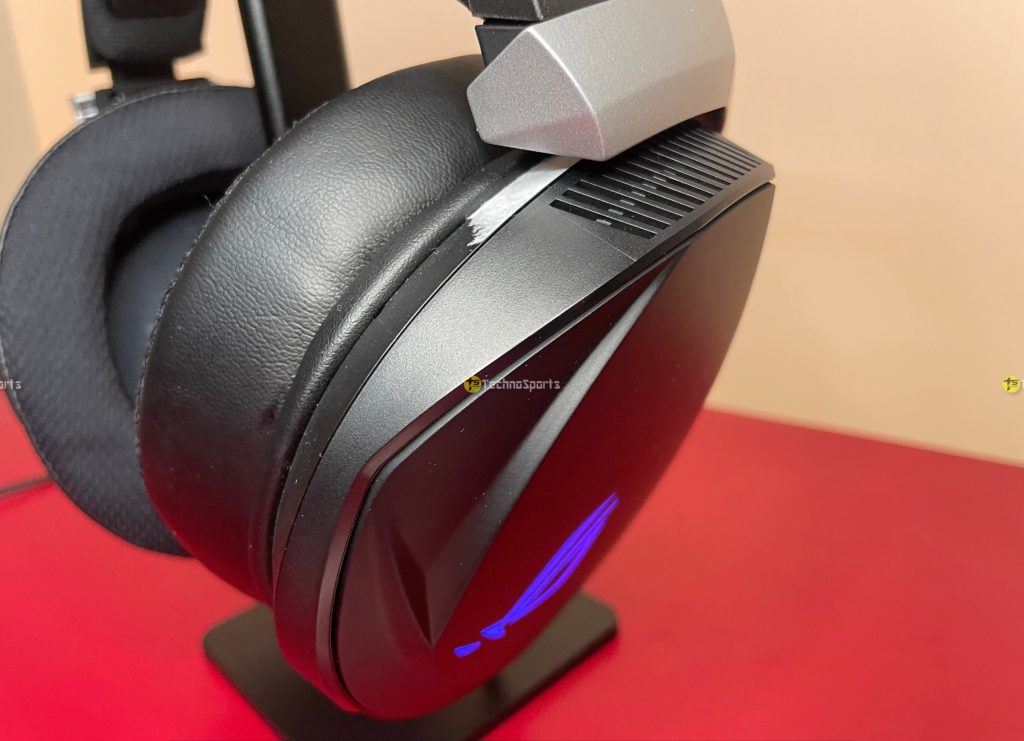 Audio Quality
In this regard, ASUS has kept no tables unturned as the gaming headset is equipped with 7.1 surround sound with eight ASUS Essence drivers and this gives a great experience especially when you are gaming. Also, because of the design, the earcups fit right inside and your ears are totally isolated from the external world.
Even though there is no active noise cancellation, however, you almost get all of that environmental noise removed automatically when you put on the headsets.
Now, when you are gaming latency of hearing the sound could really change the game and with the ROG Theta 7.1 you get customized ROG home-theater grade 7.1 DAC and four high-res ESS 9601 headphone drivers, this really enhances some low sounds easily. Be confident that with this gaming headset you can hear the footsteps clearly and won't have to complain.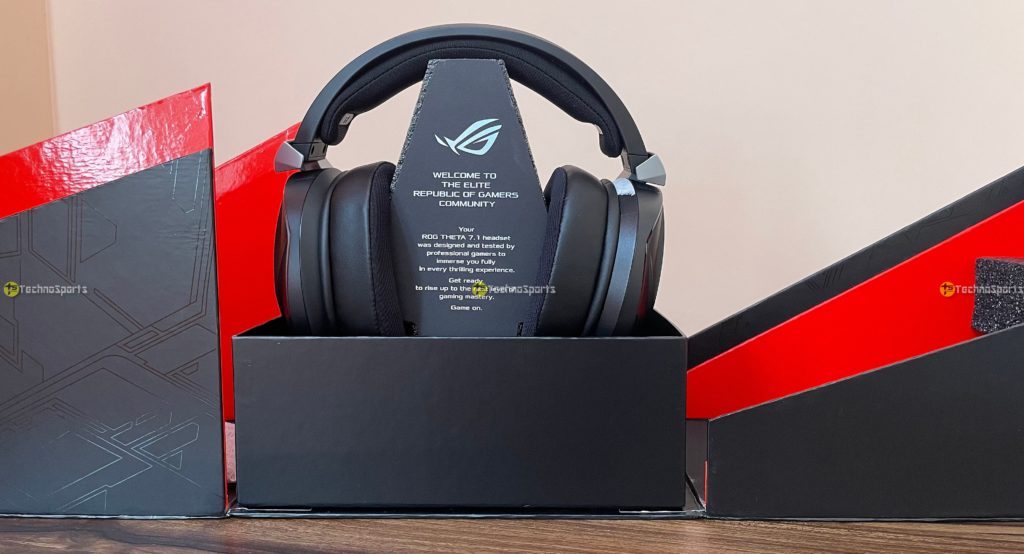 Interestingly, there are four larger discrete Essence drivers in each ear cup to deliver full-spectrum, 7.1-channel surround sound. So, the sound comes pretty evenly from both the earcups and are very detailed with rich bass, so the listening experience is another key highlight of this gaming headset.
Overall, while gaming I really enjoyed using the ROG Theta 7.1 and is highly recommended for serious gamers as it really makes a difference. However, it depends on whether you want to use the surround sound effect, but, it also does makes a difference when you use the headset to watch a movie or listen to music.
Microphone
Coming to the microphone, you have a detachable mic that can be used when necessary and I do like this way as there are times when you do not need it and you can take it out and use normally. The ROG Theta 7.1 offers an AI-powered noise-cancelling microphone that ensures unmatched crystal-clear in-game communication.
Well, indeed its microphone works pretty well during games and your squad will clearly be able to listen to you even if there's heavy noise as there's a noise-cancelling microphone protecting you. The ROG Theta 7.1 is both Discord and Soundspeak certified, so, if you use both of these applications for gaming, you will feel the difference.
Comfort
ASUS said to have used a new, softer material, these cushions combine specialized, fast-cooling fabric and 100% protein leather for both good sound isolation and comfort. It works really well as these ASUS Hybrid ear cushions give you superb sound isolation and comfort.
This ROG Theta 7.1 has a fast-cooling design & fabric that reduces heat by 25%, keeping you cooler during long gaming sessions. As I wear specs, a feature that ASUS specifically took care of is the Pressure-reducing material used that helps comfort gamers who wear glasses.
The total experience of using this gaming headset was very nice and from the moment I started wearing it be it for gaming or music, I did really enjoy it. The Ergonomic reverse D-shape helps to give that comfortable experience you demand from a premium gaming headset.
Software & Usability
ASUS ROG products are always made keeping in mind of gamers and so, the ROG Theta 7.1 is one of the easiest to use products. Much like other ASUS products, the software experience is really very easy & simple, simply use the Armoury II software to configure and tune your headset the way you like it to be, effortlessly.
You can take full control of your audio experience, from equalization (EQ) to 7.1-speaker level-balancing via one single software and that's really convenient.
Talking about usability, this is where a lot of companies get beaten by ASUS, here they have used a USB Type-C headphone jack, which has become a new standard in almost all devices. So, essentially you can plug it into any device and if you use the USB-C to USB 2.0 adapter cable, you have more options to choose from, from PlayStation to Mac, this ROG Theta 7.1 gaming headset is one of the best in terms of compatibility.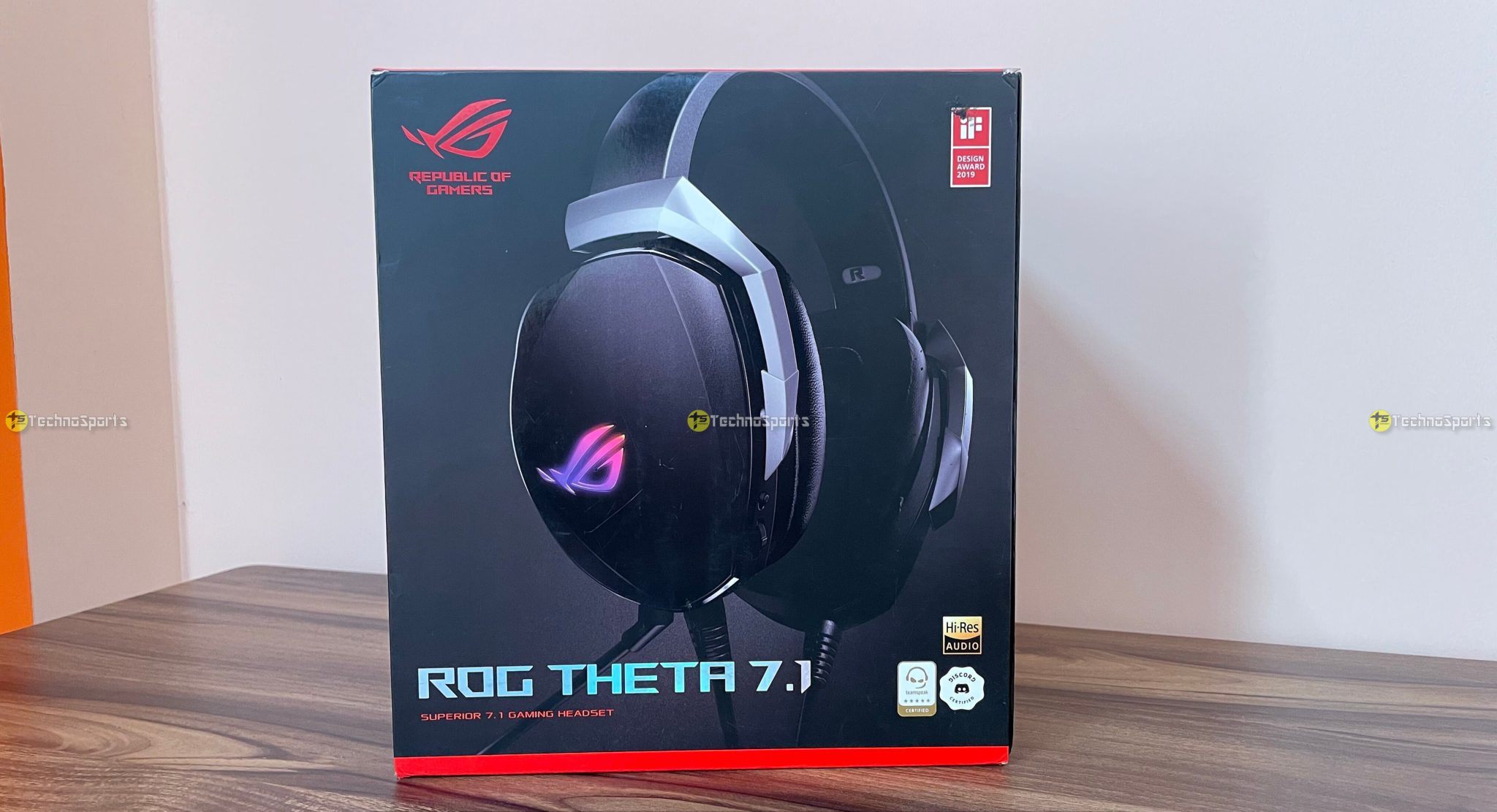 Verdict
If you are a serious gamer and looking for a premium gaming headset with standout features for accurate gaming, then the ASUS ROG Theta 7.1 perfectly fits your needs. It is also very easy to use and can be used for casual music listening and even other forms of media consumption pretty easily.
Overall, with powerful sound drivers, quad AMP and home-theatre grade 7.1 DAC, this is one of the best sound experiences I have ever had. Also, being fine-tuned for gaming with microphones being such accurate, could solve any gamer's problem and I like the fact ASUS hasn't made this very heavy or overdone thing to hamper the core gaming experience.
It is a bit expensive but worth it if you are thinking about the long run and is a must-have for premium gamers undoubtedly!
Buy from Flipkart: http://fkrt.it/g5gs9guuuN, or buy from Amazon: https://amzn.to/3EJL1l1
Also Read:
- Advertisement -