With a few tantalising announcements, Intel has been hinting at the release of its 13th-generation Raptor Lake CPUs. It states that the CPUs have already achieved an 8 GHz "global overclocking record" and will be the first to run at a stock speed of 6 GHz.
Raptor Lake was previewed by Team Blue at the Intel Tech Tour 2022 in Israel. One slide demonstrated Intel's intention to use Raptor Lake to outperform AMD in terms of clock speeds. While Intel claims its upcoming chips can outperform the Ryzen 9 7950X by 300 MHz with a 6 GHz model, we are aware that it has a maximum clock speed of 5.7 GHz.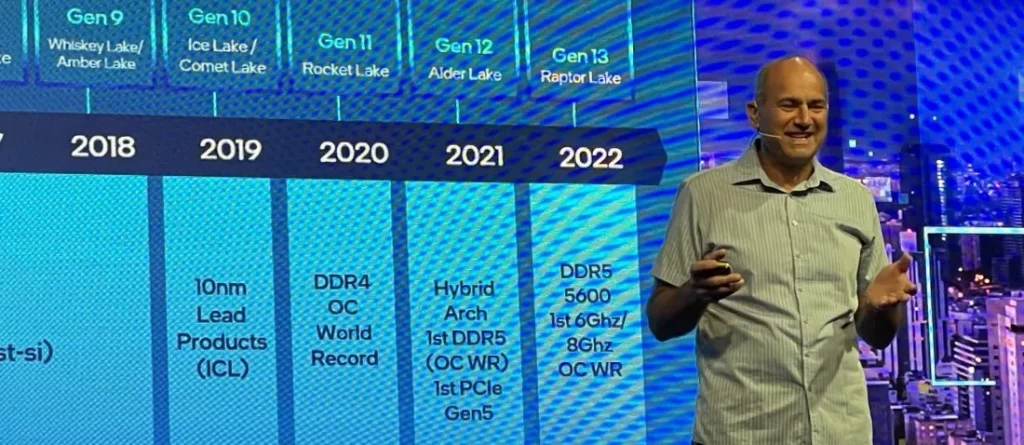 The Raptor Lake SKU with the 6 GHz stock speed has yet to be announced by Intel, and neither has its release date. While the top-tier Core i9-13900K, which recent leaks indicate would perform compared to the Ryzen 9 7950X, may be the culprit, that CPU's 24-core (8P + 16E) clock speed is rumoured to reach 5.8 GHz, which suggests the Core i9-12900KS or another KS model may be the only one to receive the 6 GHz speed.
The slide further states that Raptor Lake has already been liquid nitrogen-overclocked up to 8 GHz. Intel claims that this is an overclocking world record, albeit there are some limitations given that 8.7 GHz currently holds the title.
Raptor Lake, according to Intel, boosts single-threaded workloads by 15% and multi-threaded workloads by 41%.
Raptor Lake combines Performance (P) and Efficiency (E) cores, just as Alder Lake. While the P cores are now Raptor Cove rather than Golden Cove from the previous generation, the E cores are still based on the same Gracemont cores as Alder Lake.
Raptor Lake is anticipated to have faster speeds, twice as many E-cores, and more L2 and L3 cache than Alder Lake, while the more sophisticated memory controllers will bring certified support for DDR5-5600 (as opposed to DDR5-4800 in Alder Lake) and DDR4-3200 memory.
The Arc Alchemist GPU launch has caused consumers to lose faith in Intel, and the firm recently had to deny it was closing the division—the second time it's had to do so. Intel will be hoping the Raptor Lake CPUs can help them reclaim some of this trust. However, given the hoopla surrounding Zen 4, Chipzilla will have competition in the market for next-generation processors. On September 27, during the Innovation event, Intel is scheduled to reveal the Raptor Lake CPUs. In October, the processors are anticipated to go on sale.
Also read: