TSMC has done it again despite the crashing Chipset market. According to reports and some factors, including weaker demand in China and over-shipping from several chipset vendors in Q4 2021, led to a fall of 5 percent YoY in the global smartphone chipset (SoC/AP+Baseband) shipments in Q1 2022, according to Counterpoint's most recent Foundry and Chipset Tracker.
However, the first quarter of 2022 saw an amazing gain of 23 percent YoY in chip revenues, which is probably due to the introduction of more expensive and diverse 5G devices.
According to Counterpoint, Qualcomm had a 44 percent market share of the smartphone AP/SoC and baseband revenues in the first quarter of 2022. On the foundry side of the equation, TSMC accounted for approximately 70% of the manufacturing of the chipsets used in smartphones, including the System-on-Chip (SoC), discrete Application Processors (AP), and cellular modems. Samsung Foundry came in second with a 30% market share.
"Foundries are extremely high CAPEX, cutting-edge technology businesses which have led to a duopoly for manufacturing advanced chipsets for smartphones," commented Counterpoint Senior Research Analyst Parv Sharma. "TSMC and Samsung Foundry together control the entire smartphone chipset market and TSMC is more than double Samsung in terms of manufacturing scale and market share. TSMC CAPEX spending is much higher than the competitors. It will invest $100 billion between 2021-2023 in 5/4nm and 3nm chip fabrication facilities, WFE, 3D packaging, and ramp up for 5/4nm and 28nm to meet the growing demand. Thus, enabling TSMC to capture a large share in the advanced nodes."
However, the analyst company warned that this dual sourcing strategy would put Samsung Foundry's market share under even more pressure. According to senior analyst Jene Park, Qualcomm and Samsung Semiconductor's internal Exynos chipset business are responsible for Samsung Foundry's claim to 30% of the market share.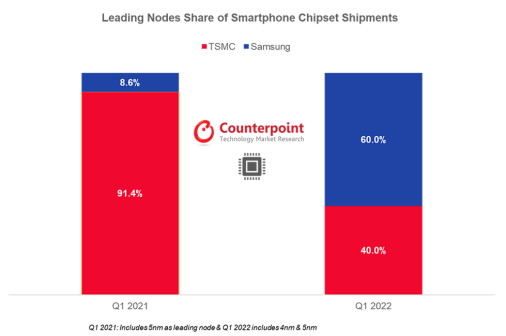 "Despite relatively lower yield rates for the leading 4nm process node, Samsung Foundry led the leading nodes (4nm & 5nm) smartphone chipset shipments with a healthy 60% share followed by TSMC which captured a 40% share in Q1 2022," said Park, adding that the 4nm shipments were driven by Qualcomm Snapdragon 8 Gen 1 which has gained more than 75% share in the Samsung Galaxy S22 series.
As long as 2023, there will likely be a global chip scarcity, according to Samsung and TSMC, who have both emphasized increasing manufacturing capacity.
For instance, Samsung invested $17 billion in a new chip manufacturing facility in Taylor, Texas, which uses a 3-nanometer (3nm) manufacturing process. The website of the business states that the site will be operating in 2024. Similar to this, TSMC is considering opening a second chip plant in Singapore and as of May of this year, reported that talks with government representatives were still in progress.
also read:
NVIDIA makes its DLSS available in more than 200 Games