There were a lot of speculations and rumours surrounding who will become the next Indian head coach. Amidst all this news, Rahul Dravid has finally applied for the role of head coach on the deadline day.
As a result, once the former Indian captain goes through the CAC and all the other formalities, he will takeover the role of the Indian head coach from Ravi Shastri. This is because Shastri's term as an Indian head coach comes to an end after the T20 World Cup and he decided to not renew his contract.
A BCCI official revealed the news regarding Dravid's application while speaking to ANI.
"Yes, Dravid has applied for the position of Team India head coach and Laxman is definitely in the race to take over as NCA head. Talks are on and we have to see how it goes."
With Rahul Dravid agreeing to take up the role of the Indian head coach, the BCCI is looking to strengthen other positions.
"Dravid has agreed and it cannot get better. The other positions will now be looked into while Vikram stays as the batting coach. The Indian team is in a state of transition with youngsters coming in and they have all worked with Dravid and it will be all the more easier for Indian cricket to continue on its path to becoming world-beaters on the pitch."
BCCI to offer Rs 10 crores to Rahul Dravid for the role of Indian Head Coach
According to various sources, Rahul Dravid was the top choice of BCCI as the next Indian head coach. Therefore as soon as Ravi Shastri denied extending his contract, the board approached Dravid to take up the role.
Consequently, a official has revealed to Insider Sports that BCCI has offered a big sum of Rs 10 crores to Rahul Dravid as a salary. With all being said and done, Dravid will have to face tremendous pressure with such a big price tag behind him.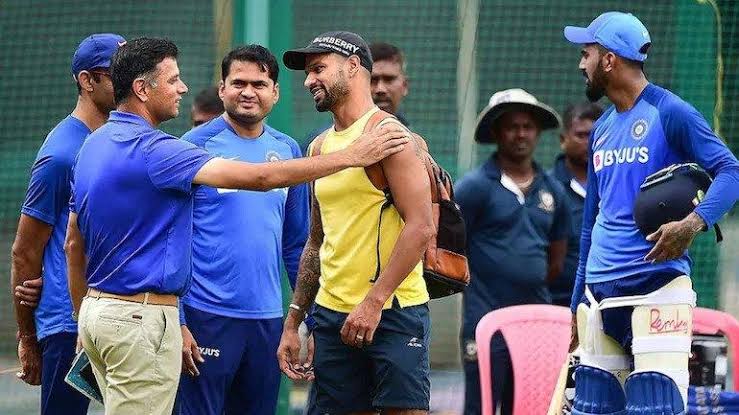 But the former Indian captain is expected to do well as the Indian head coach. Owing to this fact, his record as an India U-19 and India A coach is exceptional. In addition to that, his experience with young players will also play an integral role as this Indian side contains several players who have just started playing at such a big stage.
In the end, it will be interesting to see how India fares under Rahul Dravid's coaching.
Also Read: ICC T20 World Cup 2021: Everything you need to know about the Indian cricket team