Samsung had recently launched the Galaxy Z Fold3 and the Galaxy Z Flip3, which were its latest foldable smartphones. With the arrival of the new foldable devices, it seems that the company is moving away from its popular Galaxy Note Series of high-end smartphones.
But a new trademark patent hints that the Note lineup will be seeing a major update in terms of design.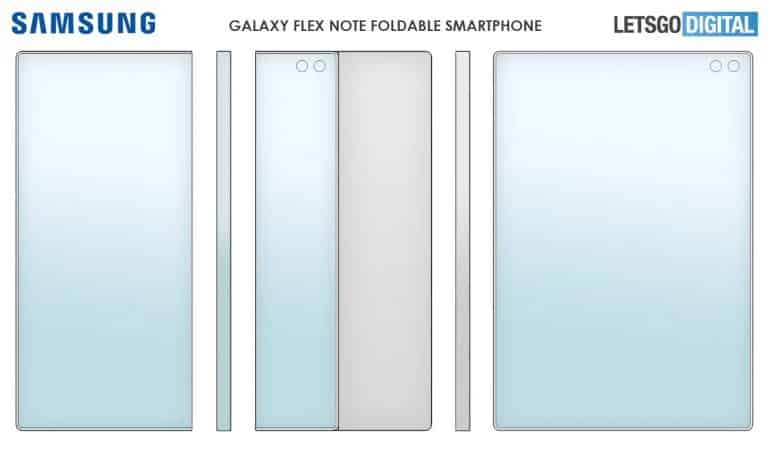 According to a report from LetsGoDigital, the South Korean tech giant's display unit had filed a trademark for the name 'Flex Note' and also a design patent with the CNIPA(China National Intellectual Property Administration).
The patent describes a smartphone with a large display that can fold outward and wrap around the device. In its compact form, the device would resemble a regular smartphone from the front, with its large display folding and wrapping around to the back from the right side.
Looking at the compact form from the back, the wrap-around display covers around half of the rear panel. Users can unfold this display, which would make the total screen size of the smartphone larger.
This would make it similar to a tablet from the front, another unique aspect of its design is the inclusion of a recess for the S Pen Stylus. In other words, the device will arrive with S Pen support and a special magnetic housing as well.
Notably, the device is equal in terms of thickness when in its compact form. However, when the display is unfolded, there is a noticeable difference between one half of the rear panel and the other side which houses the folding wrap-around display.
Although, this difference in thickness also serves a purpose as the magnetic housing for the S Pen is in the region behind the folding screen.
So when the display folds, the S Pen can be housed securely and can be removed when needed in its tablet form. Another interesting aspect is that the rear camera module is not detailed in the patent sketches, but the company does include dual cameras underneath the display that is on the top right corner.
This makes it capable of taking both selfies in tablet form and serves as a primary sensor in its compact form, at the moment, it is unknown if the company is actually working on such a product or covering all bases, stay tuned for more updates!

Also read: