It seems that the DC fans are going to get a new animated film as Warner Brothers have dropped the new trailer of the latest DC film, Injustice. The trailer begins with the kidnapping scene of Lois Lane, which is an event that would be set the remaining story of the series in motion. We will like to give a short glimpse as imagining a world with terrible loss that has turned Superman from a beacon of hope to be the ruthless dictator. Joker starts to trick Superman by utilizing the toxin fear of Scarecrow to kill Lois Lane and also try to finish their unborn child. Actually, it was part of Joker's masterpiece planning as Lois's heartbeat has been synced in the center of the Metropolis as a nuclear device. After her death, Superman has to wore to protect the city.
It is basically the story of the alternate universe where the mad machinations of Joker that has also just led to the death of the wife and the unborn child of Superman along with Lois Lane. Now Superman wants to take the con troll of the entire Earth to his own hand for the good of humanity and to stop him Batman creates a team of freedom-fighting superheroes.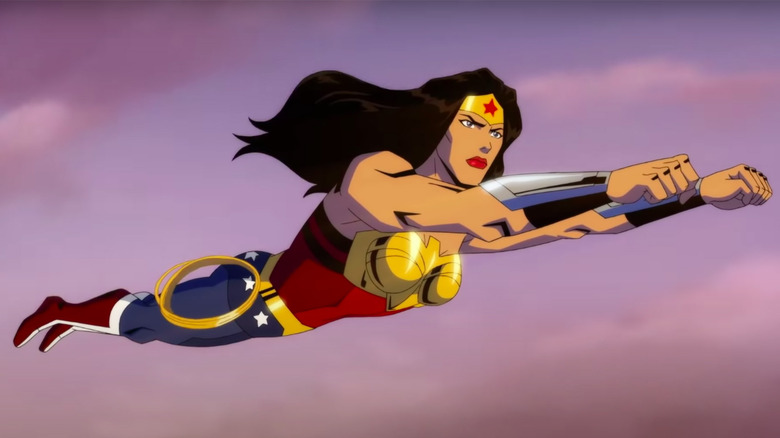 There is also a fighting game armed as Injustice: Gods Among Us that has been developed by NetherRealm Studios. It also shows the alternative DC world based on Superman who has become a tyrannical leader after the death of Lois Lane. The splinters of Justice League and the entire team of superheroes try their best to stop Krypton's fallen son, and indeed to take the other versions from the parallel reality to battle with High Councilor Kal-El.

Cast
This animation film will be casting as Justin Hartley as Superman, Anson Mount as Batman, Kevin Pollak as Jokar and Jonathan Kent, Janet Varney as Wonder Woman, Laura Bailey as Harley Quinn, Drek Phillips as Nightwing and Aquaman, Zach Callison as Damian Wayne, and Jimmy Olsen, Brien T. Delaney as Green Lantern, Brandon Michael Hall as Cyborg, Edwin Hodge as Mr. Terrific and Killer Croc, Oliver Hudson as Plastic Man, Anika Noni Rose as Catwoman, Reid Scott as Green Arrow and |Victor Xsasx, Faran Tahir as Ra's al Ghul, Fred Tatasciore as Captain Atom, Yuri Lowenthal as Mirror Master, Flas, and Shazam, Andrew Morgado as Mirror Master Soldier. The director of the animated series is Ernie Altbacker. The producers are Jim Kriegis and Rick Morales, and Associate Produced by Alyssa Ornelas with Sam Register.
Release Date
It is reported that this Injustice will become on 19th October 2021, on 4K Ultra HD Blu-ray Combo Pack, Blu-ray, and also on the digital.
Here is the trailer: