September is here and one of the most awaited smartphones unveils in the world, that of the iPhone 13 series, will happen this month, possibly on September 14. As per a report by GizmoChina, Apple may not offer the iPhone 13 Pro models in the 256GB storage variant, which could be true as in this way, the tech giant would force its loyal base to look for the higher model if they want to go for the higher storage.
According to the report, the iPhone 13 Mini and iPhone 13 will get 64GB, 128GB, and 256GB storage options. Meanwhile, the iPhone 13 Pro and Pro Max will skip the 256GB storage variant. Although they will instead bring a 128GB, 512GB, and a 1TB variant.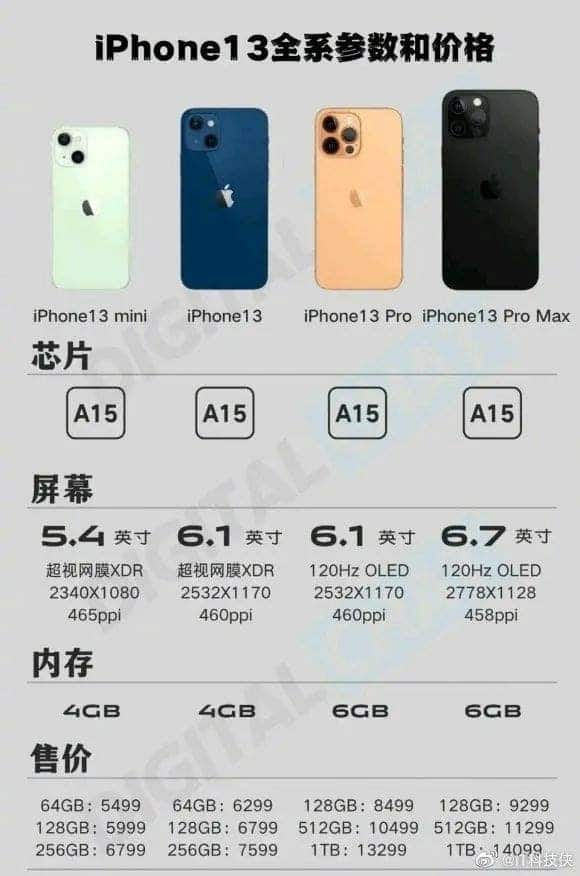 Even though there are no confirmations on the same – we can see evidence of such cost-cutting moves previously too. Earlier, the company has already tried the same technique by skipping the 64GB storage on iPhone 7 and their other models. This move intends to force its loyal base to go for the higher model if they want a higher storage variant. iPhone 13 Pro can most likely do the same.
Although this is not the first time the company is cutting useful features from its iPhones. It first started the trend of removing headphone jacks from the iPhones. Furthermore, only recently removing bundled chargers. Apple uses the strategy of cost-cutting to force people to buy its expensive products. iPhone 13 Pro 256GB would be just enough.
In terms of specs, the iPhone 13 will feature an A15 Bionic SoC, an XDR display for the iPhone 13 series, and a 120Hz OLED panel for iPhone 13 Pro series, as per the leaked poster. The upcoming iPhone 13 is also rumored to feature satellite calling abilities and more such over-the-top features. Although all these are Rumours so we have to wait till the official launch for all the information.
Also Read: