Lionel Messi's contract with Barcelona expired earlier this month. The Argentine has spent a significant portion of his life with the Catalan giants, having joined when he was 13 years old in 2000. His contract was set to expire this summer, but it was believed that he would extend it.
Despite Messi's eagerness to stay longer, he was unable to do so owing to wage cap restrictions, bringing an end to his 21-year association with the club. Barcelona announced to the globe, and Messi had a press conference a few days later to say his farewell. To say it brought tears to my eyes would be an understatement.
Messi is without a doubt one of the best players in the history of the beautiful game. In the build-up to the new season, the record six-time Ballon d'Or winner stunned the whole sporting world by completing his spectacular trade from FC Barcelona to Ligue 1 giants PSG. Due to LaLiga's financial fair play laws, Messi, who will go down in history as an all-time great, had to abandon his 21-year affiliation with FC Barcelona.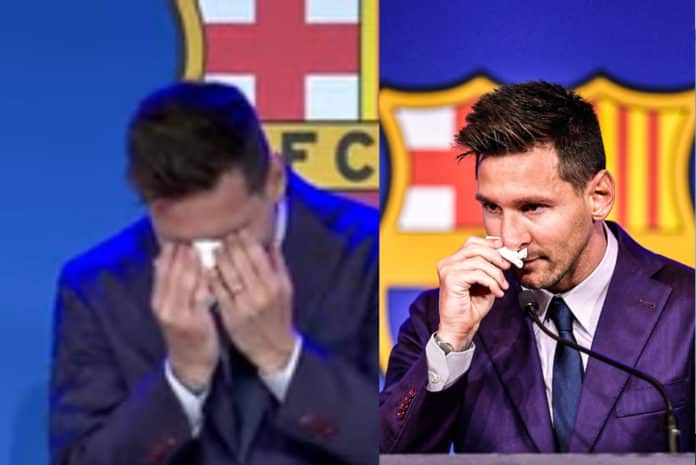 Messi burst into tears just seconds after taking the stage. He was given a tissue, which he used to wipe away his emotions before gathering his composure and addressing his exit from the club. Messi, unsurprisingly, threw away that tissue. The tissue, however, is now being auctioned off. Yes, I'm serious.
Someone in attendance at the news conference is said to have picked up the tissue off the floor. They've listed it on Meikeduo, an international auction platform, with a $1 million starting price. In the description, the seller justifies the price by claiming that it "contains Messi's genetic material" and could be used to "clone" a new version of Messi.
A man who attended Messi's goodbye address in Catalonia, according to Complete Sports, was able to obtain the tissue Messi used to dry his eyes during the news conference. If potential customers really want to get their hands-on Messi's used tissue, the mysterious individual wants them to invest a whopping $1 million.
According to Rojakdaily, the man claims that the tissue contains Messi's genetic DNA, which might pave the path for future cloning of players like the renowned Barcelona. The aforementioned allegation is as absurd as the auction site's price for Messi's supposed used tissue.
When it comes to Messi mania, PSG is said to have made $100 million in just three days by selling jerseys of their newest high-profile recruit. According to a report submitted by 90min, PSG retailers have managed to sell a million Messi shirts in their stores, with prices ranging from €115 to €165.