Twitch has quickly become one of the largest streaming platforms and a form of entertainment for many, especially gamers. With eSports attracting an audience of over 500 million people per year, experts at BestOnlineCasinos.ca wanted to find out – who are the highest-earning sports game streamers?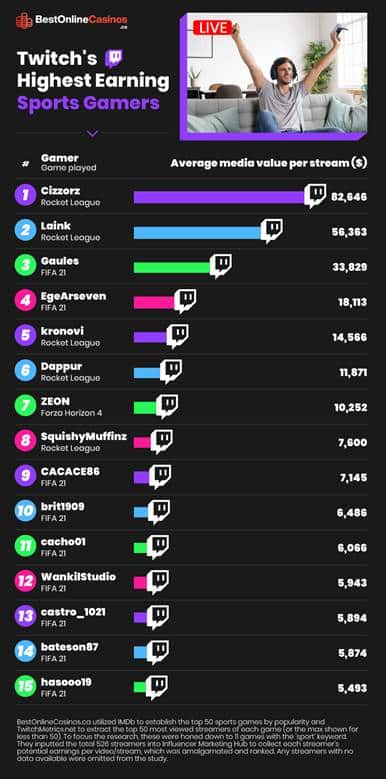 The sports game with the highest earning potential for streamers on Twitch
With Cizzorz ($82,646) and Laink ($56,363) both streaming Rocket League, it is no surprise to see it as the game with the highest earning potential. On average, those streaming the car-based football game could be earning $4,251 per video!
Following behind is FIFA with an average earning of $2,661 per game. Gaules, EgeArseven and CACACE86 – who has a potential average earning of $7,145 per game – all contribute to this achievement.
Surprisingly, clinching the final podium spot is PES 2020. A very similar concept to that of its successor, the soccer game has an average earning of $510 per video.
NBA 2K21 is in fourth with an average earning of $358, followed by Forza Horizon 4 ($347) in fifth and F1 2020 ($127) in sixth. Football Manager 2020 takes seventh ($111), followed by Madden 21 ($107) and Mario Golf: Super Rush ($37.08). In 10th is WWE 2K21 ($16.86) and in the final position is Need for Speed with $4.50.