In the Android smartphone market, Samsung Galaxy S20 FE is probably the only handset providing the best performance and a flagship experience under INR 50,000. There is hardly a gimmick on the paper specification you can find. The Exynos processor could be the only thing customers can talk about but with the launch of the Galaxy S20 FE 5G variant that houses a Snapdragon 865 processor, everything is pretty perfect.
The Samsung Galaxy S20 FE 5G costs INR 47,999 (8GB/128GB) in general, but for today you can save a healthy amount on it. Thanks to Amazon India. You can get the S20 FE 5G at INR 41,999 or less. Point to note, this offer is valid for today only.
Amazon India is providing an Rs.6,000 coupon for all customers which you have to check before adding into the cart. Here the price drops to INR 41,999 already. Before checking out you can also apply HDFC bank credit card offer and exchange offer to get another Rs.1,000 and up to Rs.12,500 off respectively. So, if you can apply all these offers together, the price of the Galaxy S20 FE 5G can come down to around Rs.35,999, a huge discount of Rs.12,000.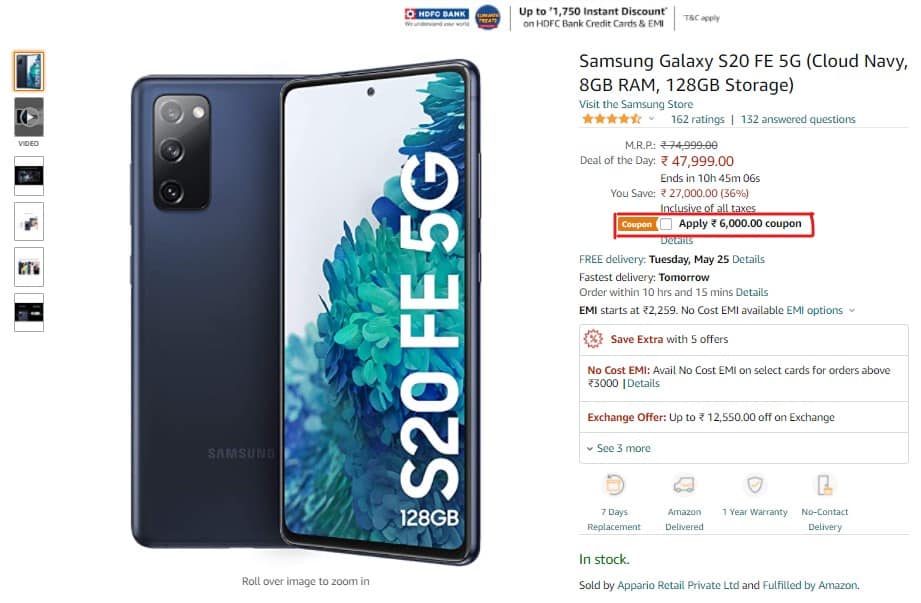 So, hurry up. Grab the offer before it ends. The product page link is given below.
Link: https://amzn.to/3ud0THE