Today, Intel finally launched its flagship Tiger Lake-H gaming processors with up to 8 cores and 16 threads based on its much-acclaimed 10nm process and marked the first leap in mobile computing performance Intel.
Having struggled a lot to bring 10nm to its mainstream mobile and desktop processors, finally, Intel has shown some promise. The lineup is led by the flagship i9-11980HK that reach speeds of up to 5.0 GHz and promises the highest performance in laptops for gaming, content creators, and business professionals.
Based on the new Willow Cove architecture, the new Tiger Lake-H gaming processors promises up to a 19% IPC increase over Comet Lake-H. Also, these mobile CPUs are the only ones to support 20 PCIe Gen4 lanes and a PCI-E 4.0 x4 SSD. 

Then you have Intel's revolutionary integrated Intel graphics based on Xe architecture, Thunderbolt 4, Wi-Fi 6E, and a host of new technologies. Apart from all the improvements and changes brought by Tiger Lake-H Mobile Processors, the main thing that lies is with real-world gaming performance.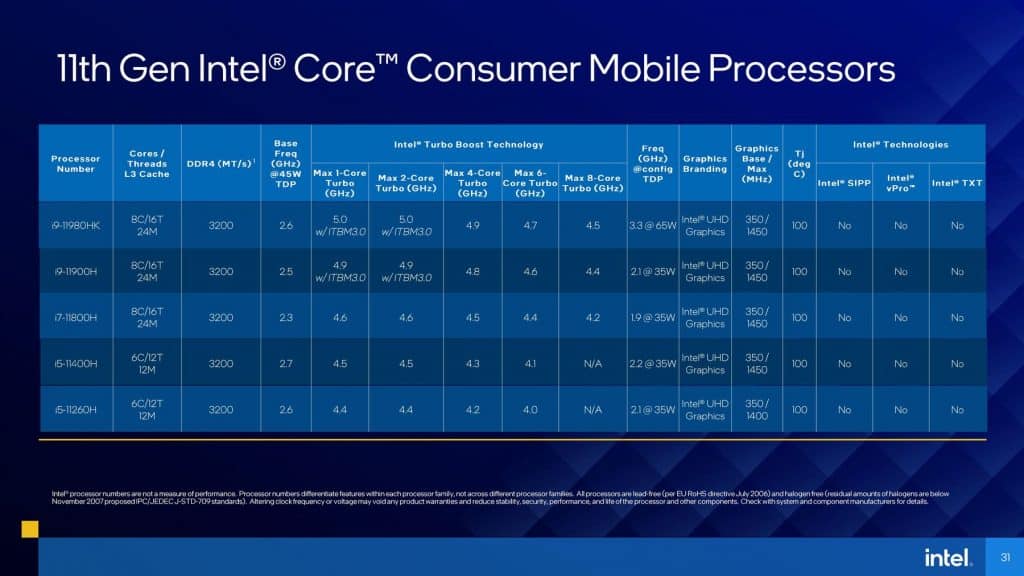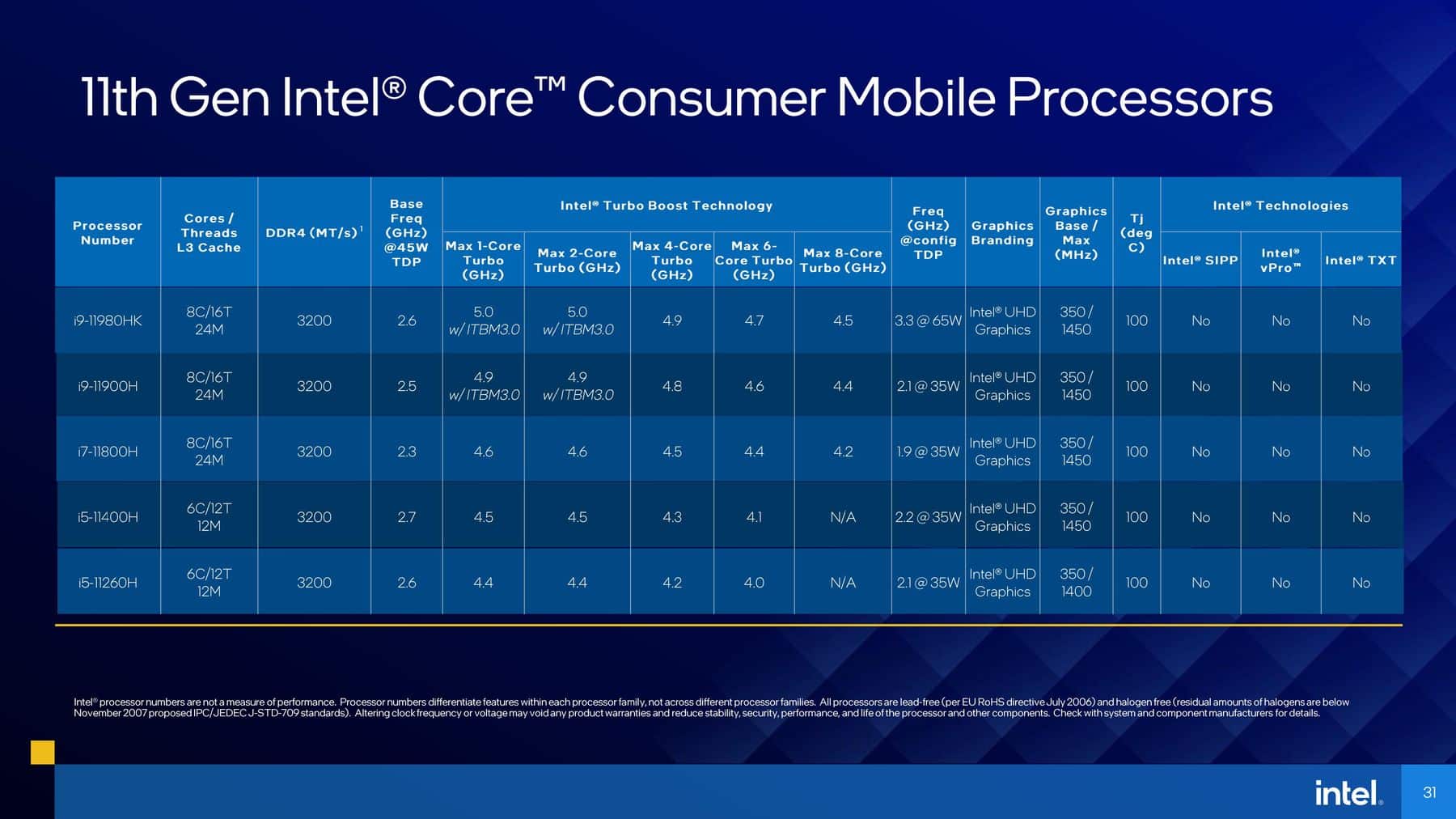 The entire lineup consists of 5 processors, including the flagship Core i9-11980HK, which will be fully unlocked for overclocking via XTU and tools from different manufacturers. It features 8 cores and 16 cores, a 65W TDP, 2.6GHz base frequency, 4.5GHz maximum turbo across all cores, and a maximum turbo of 5.0GHz in single-core.
The Intel Core i7-11800H and Core i9-11900H also have 8 cores and 16 threads and posts up to 4.9 GHz boost frequencies. Whereas the Core i5-11400H and Core i5-11260H processors feature 6 cores and 12 threads, having boost frequencies up to 4.5 GHz.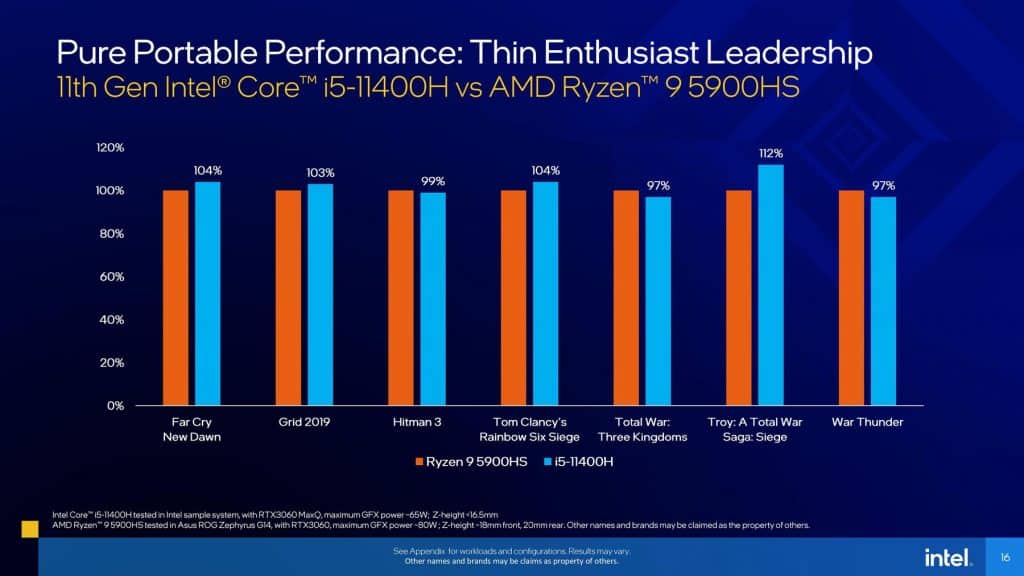 Intel seems to be so confident of its new Tiger Lake-H gaming processors that they have compared its mid-range Core i5-11400H vs AMD's flagship Ryzen 9 5900HS. The Intel CPU matches and even beats the Ryzen 9 5900HS processor in games like Far Cry New Dawn, Hitman 3 and others; still, we need a more wide range of games to see if how actually these Intel processors are performing.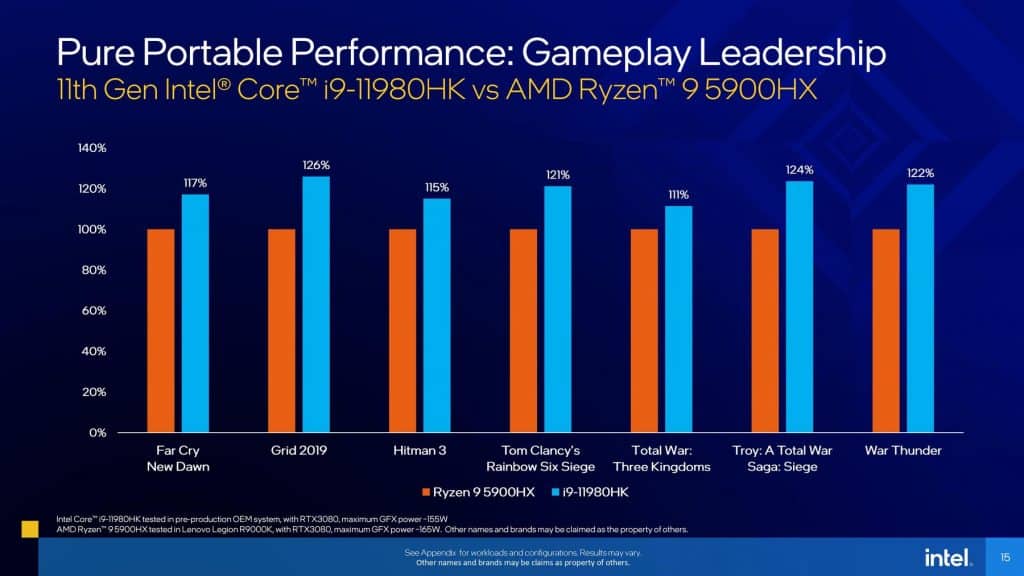 Now, when compared against the flagship Ryzen 9 5900HX, the Intel flagship, i.e. the Core i9-11980HK, seems to crush AMD totally across all games by a healthy margin. This was kind of expected as Intel has significantly improved its single-core performance that helps in gaming.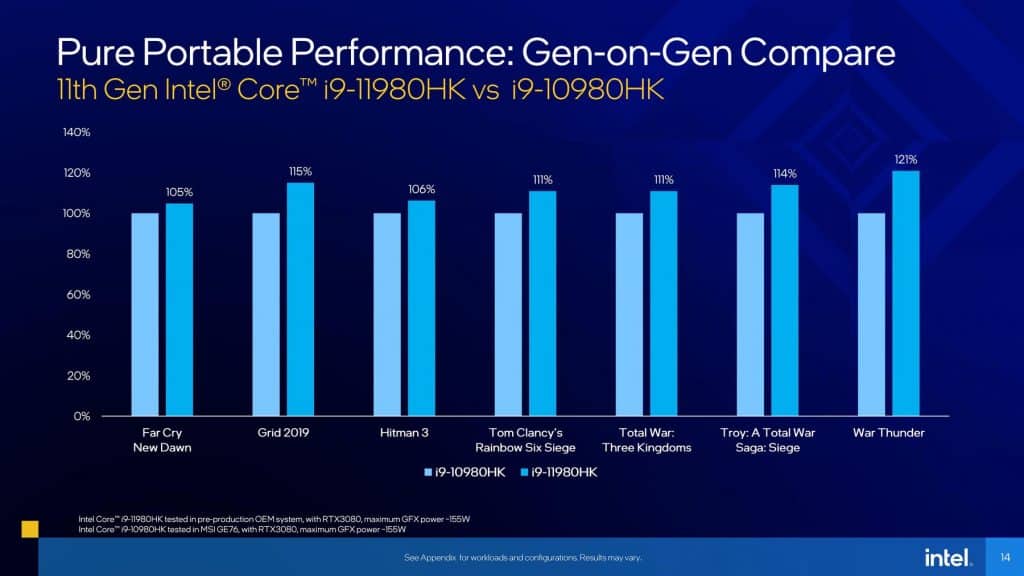 Also, Intel compared the new Core i9-11980HK against its predecessor Core i9-10980HK in gaming, and you see double-digit gains across all games.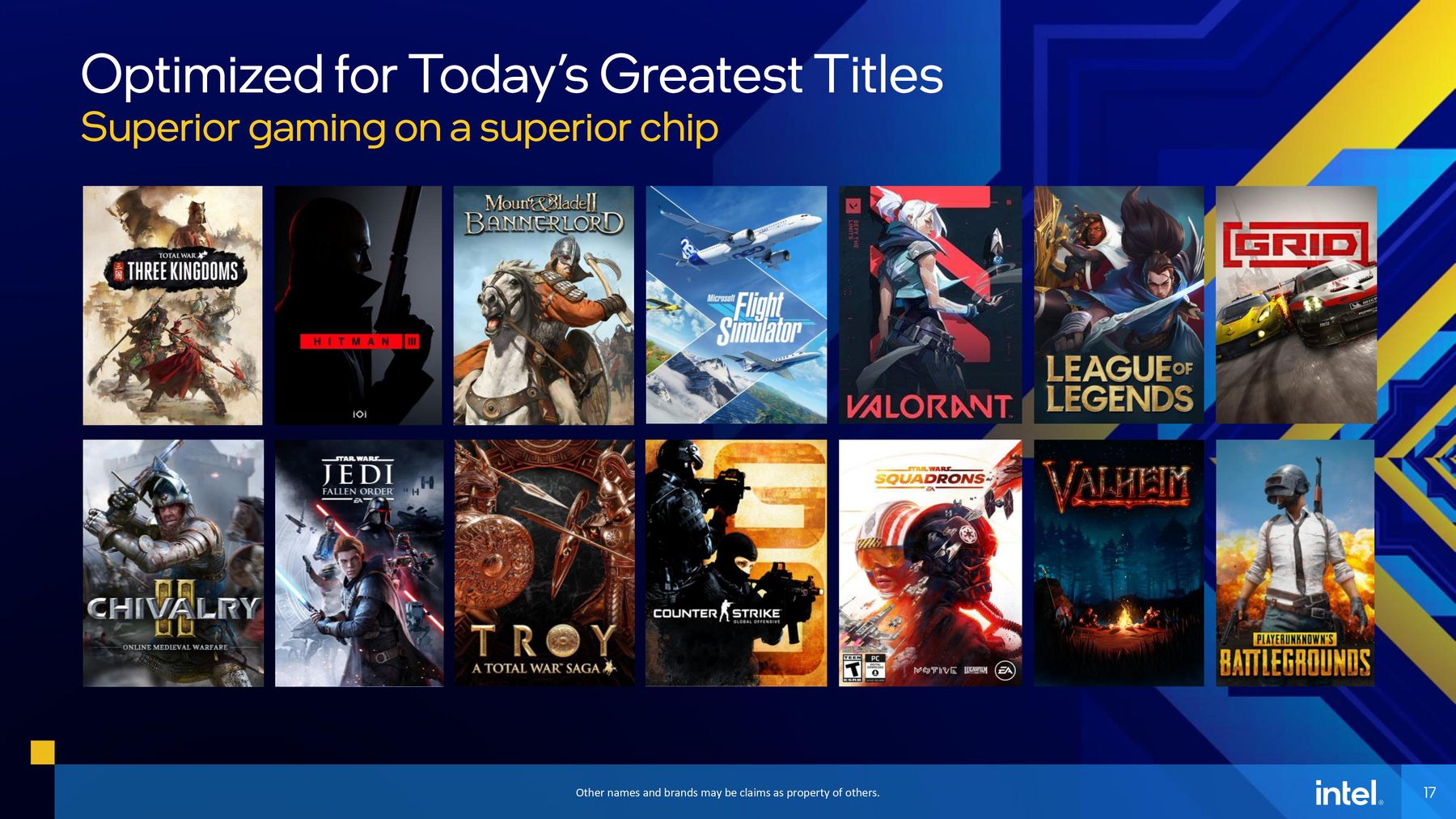 However, Intel did not show any performance comparison against AMD in benchmarks like Cinebench R20, Geekbench and others.
Intel also promises significant performance improvements in productivity-related workloads like Adobe PhotoShop, Lightroom and others. It also showed double-digit performance improvement over 10th Gen and promises to provide the best performance in gaming and productivity; however, wait for independent reviews to decide between your next laptop.