- Advertisement -
Intel has launched its new 11th Generation Core H-series mobile processors (code-named "Tiger Lake-H") worldwide today, led by the flagship i9-11980HK. According to Intel, the Intel Core i9-11980HK will reach speeds of up to 5.0 gigahertz (GHz), delivering the highest performance in laptops for gaming, content creators, and business professionals.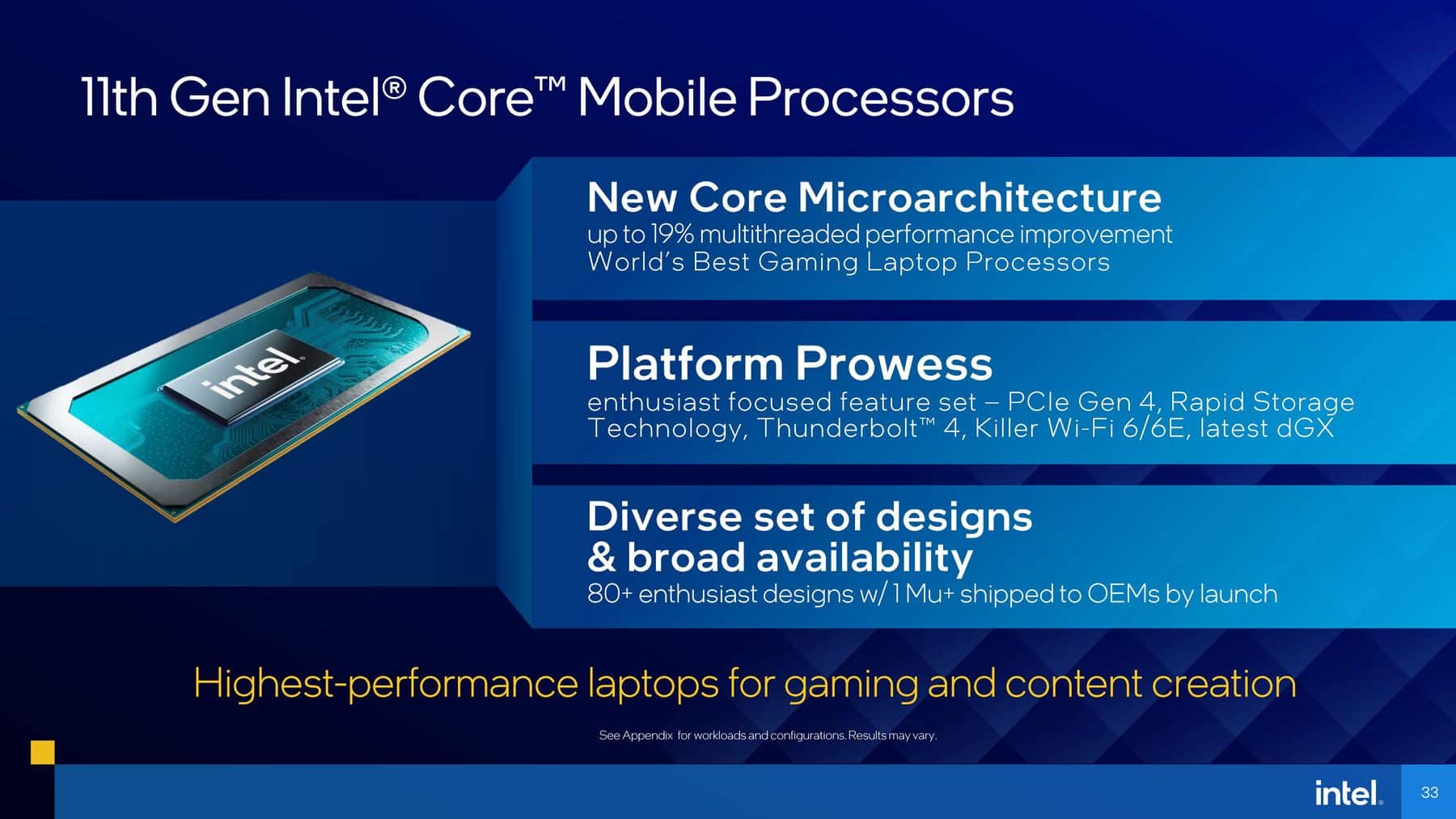 "11th Gen Intel Core H-series processors take mobile gaming, content creation, and commercial workstation systems to new heights. These new H-series processors are an exciting extension of our 11th Gen mobile family with double-digit single-core and multi-core performance improvements, leading gameplay, direct-attached storage, and 20 PCIe 4.0 lanes for true enthusiast-level platform bandwidth. 11th Gen H-series is the industry's most performant mobile processor that empowers users to game, create and connect with leadership performance at any enthusiast form factor."
–Chris Walker, Intel corporate vice president, and general manager of the Mobile Client Platforms Group

- Advertisement -
The new Tiger Lake-H line will be based on 10nm SuperFin transistors and Willow Cove architecture, with a 19% IPC increase over Comet Lake-H. It will also be the first processor at 10nm to reach frequencies above 5.0GHz, demonstrating Intel's advances with this new manufacturing node.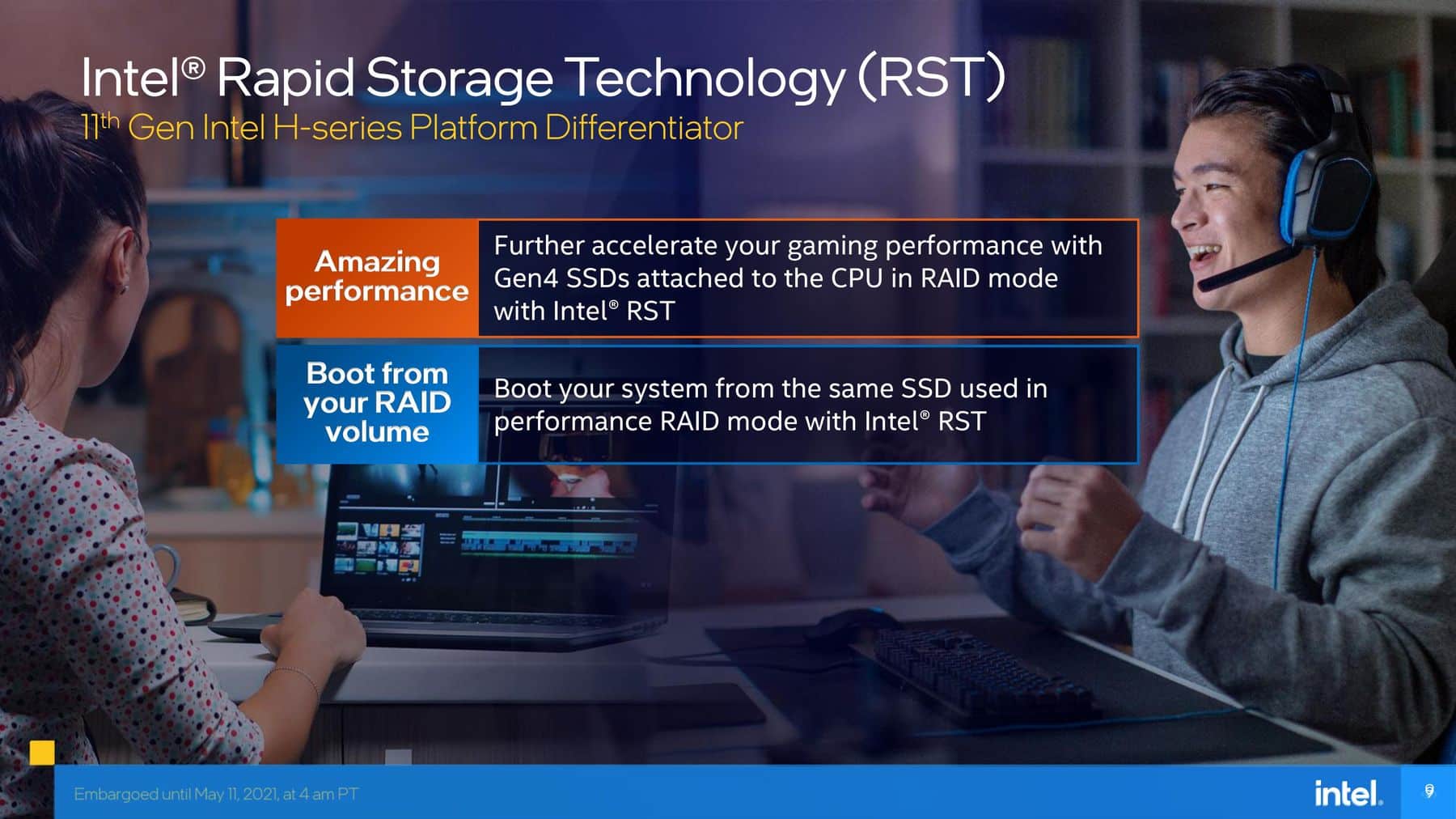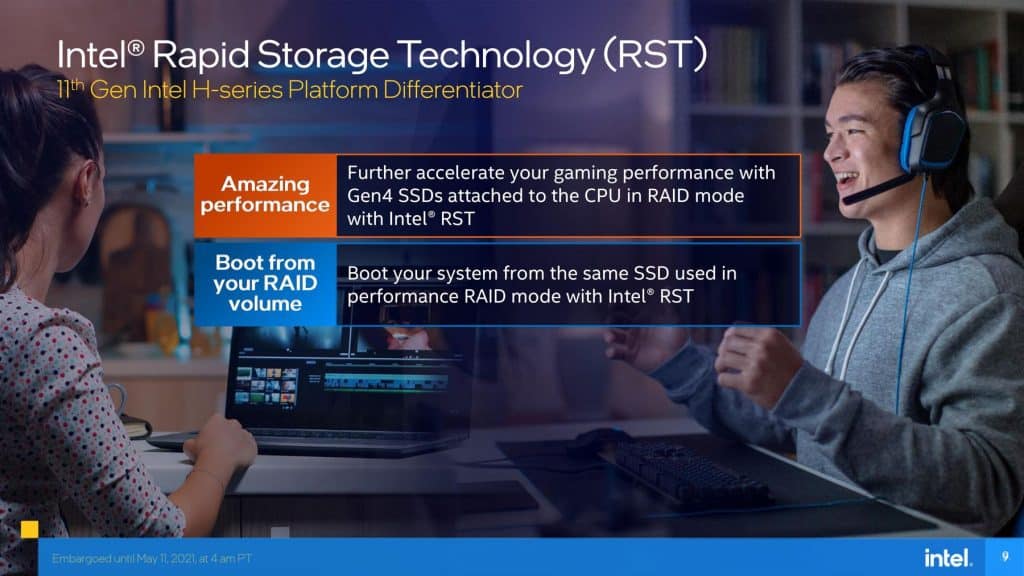 To get the most out of the GPU, Tiger Lake-H will also feature 20 PCIe Gen4 lines and a PCI-E 4.0 x4 SSD. It will feature an additional 20 PCI-E 3.0 lines for other peripherals. To allow you to gain great advantages over Comet Lake-H, the Tiger Lake-H will also feature integrated graphics based on Xe architecture, Thunderbolt 4, Wi-Fi 6E, and a host of new technologies.
As expected, the Tiger Lake-H line will be led by the Core i9-11980HK, which will be fully unlocked for overclocking via XTU and tools from different manufacturers. The Core i9-11980HK will feature 8 cores and 16 threads, a 65W TDP, 2.6GHz base frequency, 4.5GHz maximum turbo in its 8 cores, and a maximum turbo of 5.0GHz in a single core, achieving high performance as it is a laptop model. In addition, as mentioned above, it will have an unlocked multiplier, allowing you to overclock it even more.
- Advertisement -
The other models you'll find are the Core i7-11800H, i9-11900H, which also have 8 cores and 16 threads, and the Core i5-11400H and i5-11260H with 6 cores and 12 threads, offering proposals for all segments.
According to Intel's official press release, the 11th Generation Core H-series mobile processors will come with 20 lanes of PCIe Gen 4 — a first for any laptop — the processor offers 4k HDR/Dolby Vision video streaming, rich configurations with fast storage, hybrid Intel® Optane™ storage for high performance and capacity, 6GHz Intel® Killer™ Wi-Fi 6E (Gig+) support, and Thunderbolt™ 4 with up to 40 gigabytes (GBs) per second for faster connections.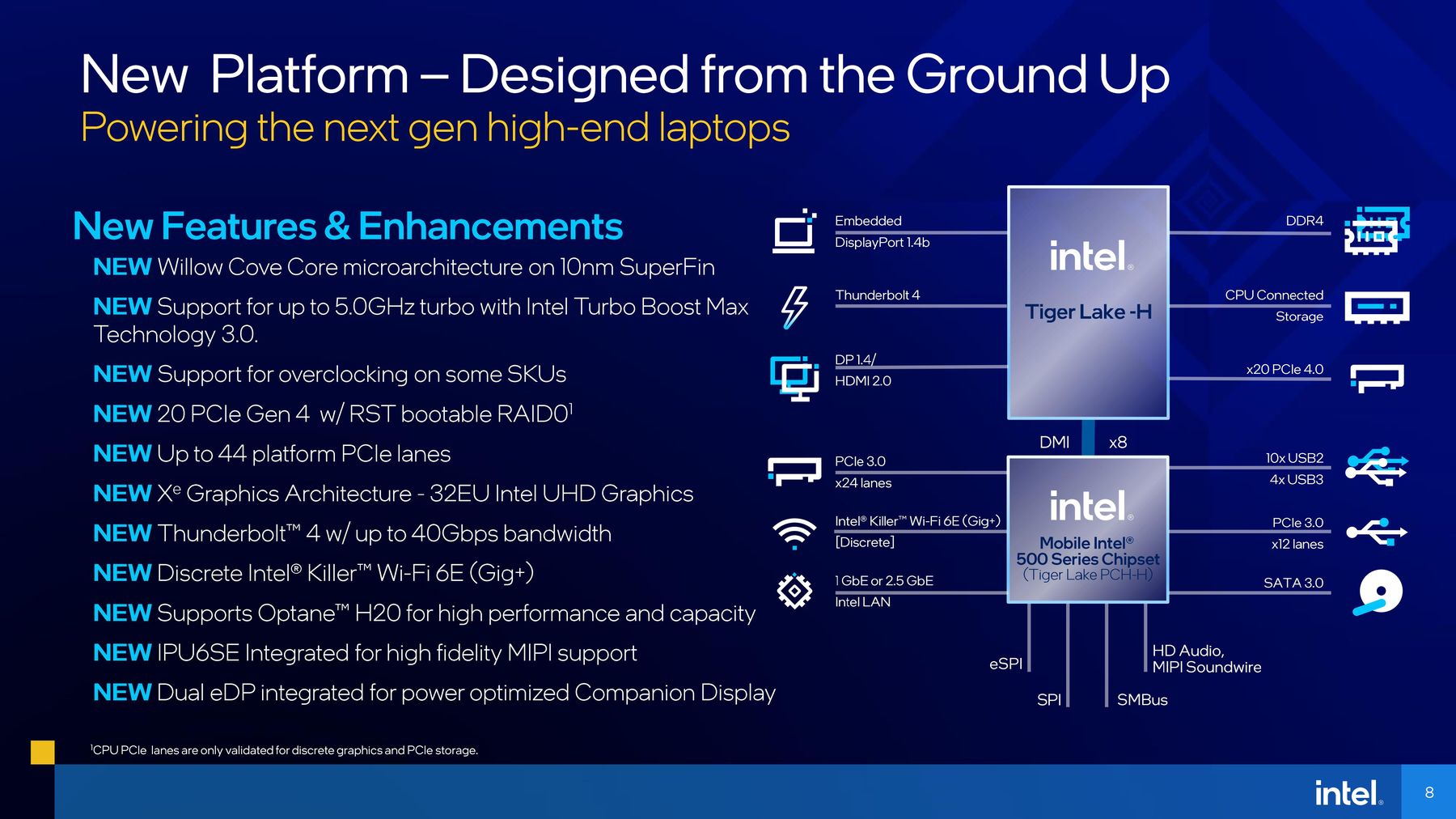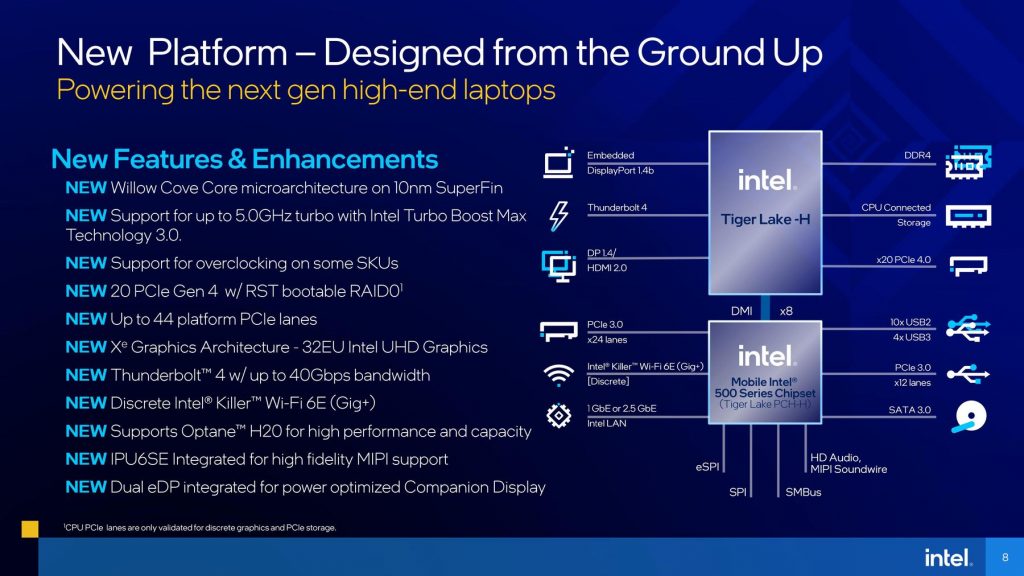 New platform features also include:
20 PCIe Gen 4.0 lanes with Intel® Rapid Storage Technology bootable in Raid 0 — and up to 44 total PCIe lanes that include 24 PCIe Gen 3.0 lanes from a dedicated platform controller hub.
Memory support up to DDR4-3200.
Thunderbolt™ 4 with transfer speeds up to 40Gbps.
Discrete Intel® Killer™ Wi-Fi 6E (Gig+).
Dual Embedded Display Port integrated for power-optimized companion display.
- Advertisement -
Availability
More than one million 11th Gen H-series processors have been shipped to Intel partners worldwide by launch, whether it's for high-refresh gaming, robust content creation, or mobile workstations. This represents a major influx of new silicon at a time when component shortages are rife.
- Advertisement -