Redmi President Lu Weibing has shared an image in his Weibo handle comparing the two different smartphones Redmi Note 8 and the Apple iPhone 4 with respect to their sizes. He mentions the size of the iPhone 4 is particularly smaller than that of the Redmi Note 8 which ignites different types of conversation in the comment section of the post.
Smartphones of smaller sizes seem to have been out of vogue for a long time, but there is still a market of small smartphones, just like in the premium segment the Apple iPhone SE (2020) which has a total size of  5.45 inches (4.7-inch display) in diagonals and in budget segments the entry-level smartphones from Samsung are also smaller in size than any regular 6-inch smartphone.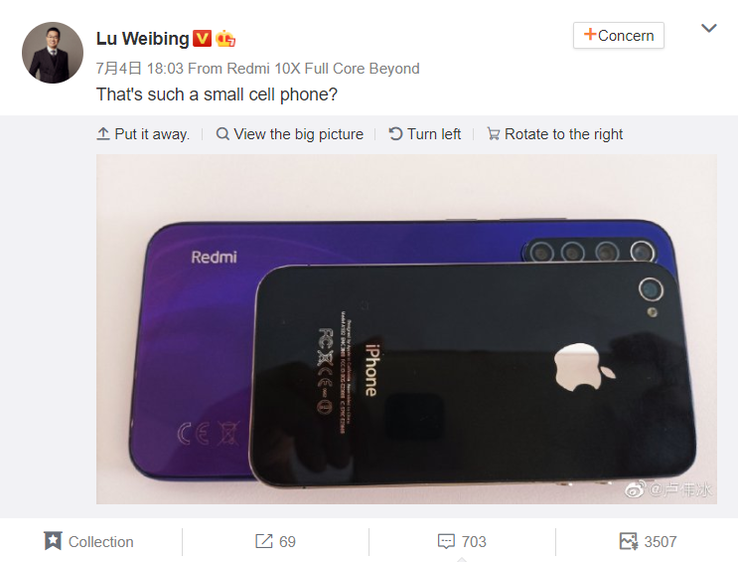 While browsing through the comments shows that two particular devices are mentioned quite frequently: the Xiaomi Mi Mix 4 and the Redmi K40. Small phones from an OEM like Xiaomi would undoubtedly be popular and would fit the company ethos too – as a manufacturer that likes to innovate just like its regular source of "inspiration" – Apple Inc.
But according to us, there is a huge gap and the company will face a huge loss making such a high end premium smartphone with one of the best industry features. Most of the high-end premium smartphones are made around 6.5-inches display size which allows the users to multitask fluently without compromising any area on the smartphone. Even, these smartphones are also preffered to play mobile games which requires large screen for better gaming experience.
The company might think of developing smaller smartphones in the future because of a considerable amount of customer demands. According to Notebookcheck, another Redmi executive, Wang Teng Thomas, recently revealed that the company was "considering the demand for small size", so it makes the anticipations clear that Xiaomi/Redmi might be developing a smartphone of smaller size.
Buy Redmi Note 9 Pro here:
Buy Redmi Note 9 Pro Max here: