AMD was the first company to launch the concept of "APU" i.e. CPU + GPU in a single chip which disrupted the market totally. It now reigns both in GPUs and CPUs, a recent report from Jon Peddie Research (JPR) says that the Red team has shipped approximately 553 million chipsets in the last 7 years.
Now, this includes both discrete and integrated graphics, and the figures even beat the corresponding numbers from Intel and NVIDIA. As we see in the graph, it all began in the year 2013 when AMD won the contract for both Xbox and PlayStation console projects.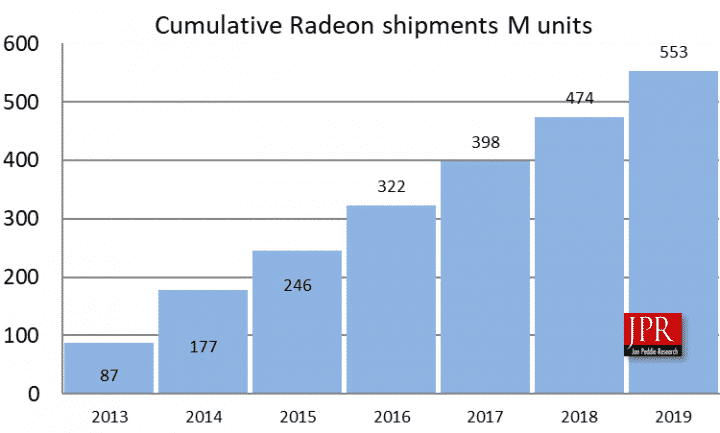 This success of AMD is obviously due to the fact that they have been strong in delivering great APUs with integrated Radeon graphics for desktops and laptops along with its budget-friendly discrete GPUs. Not to forget, AMD's partnership with Apple for its professional products like MacBook Pro or Mac Pro or iMac Pro and others.
As we see AMD has gained in number of shipments each year and a major part of it comes from consoles, with Xbox and PlayStation accounting for 9% and 20% of AMD's shipment. Also, AMD has some handsome figures when it comes to laptops, 18% coming from discrete mobile GPUs and the highest of 23% coming from mobile APUs.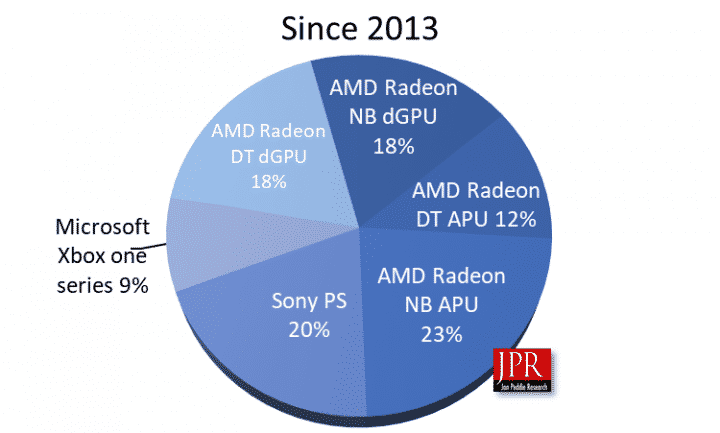 Obviously AMD will gain more shipments in 2020 with the latest 7nm based Ryzen 4000 mobile APUs which delivers immense performance both on the CPU and GPU front. AMD has managed another 18% from its discrete desktop graphics and 12% from its desktop APUs, which will increase with latest RDNA 2 based GPUs and Ryzen 4000 Renoir desktop APUs.
However when the figures are broken down, and compared to Intel (for integrated graphics) or Nvidia (for discrete graphics), both of the companies beat AMD in their respective department, but overall AMD beats both of them. Things are to change more in future as AMD has partnered with Samsung for its upcoming Exynos SoCs with AMD graphics.
Do check out:
😎TechnoSports-stay UPDATED😎