Due to the spread of COVID-19, people are more conscious about their health and also aware of social distancing and masking. Self masking is the preliminary and one of the most effective steps we can take from our side so that the virus spread less while interacting with others.
It is very obvious for the mention causes, huge demand for masks in producing. For our easy access, Amazon came forward and added a different section for various kinds of masks. They named it "The Mask Store". You will find this section on the fashion page.
The store is offering more than 500 cloth masks of 35 different sellers. There is everything well categorized for you. At the top, just under the banner, you will get four mask type options.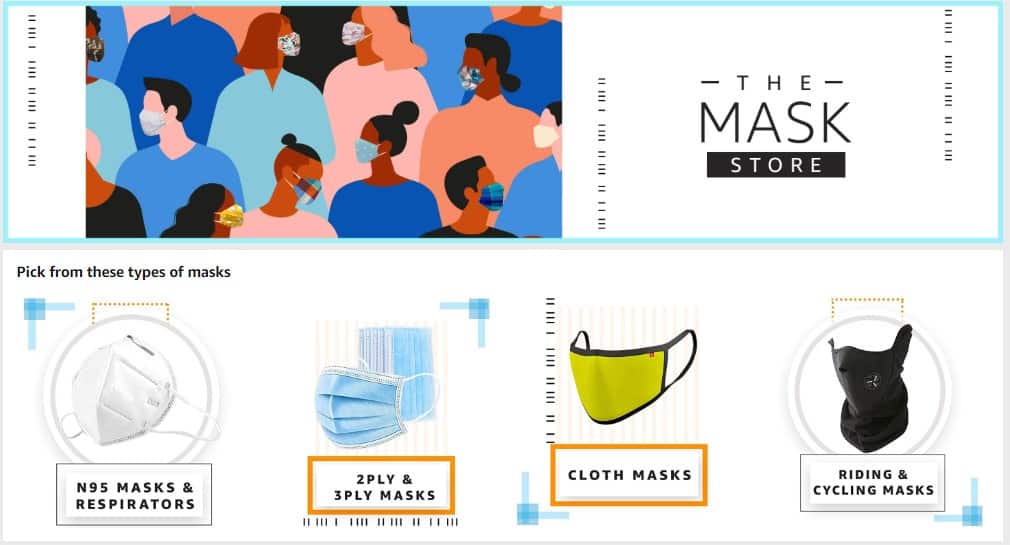 If you want to buy a mask which you will use during the marketing or during the office, then you can choose the "N95 Masks & Respiratory" option. For just outside walk use you can go for either "2PLY & 3PLY Masks" or normal "Cloth Masks" option. If you are a regular bike rider or go out with your cycle regularly, then the "Riding & Cycling Masks" section is for you.
There is also the some items displayed which are not masks but can be used to cover your face. For example stoles, handkerchiefs, and more. If you want to buy multiple masks for your entire family or someone else, then there is a "Shop by mask packs" module. Here dedicated options are already provided for packs containing 3,5, and 10 masks respectively.
If you are looking for masks of a specific brand, you can also do that. The available brand names are mentioned with logos for your easy search. Some of us may get bored by using regular masks. For them, especially, Amazon keeps printed masks too.
You May Like 👇🏼