A new report from Canalys has claimed that the global PC and tablet shipments will fall by 7%, from 395.6 million units in 2019 to 367.8 million units in 2020 all due to the COVID-19 pandemic that has raised the global recession.
Interestingly, Canalys also expects the global PC market to stay flat in 2021 while return with a growth of 2% in 2022. They also say that the worst is yet to come in the Q2, Q3 and Q4 of 2020 as the demand in the PC market will decline due to various reasons.
Obviously the economic state is very critical for almost every country now, as we see global smartphone sales decrease by 20% in Q1 2020. The key manufacturing for the PC components is done in China and as the healthy supply chain and manufacturing base is affected, globally its effect can be felt as well.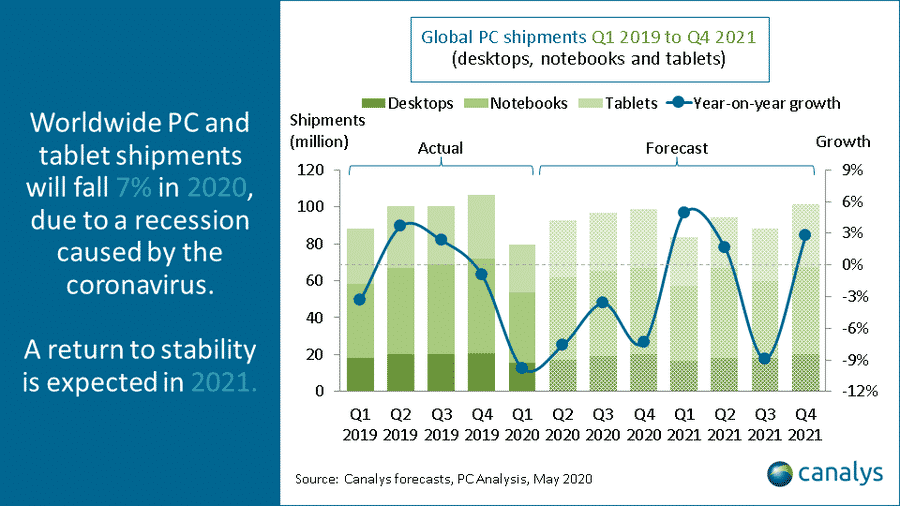 For the pandemic, there has been a major depend for remote working and education from home which has led an increase in demands for PC components in various parts of the world. The impact of this pandemic will decrease the mass orders from business, governments and organizations as well.
"From a category perspective, notebooks have been at the centre of a demand surge that has left vendors and channel partners scrambling," said Ishan Dutt, Analyst at Canalys.
"We expect this demand to persist as many businesses that have been forced into home working and found it successful are now choosing to implement it on a larger scale. The same holds true for education, where schools have made investments in digital curricula and are implementing only partial returns to on-premises learning."
"Desktop refresh will suffer to a greater degree as businesses face prolonged uncertainty about the scope of their operations and dedicated office space needs. Tablets, which have the greatest reliance on consumer spending, will face a slump as holiday season demand in Q4 is expected to take a hit this year."
Do check out:
😎TechnoSports-stay UPDATED😎