Finally, at the 2020 NVIDIA GTC keynote, NVIDIA's CEO Jensen Huang has launched the new 7 nm based Ampere GPU architecture. Instead of launching the GeForce RTX 3000 gaming GPUs, NVIDIA has launched the high performing A100 GPU that is the company;s new 7nm GPU offering.
The newer GPUs by the company will be based on the same architecture as Huang clarified that "there's great overlap in the architecture, but not in the configuration." From GeForce gaming GPUs to Quadro professional GPUs, the same tech behind the A100 GPU unveiled will be used in future.
NVIDIA's new NVIDIA A100 Tensor Core GPU is based on the new NVIDIA Ampere GPU architecture and builds upon the capabilities of the prior NVIDIA Tesla V100 GPU. It adds many new features and delivers significantly faster performance for HPC, AI, and data analytics workloads. 
The new NVIDIA A100 GPU fabricated on the TSMC 7nm N7 manufacturing process, the NVIDIA Ampere architecture-based GA100 GPU that powers A100 includes 54.2 billion transistors with a die size of 826 mm2. The new chip also features the third generation of Tensor Cores that have a new numerical format called Tensor Float 32 (TF32) replacing the older FP32.
The NVIDIA A100 GPU has 40 GB of high-speed HBM2 memory with 1555 GB/sec of memory bandwidth—a 73% increase compared to Tesla V100. The A100 GPU has significantly more on-chip memory including a 40 MB Level 2 (L2) cache—nearly 7x larger than V100.
The new Multi-Instance GPU (MIG) feature allows the A100 Tensor Core GPU to be securely partitioned into as many as seven separate GPU Instances for CUDA applications, providing multiple users with separate GPU resources to accelerate their applications.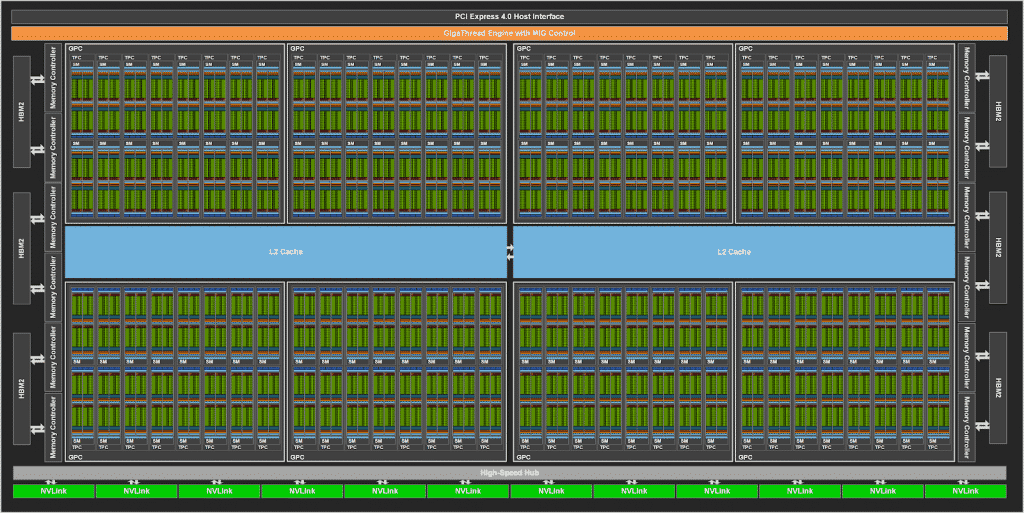 The third-generation of NVIDIA high-speed NVLink interconnect implemented in A100 GPUs and the new NVIDIA NVSwitch significantly enhances multi-GPU scalability, performance, and reliability. NVIDIA is supposed to be offering 8 A100 GPUs combined in a single DGX A100 node with a peak performance of 5 PFLOPs of computing performance for US$200,000.
The A100 GPU will also support PCI Express Gen 4 with faster bandwidth than before and the A100 GPUs will be able to connect to PCIe 4.0-capable CPUs, currently on AMD Zen-2 based CPUs. It seems strange that NVIDIA did not launch the new RTX 3000 gaming GPUs, well they might be waiting for its competitor AMD to launch RDNA2 based gaming GPUs first.
Source: NVIDIA
Do check out:
😎TechnoSports-stay UPDATED😎