With days, more leaks and benchmarks of the new Intel Comet Lake desktop processors are coming out and now we have the Geekbench 4 results of the Core i7-10700K. Thanks to @TUM_APISAK who has again dug it out and the CPU performs very well almost like previous year's Core i9-9900KS.
The 8-core and 16 threaded processor is capable of clocking at over 5 GHz if the cooling is proper which helps dominate the chip in single-core performance. The Core i7-10700K recorded scores of 6,018 points in the single-core benchmark and 34,221 points in the multi-core tests.
Surprisingly, the multi-core score is impressive as well well beyond its predecessor and the score is even better than the Core i9-9900KS that had a multi-core score of 34003 points.
| | Intel Core i7-10700K | AMD Ryzen 7 3800X |
| --- | --- | --- |
| Cores/threads/TDP | 8/16/125 W | 8/16/105 W |
| Single-core | 6,018 points | c. 5,750 points |
| Multi-core | 34,221 points | c. 35,500 points |
Compared to the AMD CPU, i.e. the Ryzen 7 3800X had a highest recorded single-core score of 6,766 points which in general you can expect in the territory of 5,700-5,800 points. The highest multi-core score of the Ryzen CPU is of 43,848 points, which is insane! but in general cases, the Ryzen 7 3800X will score between 35,000 and 36,000 points.
Not to forget the fact that the Intel Core i7-10700K runs at a higher 125 W TDP to that of 105 W TDP of the AMD Ryzen 7 3800X, the 7nm advantage which AMD enjoys exclusively. It's great to see the Intel chip reaching the 5 GHz point which will obviously be the marketing point for Intel this time, giving the edge on the gaming front.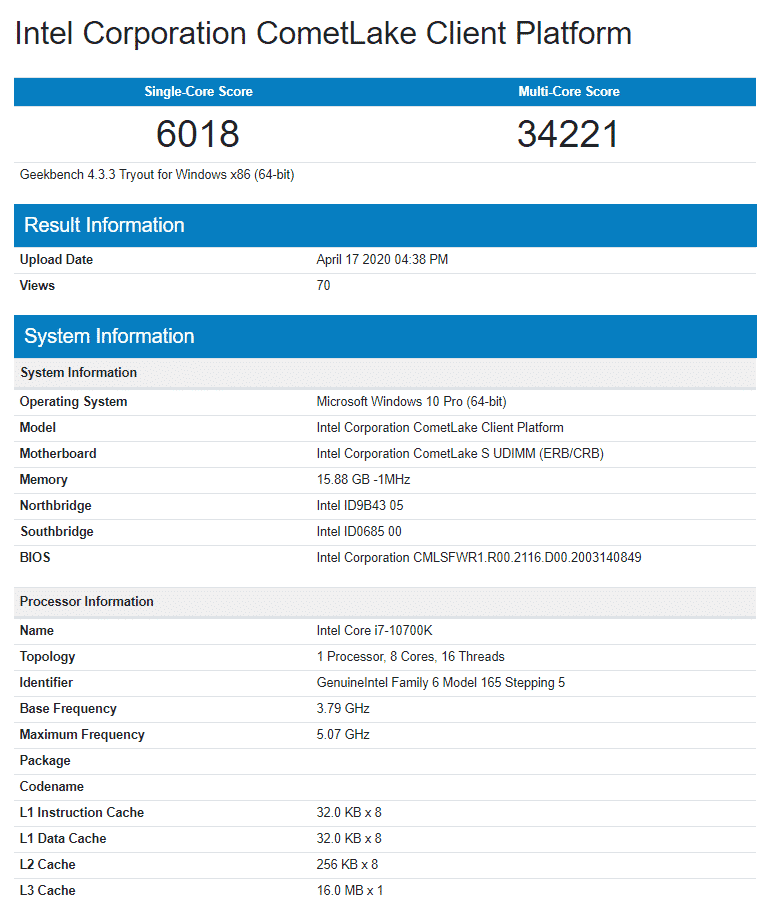 The main factor will be the price-to-performance ratio, obviously, Intel will be competitive this time but still, they'll be pricing it around US$400 at launch. Whereas the AMD Ryzen 7 3800X with cheaper motherboard support, equipped with a great in-box cooler will cost you just US$339.99.
Tweaking the Ryzen CPU, cooling it well will obviously result in even better performance than the Intel rival which may be more priced than the Ryzen counterpart. Not to forget, the Ryzen 4000 processor based on AMD's Zen 3 architecture is already on its way, touted for a launch in September 2020.
Do check out:
😎TechnoSports-stay UPDATED😎