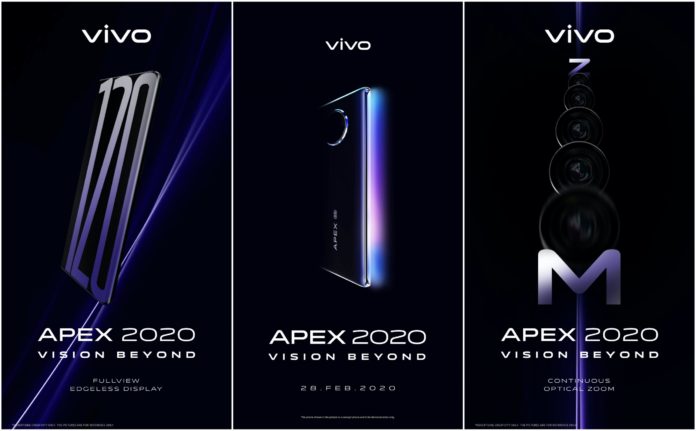 Vivo APEX 2020 concept phone is set to debut next month. This time Vivo's APEX 2020 concept phone appeared in several promotional materials. The first one gives us a tour of the device, showcasing its waterfall screen and innovative camera setup. From the small glimpse, we can see the APEX 2020 comes with a periscope capable of 5-7.5X zoom while the bottom 48MP sensor is dubbed as a gimbal camera that is rumored to offer unprecedented image stabilization.
Next up we get a clue about the phone's wireless charging capabilities which will top up at a blazing 60W. We also get a teaser for the gimbal camera which will come with super steady micro PTZ (pan-tilt-zoom). This development should provide ultimate stabilization for images and videos as a clear step over existing optical image stabilization solutions.
Vivo has been introducing these Apex concept phones since 2018, and the first one had a nearly bezel-less screen and a half screen fingerprint sensor. The Apex 2019 variant had an in-display fingerprint scanner that worked from anywhere on the screen, and it sported a body sans the holes. The Apex 2020 is teased to be all about the display, and more details should be unveiled at launch next month.
These are the news reports from different agencies and from the brands as well. Tell us how much you liked this information in the comments section below. For the latest Tech & Sports Updates hit the bell icon and Subscribe to our website TechnoSports. For more information visit our website, TechnoSports. And download our app from the Google Play Store for more real-time updates. To download our TechnoSports app click here.
For the latest tech news and reviews, follow TechnoSports on Facebook, Twitter, Instagram. We are also available now on YouTube, Subscribe and press the bell icon in our channel for more Tech and Sports updates.
TechnoSports – Stay UPDATED