Cupertino giant Apple launches their new Mac Pro with Xeon processors and Vega II GPUs at the WWDC 2019 with a starting price tag of $5999
Apple made some huge announcements at its own event WWDC 2019, most of them seemed to be software announcements and among them, the only hardware launch was the new Mac Pro.
Apple finally ditches the trash-can design of the last Mac Pro and brings back the tower design clad in Aluminium. It also features some great specs for professionals who need power-packed performance.
Intel Xeon Processors

The new Mac Pro is powered by Intel's Xeon CPUs that has options up to 28 cores, the best one can get for a PC workstation. Also to cool such high workstation CPUs that consume up to 300 Watts of power, a massive heat sink keeps the system cool, enabling it to run fully unconstrained. The CPU options are:
8 cores, 16 threads, 3.5 GHz base clock speed, 4.0 GHz base clock speed, 24.5 MB cache
12 cores, 24 threads, 3.3 GHz base clock speed, 4.4 GHz base clock speed, 31.25 MB cache
16 cores, 32 threads, 3.2 GHz base clock speed, 4.4 GHz base clock speed, 38 MB cache
24 cores, 48 threads, 2.7 GHz base clock speed, 4.4 GHz base clock speed, 57 MB cache
28 cores, 56 threads, 2.5 GHz base clock speed, 4.4 GHz base clock speed, 66.5 MB cache
It features six channels of superfast ECC memory and 12 physical DIMM slots, the new Mac Pro allows up to 1.5TB of huge DDR4 ECC memory. The RAM support is up to 2933MHz DDR4 ECC memory and a memory bandwidth of up to 140GB/s.
AMD Radeon Pro Vega II Duo graphics
Coming to the graphics, you get up to two Radeon Pro Vega II Duo MPX Modules. The four GPUs combine to add up to 56 teraflops and 128 GB of high-bandwidth memory and come with 8 PCIe Gen 3 slots.
With 14 teraflops of computing performance, 32GB of memory, and 1TB/s of memory bandwidth, the MPX Module with Radeon Pro Vega II is a powerhouse. For more power, two Radeon Pro Vega II GPUs combine to create the Vega II Duo.
With double the graphics performance, memory, and memory bandwidth, it's the world's most powerful graphics card. The two GPUs are connected through the Infinity Fabric Link, which allows data transfer up to 5x faster between the GPUs.
The GPU alone could consume up to 500 watts of power for an MPX Module. So, Apple has put a humongous 1400W power supply into the Mac Pro.
The Cupertino giant has also implemented a hardware accelerator to the new Mac Pro called 'Afterburner' and according to Apple, the Mac Pro has enough power to play up to 3 streams of 8K ProRes video files simultaneously.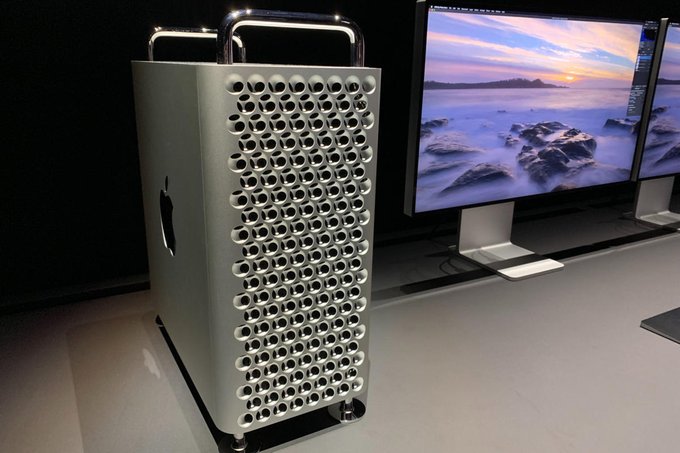 Security, Storage & I/O
For the security of all the data kept in the Mac Pro, Apple's own Apple T2 Security Chip. It integrates with discrete processors into a single chip ensuring deepest security to the lowest levels of softwares.
Coming to the storage, the new Mac Pro starts with a 256GB SSD and is configurable to a 1TB, 2TB, or 4TB SSD — all encrypted by the T2 chip.
Mac Pro has extremely high-performance I/O and it starts with four Thunderbolt 3 ports, two USB-A ports, and two 10 GB Ethernet ports.
You can connect up to 12 4K displays or up to six Pro Display XDRs from Apple and see your work with over 120 million pixels.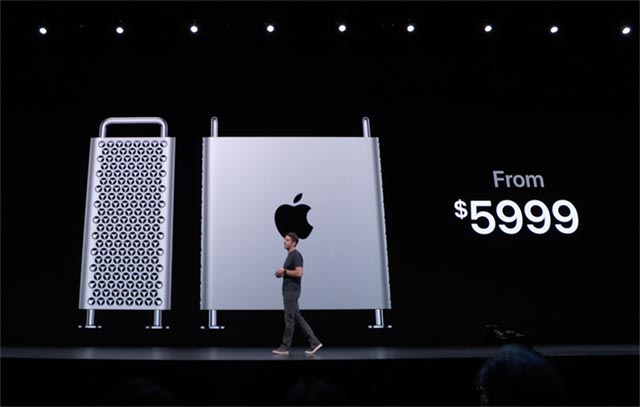 Visit here to know more about all the specifications. The new Mac Pro will have a start price $5,999, for the base variant with an 8-core Intel Xeon processor, 32 GB of RAM, 256 GB SSD, and a Radeon Pro 580X GPU, and will be available this fall.
Apple Pro Display XDR
To accompany the new powerful Mac Pro, the Cupertino giant also announced the new Pro Display XDR. It is basically a 6K resolution reference monitor with a starting price tag of $4,999.
This is an insane display with 10-bit colour, 1,600 nits of brightness and 1,000,000:1 contrast ratio. It gives you the power to maintain extreme brightness without ever dimming.
Along with efficient backlight control, this delivers outstanding contrast between the brightest brights and the blackest blacks. With the breakthrough in backlighting technology, Pro Display XDR takes brightness, contrast, and colour to a new level. Far beyond the High Dynamic Range or HDR, it's now Extreme Dynamic Range (XDR).
The Pro Stand has an adjustable height with a travel of 120 millimetres, also you can tilt and rotate the display into landscape or portrait according to your need.
You have two options with the display – either go for the Apple Pro Stand for $999 or use a $199 VESA mount adapter to attach it, but you'll still miss the amazing flexibility that the Pro Stand offers in return of a hefty amount.
The baseline Mac Pro with a baseline Pro Display XDR and the Pro Stand will cost you an $11,997 without including tax or shipping.
So what do you think about the new Mac Pro? Tell us in the comments below… 🙂
Do check out:
😎TechnoSports-stay UPDATED😎