Juventus became Serie A champions for the 8th successive season by beating Fiorentina 2-1 at the Allianz Arena on Saturday.
Cristiano Ronaldo's arrival from Real Madrid might not have delivered the intended results in the Champions League, but it appears to have inspired Juve to new heights domestically. Eight straight Scudetti sets a new record in Europe's top five leagues, outstripping Lyon's seven consecutive Ligue 1 titles between 2001-02 and 2007-08, while no Serie A club has ever sealed the deal with more than Juve's five games remaining. Cristiano Ronaldo has undoubtedly been key to their success, having scored 19 Serie A goals from just 27 appearances, while he was rested for Juve's two defeats this season, against Genoa and SPAL.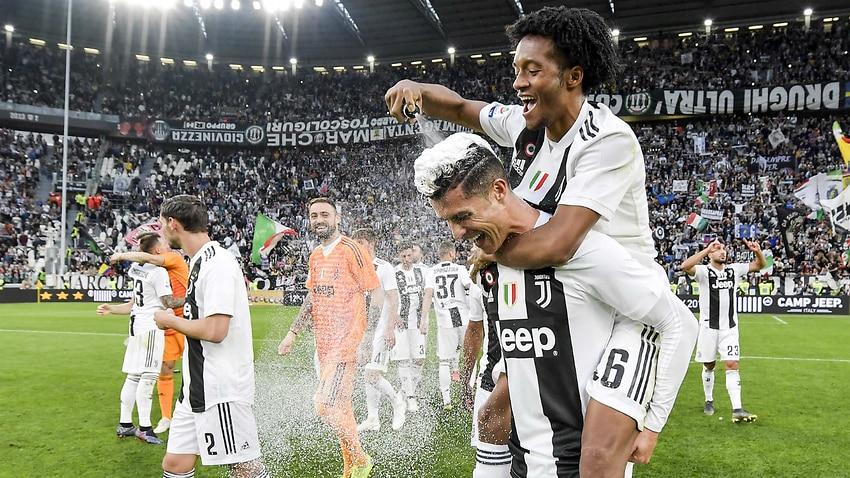 Let's have a look at Cristiano Ronaldo's achievement at Juventus this season:
Ronaldo's goals have earned the most points for a team in Serie A this season (16 points with 19 goals).
The forward is the first player in Serie A history to score for his team in nine straight away games in a single season (10 goals in the period).
Ronaldo has scored four braces in Serie A this season, three of those at the Allianz Stadium.
Juventus' star man has scored against 13 different teams in this Serie A campaign.
The former Real Madrid superstar has scored the most goals (12) in the last half hour of Serie A matches this season.
Ronaldo has attempted the most total shots (165) in Serie A this season.
No player has recorded more shots on target in Serie A this season than Ronaldo (65).
Ronaldo told DAZN: "I'm very happy. "First of all for winning the Scudetto and then for being the first player to win the Premier League, LaLiga and Serie A.
We were not able to win the Champions League, but we will do better next year."
Asked directly if he will be at the club next season, Ronaldo responded: "1,000 per cent."
Juventus head coach Allegri told Sky Sport Italia after winning the 8th successive Serie A: "We'll enjoy our Easter meal and after that, I'll sit down with the president and the club. I'm sure I'll stay with Juventus. I have a year left on my contract but we haven't sat down about that yet. It's not a question of the contract, but of our plans for the future.
Juventus will create a team that can win but evaluation on how to improve still has to happen, as has been the case for the last five years."
Cristiano Ronaldo's arrival has heavily curbed Dybala's prominence. But Allegri insisted that Dybala's influence has been understated. He said: "Dybala's season was good, especially until January. We played many games with him, Ronaldo and Mandzukic. Ronaldo is a goal scorer, just look at the game against Ajax. Next to him you need a striker with different characteristics and Dybala connected the play and worked a lot. If you play with three players who stay in front of the ball, the [rest of the team] will tire and when this happens you get in trouble."
Do check out:
Also check out some cheap wireless headphones on Amazon:
1. https://amzn.to/2msH7aD
2. https://amzn.to/2muMKVZ
3. https://amzn.to/2zPDPYI
4. https://amzn.to/2JBCxQs
For more information visit our site, TechnoSports. And download our app from the Google Play Store for more real-time updates. To download the app, click here.