Tomshardware employees observed an undisclosed 34-Core Intel Raptor Lake-S desktop CPU die during the Innovation 2022 event. Although there isn't an official processor that uses the die yet, it may arrive in a future HEDT range despite being unintentionally showcased.
At the Innovation 2022 conference in San Jose, Intel displayed a wafer of one of their Raptor Lake CPU dies to the participants, but closer inspection revealed that the die did not correspond to any of the Raptor Lake CPUs that have been previously released.
It appears that this particular configuration features larger cores than those found in the mainstream lineup based only on the size of each Raptor Cove core on the wafer. Intel has only made available dies with up to 24 cores and 32 threads as of right present. The recently unveiled flagship Core i9-13900K & Core i9-13900KS CPUs will include this top die. Therefore, a 34-core die will most likely become a completely separate SKU.
Additionally, the 34-core die employs only P-Cores while the 13th Gen Raptor Lake-S mainstream lineup uses a combination of P-Cores and E-Cores.

The Raptor Cove cores are bigger, but that's not all; the 34-core die appears to use a Mesh connection rather than the Ring Bus found in standard processors. On the HEDT, Workstation, and Server products from Intel, the Mesh connection is more prevalent. As a result, it is reasonable to assume that this is a HEDT / Workstation part rather than a common SKU.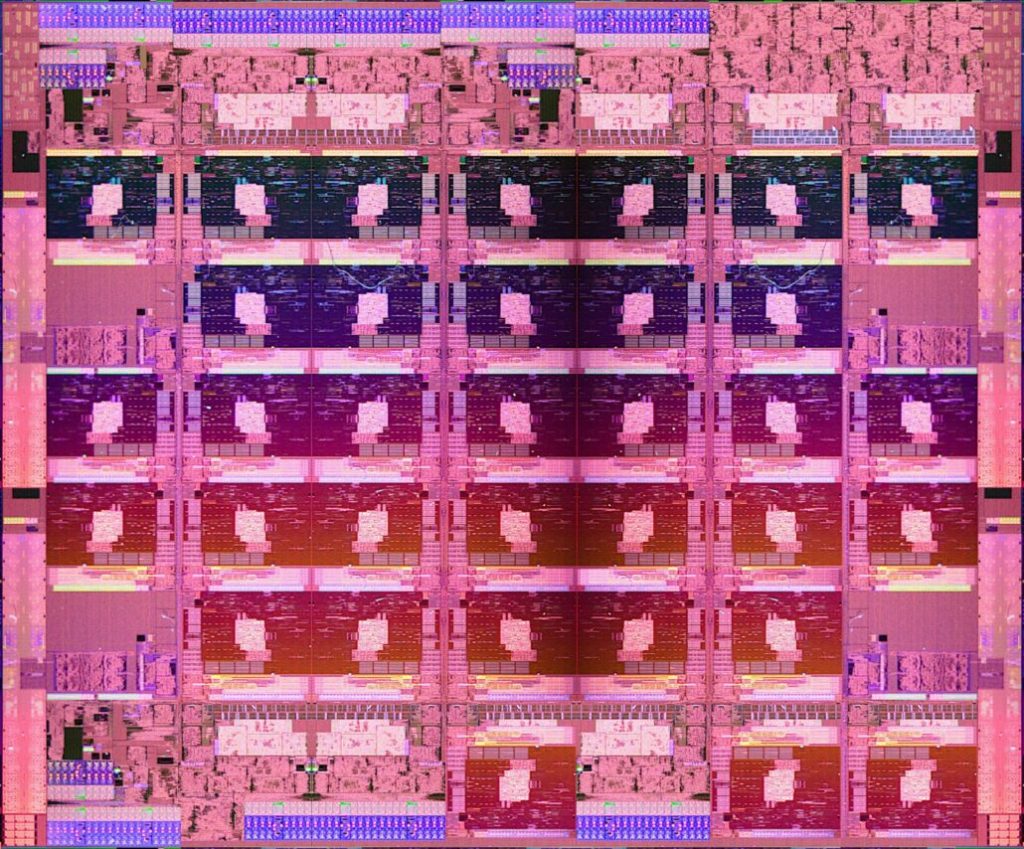 The whole die is substantially larger to be included on the LGA 1700 or 1800 socket, which further establishes it as a HEDT / Workstation product. Additionally, the cores are stacked in numerous rows, which differs from the dual-core rows that we observed on the popular SKUs. On the chip, there are also eight DDR5 memory channels visible.
The 34-core Intel Raptor Lake-S die has already been mocked up by tech publication SkyJuice from Angstronomics. The exact SKU should have 80 PCIe Gen 5 + DMI lanes, 68 threads, 68 MB of L2 cache, 63.75 MB of L3 cache, and 34 Raptor Cove cores.
This die will probably be included in the Sapphire Rapids Workstation range, which will include multiple popular Xeon SKUs. It will be positioned between the LCC and XCC components. The lineup is anticipated to support the Fishhawk Falls/Eagle Stream (LGA 4677) platform and include up to 56 cores, 112 threads, and 112 PCIe Gen 5.0 lanes.
Also Read: