Finally, Intel has released the most recent ray-tracing-enabled performance benchmarks for the Arc A770, the company's top Alchemist graphics card, which have been used to compare it to the NVIDIA GeForce RTX 3060 in a number of games.
Finally, Intel has released the benchmark comparison results between its top-tier Arc A770 graphics card and the NVIDIA GeForce RTX 3060. According to the official benchmarks, the card should perform on average 14% better than the competition and roughly 10% better than the Arc A750, which was also previously benchmarked. The Arc A770 emerges as the victor in 11 of the 17 games tested, while the card is tied for second place with the RTX 3060 in two games, and comes in last in four AAA games.
Ray Tracing was evaluated on all games at 1080p, and Intel has already said that its Arc portfolio will provide comparable or superior Ray Tracing performance than NVIDIA's RTX in the same market. Additionally, the graphics cards will be reasonably priced. Given that, on average, the RTX 3060 Ti is 25% quicker than the RTX 3060 Non-Ti, the Arc A770 may end up being a little slower than the Ti edition, but its price will be slightly less affordable than the $399 US MSRP of NVIDIA's card and it will have double the amount of VRAM.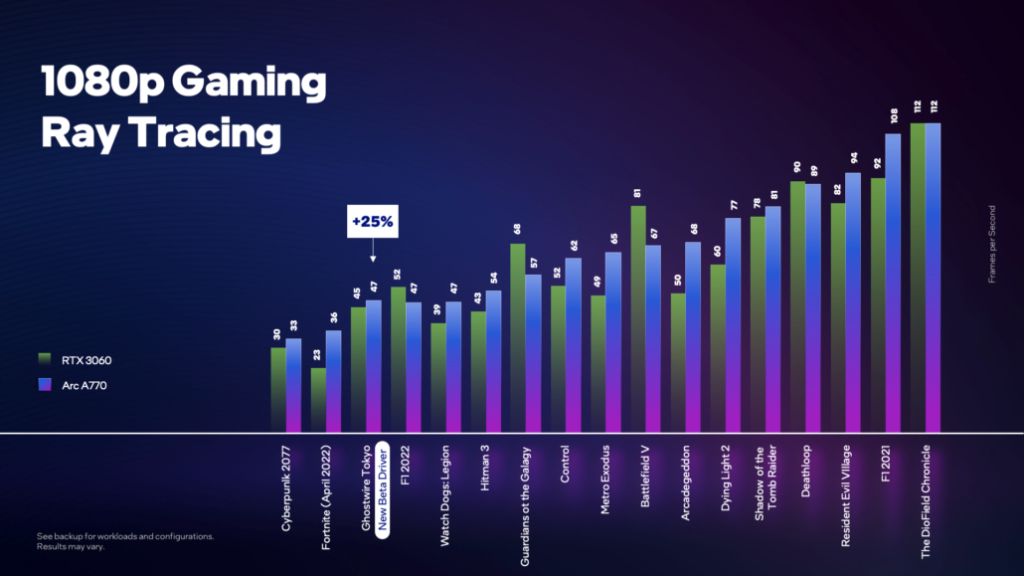 Additionally, Intel adds some performance data for XeSS With Ray Tracing, once more using the Arc A770 graphics card. With XeSS Balanced and Performance presets, we had already seen a variety of performance figures, but now that Ray Tracing is enabled, we can see just how big of a performance increase the technique can provide in more demanding games. The Performance XeSS mode will provide up to a 2.13x jump, while the balanced mode will provide up to a 76% boost in titles, according to the benchmarks. In the Balanced mode, the average performance uplift is +47.2%, while in the XeSS Performance mode, it is +74%.
The performance boost Intel is obtaining from its new Beta Driver, which can provide up to a 25% gain in performance, has only been demonstrated in a few instances.
If the final driver does offer higher graphics performance than what we are seeing right now, then we can expect about 15-20% uplift over the RTX 3060, which would be fantastic. It is unknown if the other games were tested with the same driver.
Intel emphasises that their TSU, or thread sorting unit, is its primary edge in Ray Tracing. An RTU and a TSU are included with every Xe Core. The RTU (Ray Tracing Unit) is in charge of quickly tracing rays across the geometry structure and can handle 12 box intersections and a triangle intersection each cycle. The TSU core provides high-performance and asynchronous ray tracing capabilities.
Also Read: