Intel launched its EVO platform that helps you buy the right laptop flooded with Intel benefits you could ask for. It's basically the 2nd generation of their previously announced Project Athena-certified laptops, so if a laptop is Intel EVO certified, you are bound to give the best performance and battery life.
So, the new laptops with EVO branding shall represent class-leading specs, and premiumness accompanied by the trust that essentially helps market these laptops.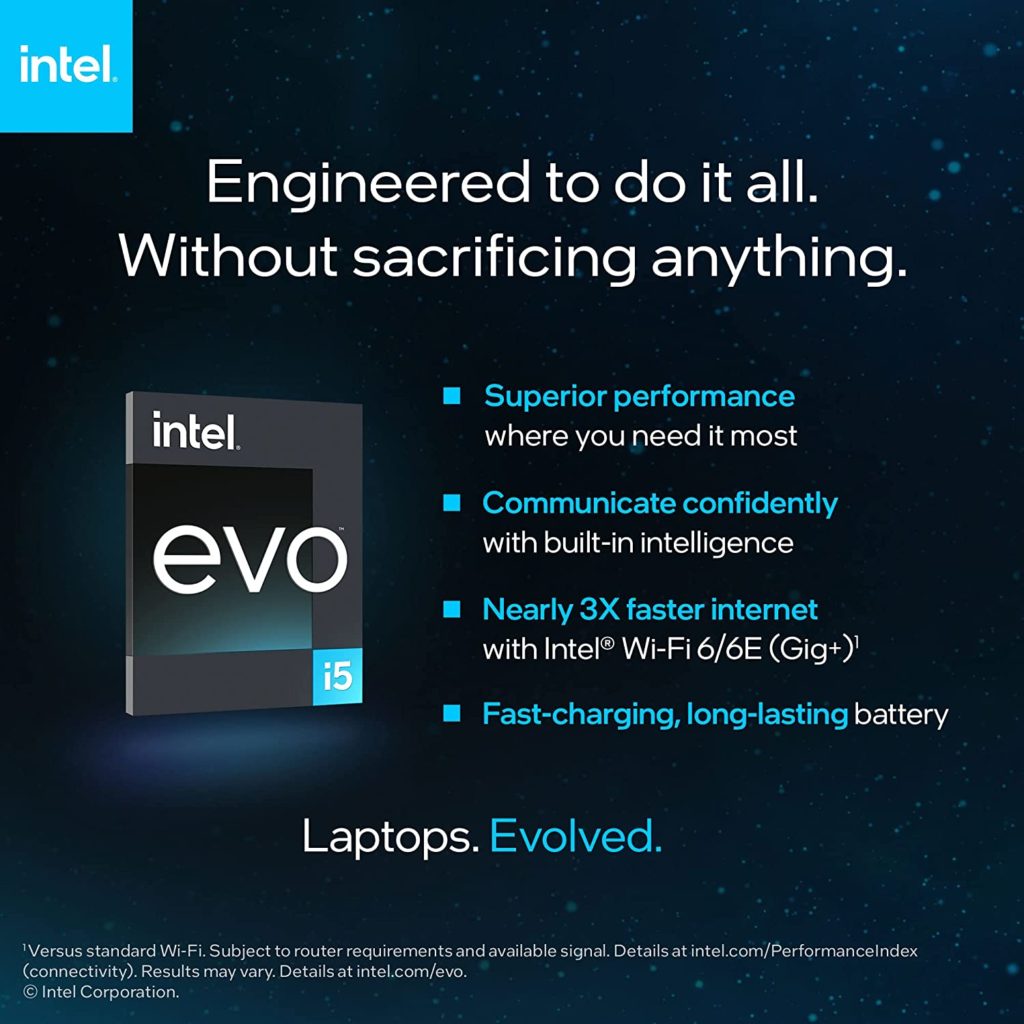 The new 12th Gen Intel-powered laptops with Intel EVO badge have already been launched in India and customers do love them for their best-in-class performance along with all Intel benefits it provides you with. So, on the Amazon Freedom Festival sale, these laptops have been discounted along with 10% SBI credit card discounts to make things even better.
Here are the best Intel EVO laptops on sale we have hand-picked for you:
Fujitsu CH Thin & Light Laptop
Deal Price: ₹67,990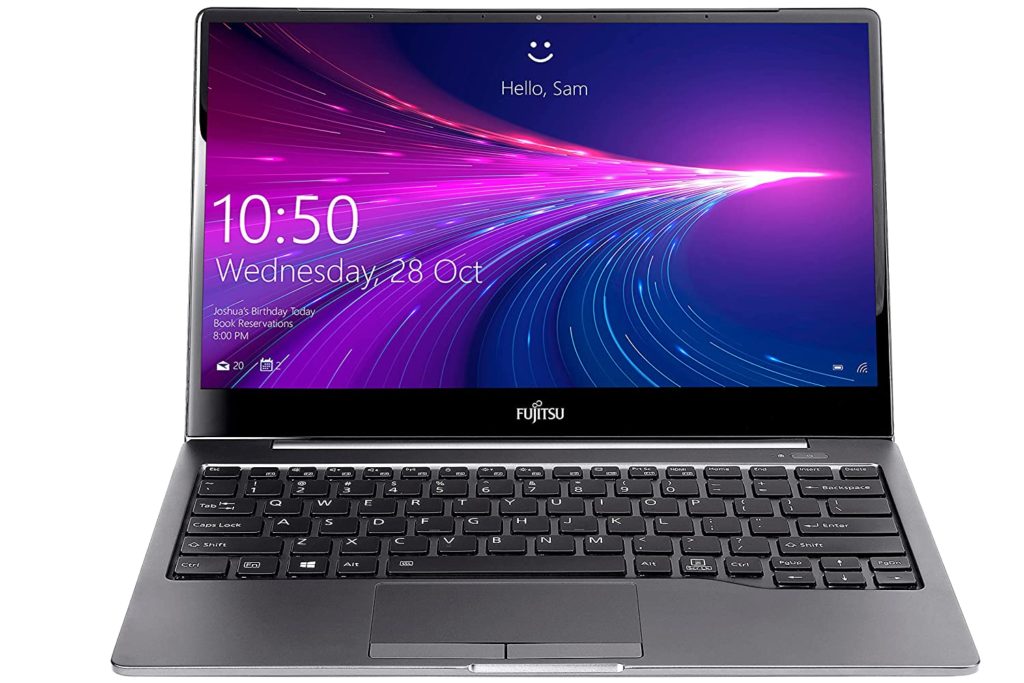 The CH series is expertly crafted for it to be high on performance and light on weight
It features a 3-side narrow bezel with an astounding load of only 1100gms
13.3″ Full HD (1920×1080) OLED Panel display with peak 400nits of brightness
Processor: 11th Gen Intel Tiger Lake Core i5-1135G7 | Speed: 2.4 GHz (Base) – 4.2 GHz (Max) | 4 Cores | 8MB Cache
OS: Pre-Loaded Windows 11 Home with Lifetime Validity
Pre-Installed: MS Office Home and Student 2021
Model Year: 2022
Buy from here: https://amzn.to/3JxSrvS
Lenovo Yoga Slim 7
Deal Price: ₹69,990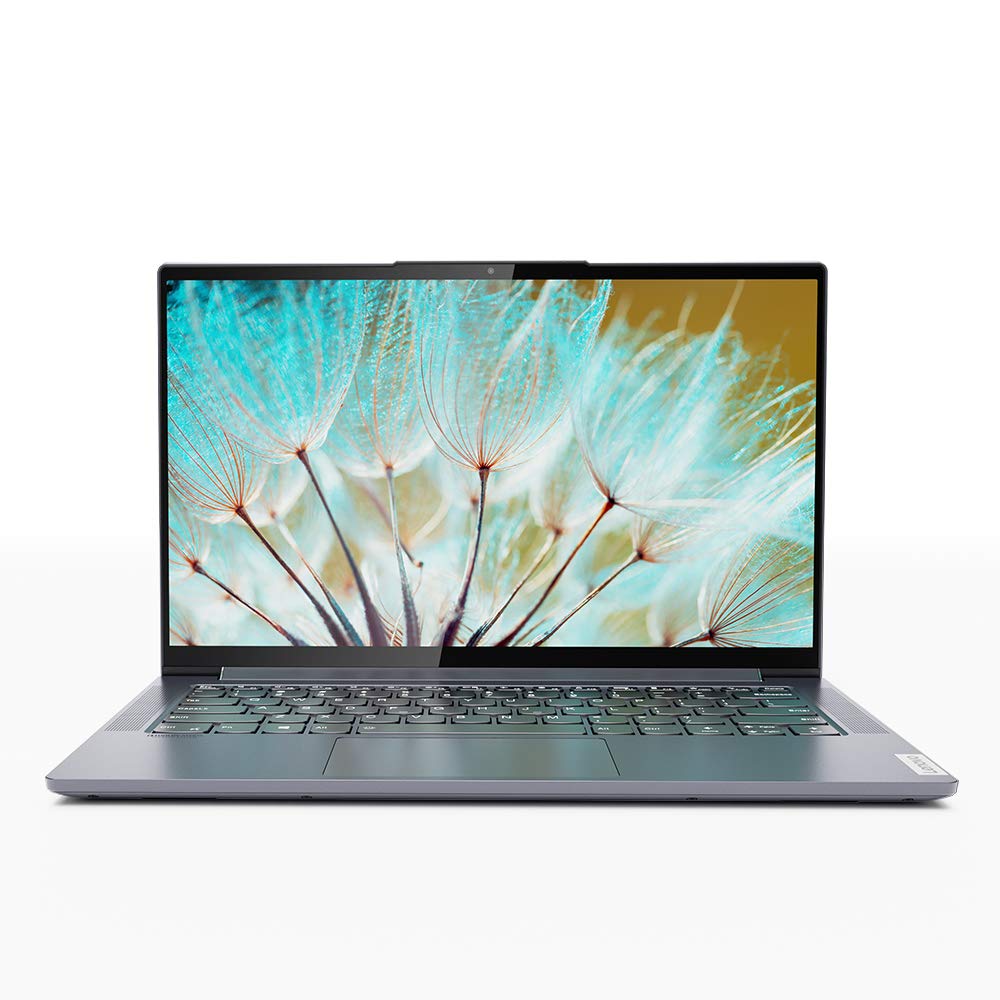 Processor & Graphics: 11th Gen Intel Evo Core i5-1135G7 | Speed: 2.4 GHz (Base) – 4.2 GHz (Max) | 4 Cores | 8MB Cache | Intel Evo Laptop |Intel Iris Xe Integrated Graphics
OS and Pre-Installed Software: Pre-Loaded Windows 11 Home with Lifetime Validity | MS Office Home and Student 2021 | Xbox GamePass Ultimate 3-month subscription*
Memory and Storage: 16GB RAM DDR4-3200, not Upgradable | 512 GB SSD
Display: 14″ Full HD (1920×1080) | IPS Technology | Brightness: 300 nits | 100% sRGB | Anti-glare
Design: 1.49 cm Thin and 1.36 kg Light | Narrow Bezel | Aluminium Surface
Battery Life: 11 Hours | 60.7 Wh Battery
Camera (Built-in): HD 720p IR Camera | Facial Recognition | Privacy Shutter | Integrated Dual Array Microphone
Buy from here: https://amzn.to/3BFQqf5
Lenovo Yoga Slim 7 Pro
Deal Price: ₹72,990
Processor: 11th Gen Intel Core i5-11320H | Speed: 3.2 GHz (Base) – 4.5 GHz (Max) | 4 Cores | 8 Threads | 8MB Cache
OS: Pre-Loaded Windows 11 Home with Lifetime Validity |MS Office Home and Student 2021 | Xbox GamePass Ultimate 3-month subscription*
Display: 14″ 2.8K (2880×1800) | IPS | Brightness: 400nits | Anti-glare | 90Hz | 100% sRGB | Dolby Vision || Memory: 16GB RAM LPDDR4x-4266 || Storage: 512 GB SSD
Design: 1.69 cm Thin and 1.3 kg Light | Aluminium Material | Backlit Keyboard
Graphics: Integrated Intel Iris Xe Graphics
Battery Life: 61Wh | Upto 10 Hours | Rapid Charge Express (charge up to 80% in 1hr) ||
Ports: 2x USB-C 40Gbps Thunderbolt 4 (Power Delivery 3.0, DisplayPort 1.4 and Data transfer) | 1x USB-A 3.2 Gen 1 (Always On) | 1x Headphone / microphone combo jack (3.5mm)
Audio: 2 x 2W Stereo Speakers by Harman | HD Audio | Dolby Atmos Certification | Dual array microphone || Camera (Built-in): HD 720p webcam with IR | Fixed Focus | ToF sensor
Buy from here: https://amzn.to/3Q6JGeS
Samsung Galaxy Book2 360
Deal Price: ₹89,490
Processor: 12th Generation Intel EVOTM Core i5-1235U Processor(1.3 GHz up to 4.4 GHz, 12 MB L3 Cache) | Memory: 16 GB LPDDR4x Memory (On BD 16 GB) | Storage: 512 GB NVMe SSD
Operating System: Windows 11 Home | Preinstalled Software: MS Office Home & Student 2021, Live Message, Live Wallpaper, McAfee Live Safe (Trial), Screen Recorder, Samsung Gallery, Quick Search, Samsung Flow, Samsung Notes, Samsung Recovery, Samsung Settings, Studio Plus, Samsung Update, Samsung Security, Quick Share, Galaxy Book Smart Switch
Display: 13.3 inch (33.7 cm), FHD AMOLED Display (1920 x 1080) | Touchscreen | Intel Iris Xe Graphics
Ports: 1 HDMI, 1 Thunderbolt 4, 1 USB Type-C, 1 USB3.2, MicroSD Multi-media Card Reader, 1 Headphone-out/Mic-in Combo, | Without CD-drive | Battery = 61.1 Wh, 65 W USB Type-C Adapter
Camera: 720p HD, Intelligent Video Call Solution with Intel Collaboration | Microphone: 1 Headphone out/Mic-in Combo | Keyboard: Pro Keyboard (Backlit) | FingerPrint Reader, Accelerometer Sensor, Gyro Sensor
Buy from here: https://amzn.to/3vLsNxZ
Lenovo Yoga 7 
Deal Price: ₹94,990
Processor & Graphics : 11th Gen Intel Core i7-1165G7 | Speed: 2.8 GHz (Base) – 4.7 GHz (Max) | 4 Cores | 12MB Cache |Intel Evo Laptop | Intel Iris Xe Integrated Graphics
OS and Software: Pre-Loaded Windows 11 Home with Lifetime Validity | MS Office Home and Student 2021 | Xbox GamePass Ultimate 3-month subscription*
Memory and Storage: 16GB RAM DDR4-3200 | 512 GB SSD
Display: 14″ Full HD (1920×1080) | Brightness: 300 nits | IPS Technology | 72% NTSC | AGC Dragontrail Glass | Touch
Design: 10-point Touchscreen AGC Dragontrail Glass | 1.77 cm Thin and 1.43 kg Light | Aluminium Material | Backlit Keyboard | Fingerprint Reader
Buy from here: https://amzn.to/3JwwUnc
Or get the latest 12th Gen powered OLED panel variant: https://amzn.to/3vGYOY8
LG Gram14
Deal Price: ₹96,999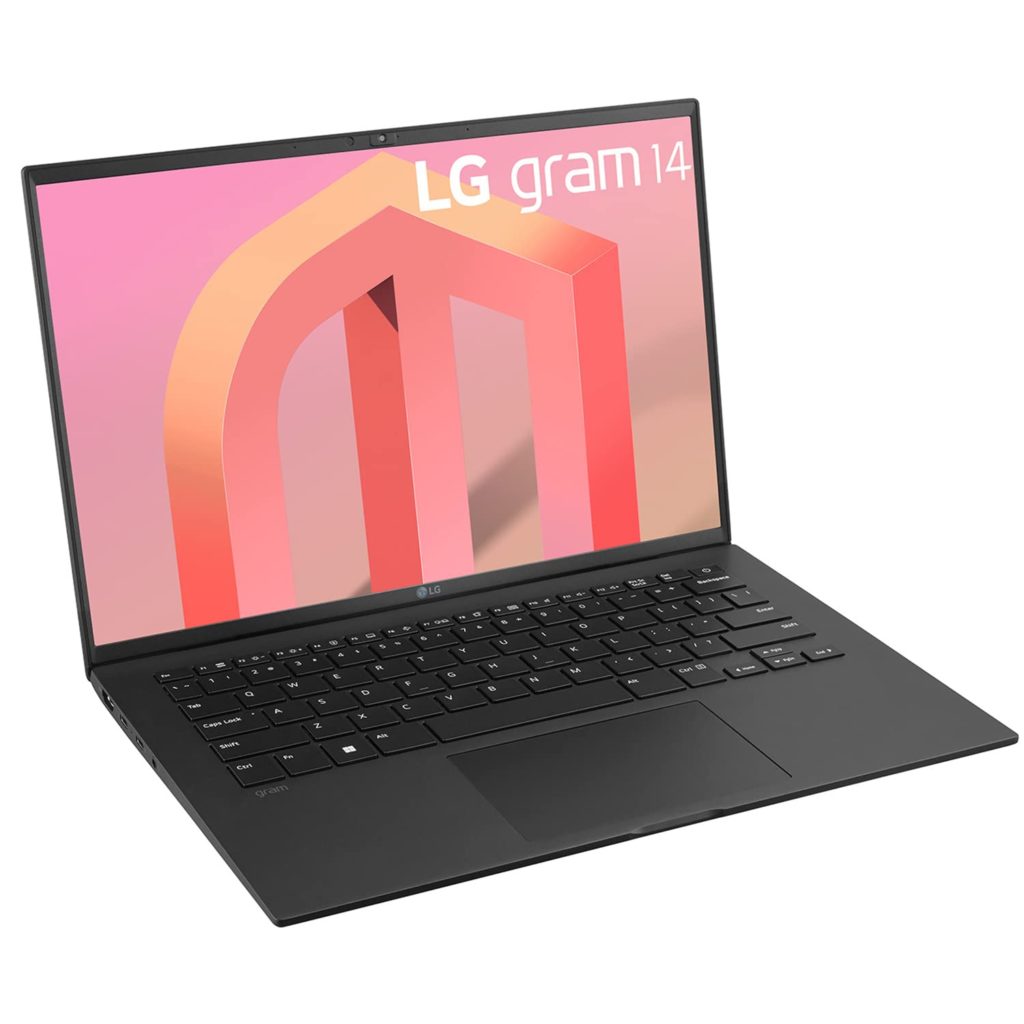 Processor & OS: 12th Gen Intel Core Processor i7-1260P (12 Cores: 4P + 8E, P: 2.1 up to 4.7 GHz / E: 1.5 up to 3.4 GHz), L3 Cache 18MB / Window 11
Memory: 16 GB LPDDR5 (Dual Channel, 5200MHz)/ Storage: 512 GB SSD M.2(2280) Dual SSD slots / Graphic: Intel Iris Xe Graphics
Premium Display: 14 Inch – IPS – WUXGA (1920 * 1200) – Anti Glare – 350 Nits – DCI P3 99% – 16:10 Aspect Ratio
Special Feature: UltraLight 999 grams Magnesium Alloy Body (Obsidian Black) – 72WH Battery (upto 23.5 video playback) – Full HD Webcam with IR
Ports: Thunderbolt 4 with Power Delivery (3 USB-C, HDMI, HP Out) / AI Features: LG Glance for Security & Productivity/ Fingerprint Reader & Face Recognition
Buy from here: https://amzn.to/3Q1oKG4
LG Gram16 
Deal Price: ₹1,03,599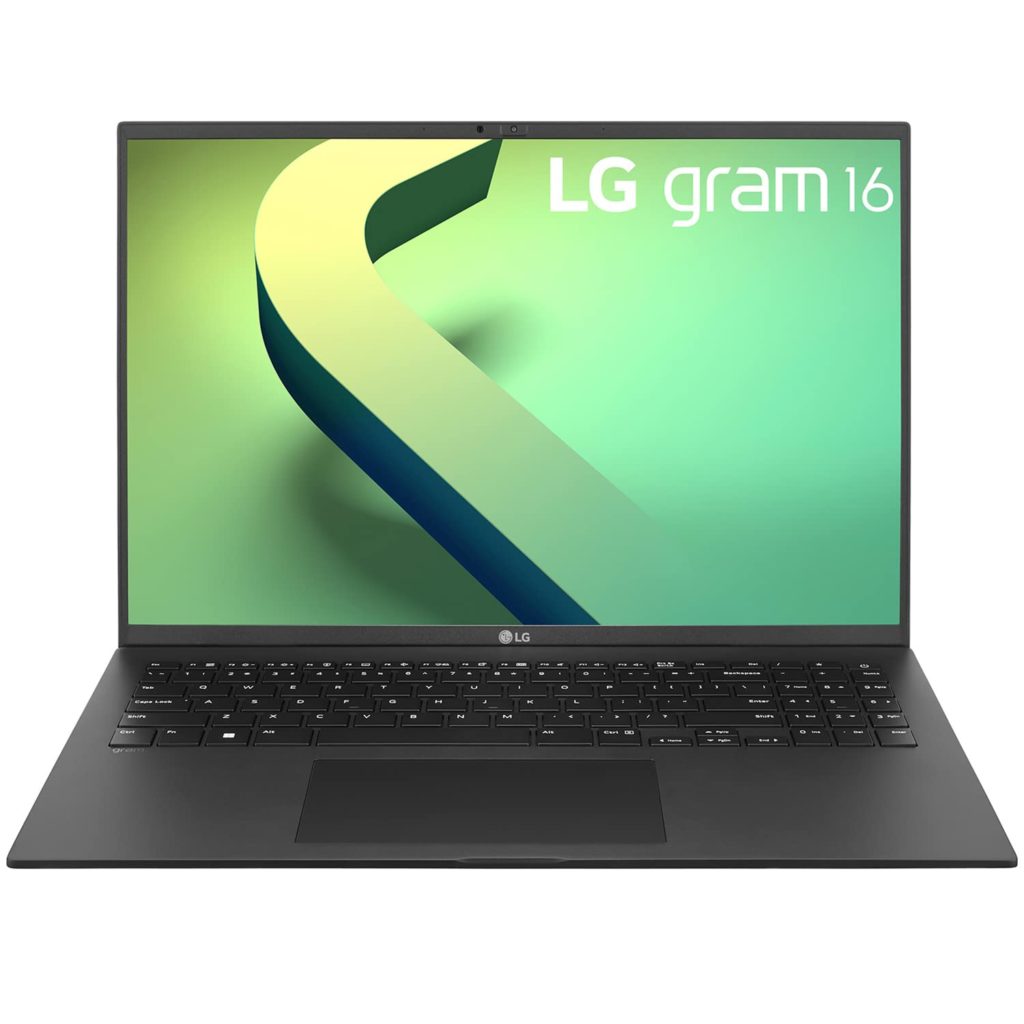 Processor & OS: 12th Gen Intel Core Processor i7-1260P (12 Cores: 4P + 8E, P: 2.1 up to 4.7 GHz / E: 1.5 up to 3.4 GHz), L3 Cache 18MB / Window 11
Memory: 16 GB LPDDR5 (Dual Channel, 5200MHz)/ Storage: 512 GB SSD M.2(2280) Dual SSD slots / Graphic: Intel Iris Xe Graphics
Premium Display: 16 Inch – IPS – WQXGA (2560 * 1600) – Anti Glare – 350 Nits – DCI P3 99% – 16:10 Aspect Ratio
Special Feature: UltraLight 1.48 Kg Magnesium Alloy Body (Obsidian Black) – 90WH Battery (upto 20.5 video playback) -Full HD Webcam with IR
Ports: Thunderbolt 4 with Power Delivery (3 USB-C, HDMI, HP Out) / AI Features: LG Glance for Security & Productivity/ Fingerprint Reader & Face Recognition
Buy from here: https://amzn.to/3zYLJf3
LG Gram17 
Deal Price: ₹1,14,999
Processor & OS: 12th Gen Intel Core Processor i7-1260P (12 Cores: 4P + 8E, P: 2.1 up to 4.7 GHz / E: 1.5 up to 3.4 GHz), L3 Cache 18MB / Window 11
Memory: 16 GB LPDDR5 (Dual Channel, 5200MHz)/ Storage: 1 TB SSD M.2(2280) Dual SSD slots / Graphic: Intel Iris Xe Graphics
Premium Display: 17 Inch – IPS – WQXGA (2560 * 1600) – Anti Glare – 350 Nits – DCI P3 99% – 16:10 Aspect Ratio
Special Feature: UltraLight 1350 grams Magnesium Alloy Body (Obsidian Black) – 72WH Battery (upto 17.5 video playback) -Full HD Webcam with IR
Ports: Thunderbolt 4 with Power Delivery (3 USB-C, HDMI, HP Out) / AI Features: LG Glance for Security & Productivity / Fingerprint Reader & Face Recognition
Buy from here: https://amzn.to/3A00cHJ