Intel also unveiled its top-tier Alchemist GPU, the Arc A770 Limited Edition, at the same time as the Arc A750 Limited Edition graphics card. Popular Tech YouTubers appear to be used by Intel to promote and discuss its Alchemist graphics cards. The high-end portfolio is being targeted at the US market, as evidenced by the WAN Show display and an interview with GamersNexus earlier this week, even if the first and only Alchemist graphics card, the Arc A380, is only available in China.
Like its sibling, the Arc A750, the Intel Arc A770 also has a reference Limited Edition flavor. This supports our idea that both of the premium GPUs would be available in Limited Edition versions, however, this doesn't preclude conventional and bespoke designs. AIBs have already hinted at the availability of custom designs later this summer when the Arc Alchemist collection becomes formally available for purchase.
The Intel Arc A770 Limited Edition features an elegant dual-slot and dual-fan design with a black color scheme and silver accents in a completely enclosed shroud that also covers the backplate.
The RGB-lit logo and lighted accent bar on the card's sides are both controllable via Intel's Arc Control software application. According to rumors, the Limited Edition cooler is over-engineered for the ACM-G10 GPU and produces temperatures of less than 70C when under full load while playing games. The card has a single HDMI 2.1 connector and the typical triple DisplayPort display output layout.
The card comes with an Addressable ARGB header that may be used to connect your motherboard and the RGB accent light. Only personalized cards have this great feature, so they stand out. The Limited Edition cards will be sold through well-known shops all across the world, not just Intel's own Arc store, in terms of availability.
The flagship ACM-G10 GPU will be used in the Intel Arc 7 family, and we already know about the mobility models, the Arc A770M and the Arc A730M. Similar to the Arc A770, which has 32 Xe-Cores for 4096 ALUs and 32 ray tracing units, the Arc A770 is one of the top-end desktop PC models available.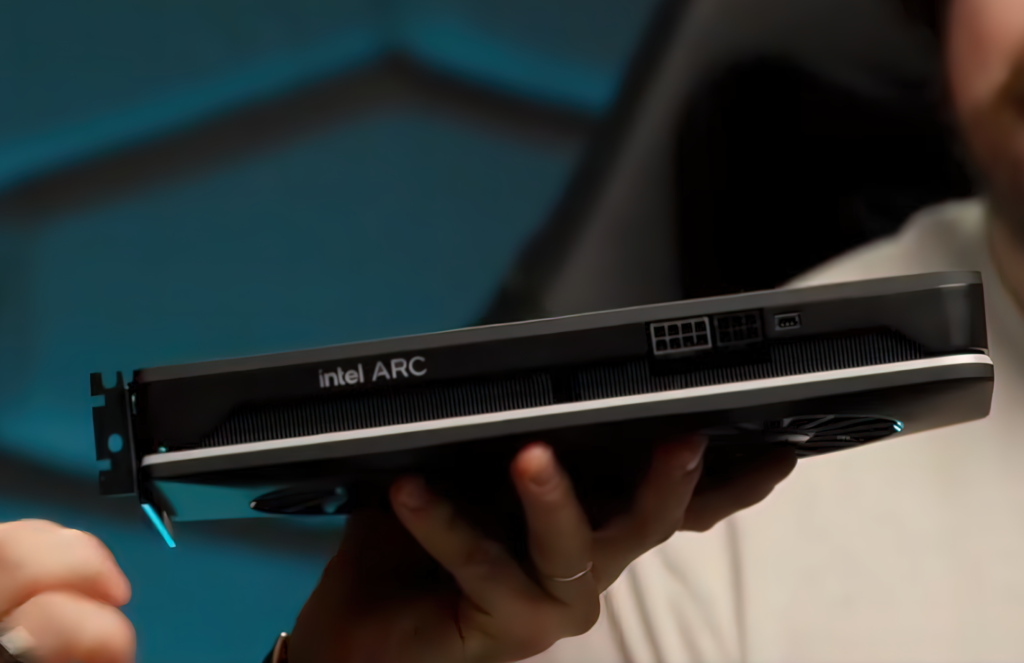 The GPU should run at a top boost speed of 2.4 GHz, which is always higher than the engine's listed clock speed. The GPU should be able to provide nearly 20 TFLOPs of FP32 horsepower at 2400 MHz. A 256-bit bus interface and 16 GB of GDDR6 RAM are also included in the card. Although the real TGP/TBP should be lower than that, in the 250W range, the GPU receives power through an 8+6 pin connector design that has a 300W maximum output. Given that the Arc A750 is up to 17% quicker than the RTX 3060, we should anticipate the Arc A770 to perform somewhere between those two graphics cards.
alao read:
Apple M2 MacBook Air Internal Images Shows Heatsink Covering its SoC