The most-awaited Marvel Disney+ series Ms. Marvel just wrapped up its six-episode first season with finale titles as "No Normal", which has introduced another new superhero to the MCU. The series contains a post-credit scene with some major development for the Phase like to tease what were can expect from the future sequel to captain Marvel, The Marvels.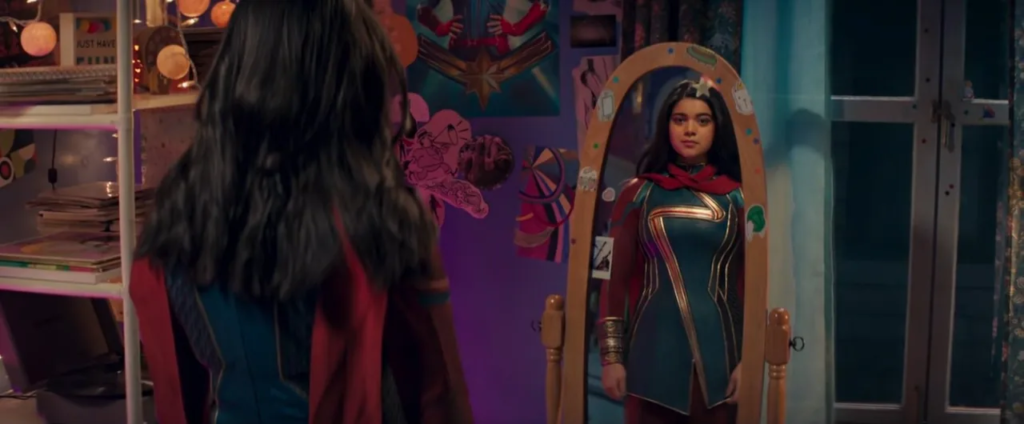 Kamala Khan, Kamran, and Damage Control
After coming back from Pakistan along with the showdown with the Clandestine, Bruno, the best friend of Kamala, along with the new crush Kamran were involved in a conflict of their own. In the entire New York City, Kamran is the only Clandestine alive, becomes the main target for Damage Control, a Buno and he just left to escape. Kamala takes the right time entry and clear her family about her superpowers, and becomes able to Marshall support from her family and friends. 
The plan was to equip their high school with Home Alone style that trapping in order just to distract Damage we Control while Kamran had spirited for safety, Kamala just entered her life as a superhero with her real costume provided by her mother. The battle permits dozens of the first time providing her an even more public reveal than her hasty antics at AvengersCon.
However, Kamran was able to escape after knowing his mother's death back in Pakistan with a crisis of faith nearly sent him for the dark path and just flee the country, meeting up with Kareem in Pakistan, after perusing a mission to rescue the world from the Clandestine. We can assume that the newfound partnership will be blockbusting.
Now returning to the US, Bruno ends things by deciding to accept his CalTech scholarship after knowing that may take him to the other country when Nakia performs her duties on the mosque board at the next level. Kamal just finds the family for figuring out her superhero identity, after a lot of things she has not been settled with the name. Along with the Damage Control off her back that seems like she will have a fair amount of time that figure it out as she goes.
Before Bruno leaves for California, he has dropped one such final; the amount of information on Kamala. It's like she might not have actually the superpowers according to her family history and connection with Noor Dimension, after all, it main is only become a tiny part of it. Now, it makes some level of sense, because if it were simply just genetics, Kamala's entire should hold the light powers.
But this is not the reality as Kamal's DNA reveals some sort of mutation, but Bruno is just unable to describe it further and Kamala is the main resistant to the concept of reaching another label that is placed on herself, this may turn comic fans very exciting, as the superpower of Kamala comes from latent Inhuman DNA.
One thing is still not clear Bruno's references are connected along with the Inhumans Black Bolt seen in an alternate reality in Dr. Strange in the Multiverse of madness, or it may be the references of the traditional mutants from the superhero world, the X-Men.
Ms. Marvel (Season 1): Post-Credit Scene
In the middle of the final credits, we have got our latest MCU stinger just like WandaVision, this one just ties up directly for an upcoming film. In her bedroom, Kamala has seen to be startling her bangle in her bedroom. She suddenly just hurled back from an invisible force, stocking along her closet door, and getting disappeared from the screen for a moment. Carol Danvers also emerges from her closet and seems to be confused.
The situation is still not clear what happened here, and it is like Kamala and carol just interchanged places in time and space, and all of this is connected with a bangle, we know carol's ability comes from the Kree, not from Noor's dimension. It's not clear enough as to what happens with them that they have swapped places across space. Beyond the Multiverse and magics, there is also something happening more complex in the works, and it might not even be the carol Denvers as we may know from the last movies.
We are expecting Kamala will join The Marvels in 2023.
A big thanks for the source.
Read: The Lord of the Rings: The Rings of Power's new teaser trailer reveals the Middle-earth