I am an avid gamer and have been in the world of controllers for a long time. I used to play with Redgear controllers before switching to Power A Xbox controllers. But one thing about those controllers which bothered me the most was their longevity. So, right now I am using the Microsoft Xbox Wireless Controller (Robotic White) which is pretty decent to use, though I have faced some minor problems (don't know if it was just in my case or a widespread problem for all the Xbox users).
Now, I have got my hands on the Zebronics Zeb Max Play Wireless Gamepad, thanks to Zebronics for sending us the product for reviewing. It is available for only Rs 1,279 on Amazon. In my personal opinion, I like the Xbox gamepad layout more than the PlayStation gamepad layout, so the Zebronics Zeb Max Play Wireless Gamepad fit right into my preference.
Specifications of Zebronics Zeb Max Play Wireless Gamepad
Windows compatible with Plug and Play setup
Type C rechargeable battery (built-in) and 10H* backup (depending upon usage)
Dual motors force feedback, Dual analog sticks. Wireless range: 8-10 Meters
17 buttons and Turbo mode
Quad front triggers
Lightweight and easy to hold design
LED indicators for easy identification
Type C cable and USB nano receiver inside the package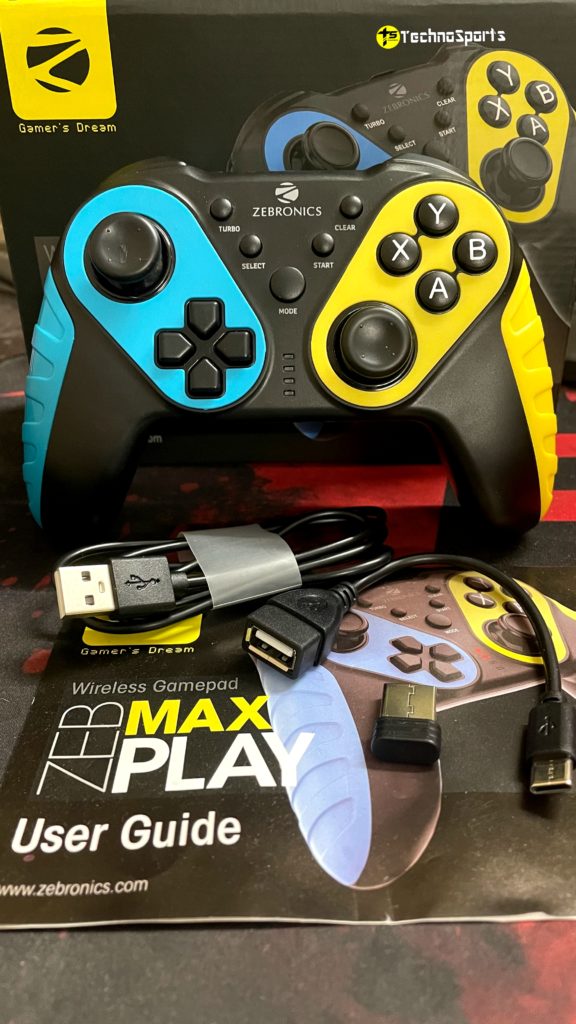 In the box
1 unit Zebronics Zeb Max Play Wireless Gamepad
1 Unit User Manual
1 Unit USB nano receiver
1 Unit TYPE C Charging Cable
1 Unit Type C to USB A Adapter
Design and build quality
The Zebronics Zeb Max Play Wireless Gamepad has an Xbox type layout. The design of this gamepad is quite unique as you'll see the buttons are divided into two colour zones – blue and yellow.
In the middle, the other control buttons, Mode, Start, Select, Turbo and Clear are present along with the LED indicator. Besides the two analog sticks, L1 and L2, it also has a D pad. From the design perspective, the Zebronics Zeb Max Play Wireless Gamepad is very well designed.
However, the build quality could have been better. Zebronics has compromised on the build material to keep the price of this wireless gamepad at just Rs 1,279. The plastic quality feels a little bit cheap and doesn't have that premium feel when you hold the gamepad. But it does not seem to break from accidental falls.
It also doesn't have any rubberized texture to keep your hands from sweating while playing and losing a bit of control. But you really can't blame Zebronics fully, as they had to compromise on this part to make it available for such a cheap price, however, they could have made it slightly better build quality-wise.
Connectivity
The Zebronics Zeb Max Play is a Wireless Gamepad which can be connected to your PC or laptop using the USB nano receiver included in the box. When connecting for the first time, check that the gamepad is properly charged. The charging cable is also included in the box.
Connect the USB nano receiver to your PC or laptop. Then press the Mode button on the gamepad to wake it up. The LED indicators will start blinking and once it gets connected to your device they will stop blinking. The Zebronics Zeb Max Play Wireless Gamepad is a plug-and-play device which offers a seamless connectivity option. The Bluetooth range is also quite good and near 8-10 metres as claimed by Zebronics.
However, it lacks the wired mode. I often forget to charge my devices, so in that case, I can't put it in wired mode and play. The charge on the gamepad roughly went for about 4-5 hours during my use.
You can also download the driver for this gamepad to test the gamepad. Download from here: https://zebronics.com/pages/drivers
Buttons
The Zebronics Zeb Max Play Wireless Gamepad has a full array of buttons. The A/B/X/Y buttons are well placed along with the two analog sticks, L1 and L2. It also has a D pad. The additional buttons, Clear, Start, Mode, Select and Turbo are present in the middle on top of the LED indicators.
The Mode button is used to connect the gamepad to the USB nano receiver in your laptop or PC. Apart, from this, it also has many other uses. To toggle between Direct and X input mode, simply press and hold the Mode button for 5 seconds. Also, to enable or disbale the analog input with the analog stick, press the Mode button once. This can be identified when the 2nd LED glows.
The Turbo button is used to give continuous input. You need to press and hold the Turbo button and the other button (A/B/X/Y) of your preference for 5 seconds. This will help you to use the key for continuous input while gaming. To disable the function, press and hold the Clear button along with the previously selected (A/B/X/Y) button for 5 seconds.
From function-wise, Zebronics had provided a host of buttons. However, the buttons are clicky and it takes a fraction of a second to return back to normal after clicking which can impact your gaming. The triggers LT and RT are also clickable buttons rather than spring triggers, which can be a major cause of concern if you play FIFA like me or other games which require continuous sprints.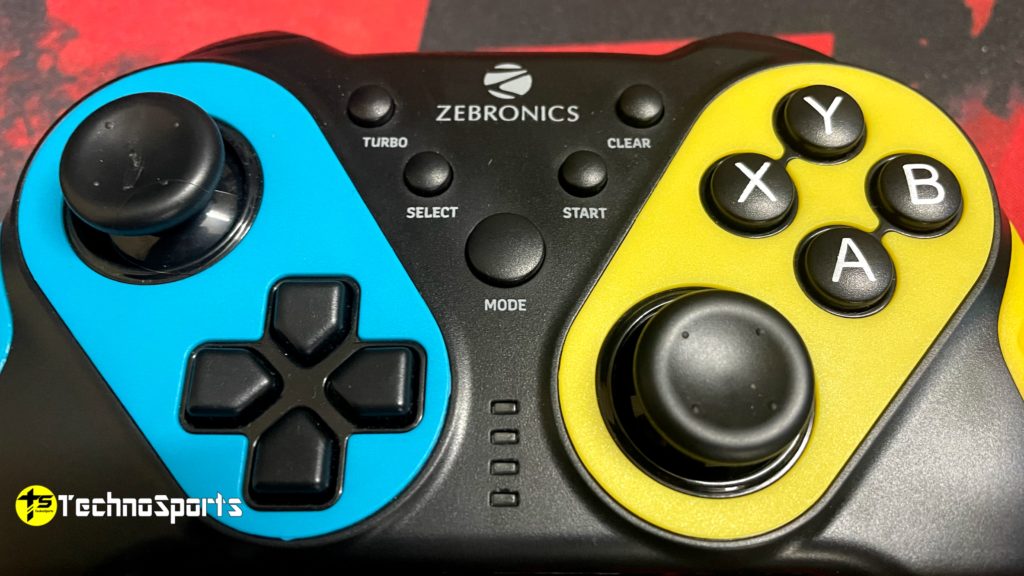 Gaming experience
Latency is one of the most important factors of a wireless gamepad. In the case of a wired gamepad, latency is minimum but there are high chances of latency problems in a wireless gamepad. The latency must be very low in order to offer a good gaming experience. I usually play FIFA 22 on my PC, and I have been playing FUT rivals and championship matches with the Zebronics Zeb Max Play Wireless Gamepad. I haven't felt any delay or latency problems while playing online matches. But the clickable trigger buttons in LT and RT were a problem for me while sprinting or controlling my players.
I also tried playing Need For Speed: Heat with this controller. There is no latency issue and the analog sticks L1 and L2 are quite precise to control your car efficiently.
So, latency-wise, the Zebronics Zeb Max Play Wireless Gamepad is great but the clickable buttons can be a problem sometimes.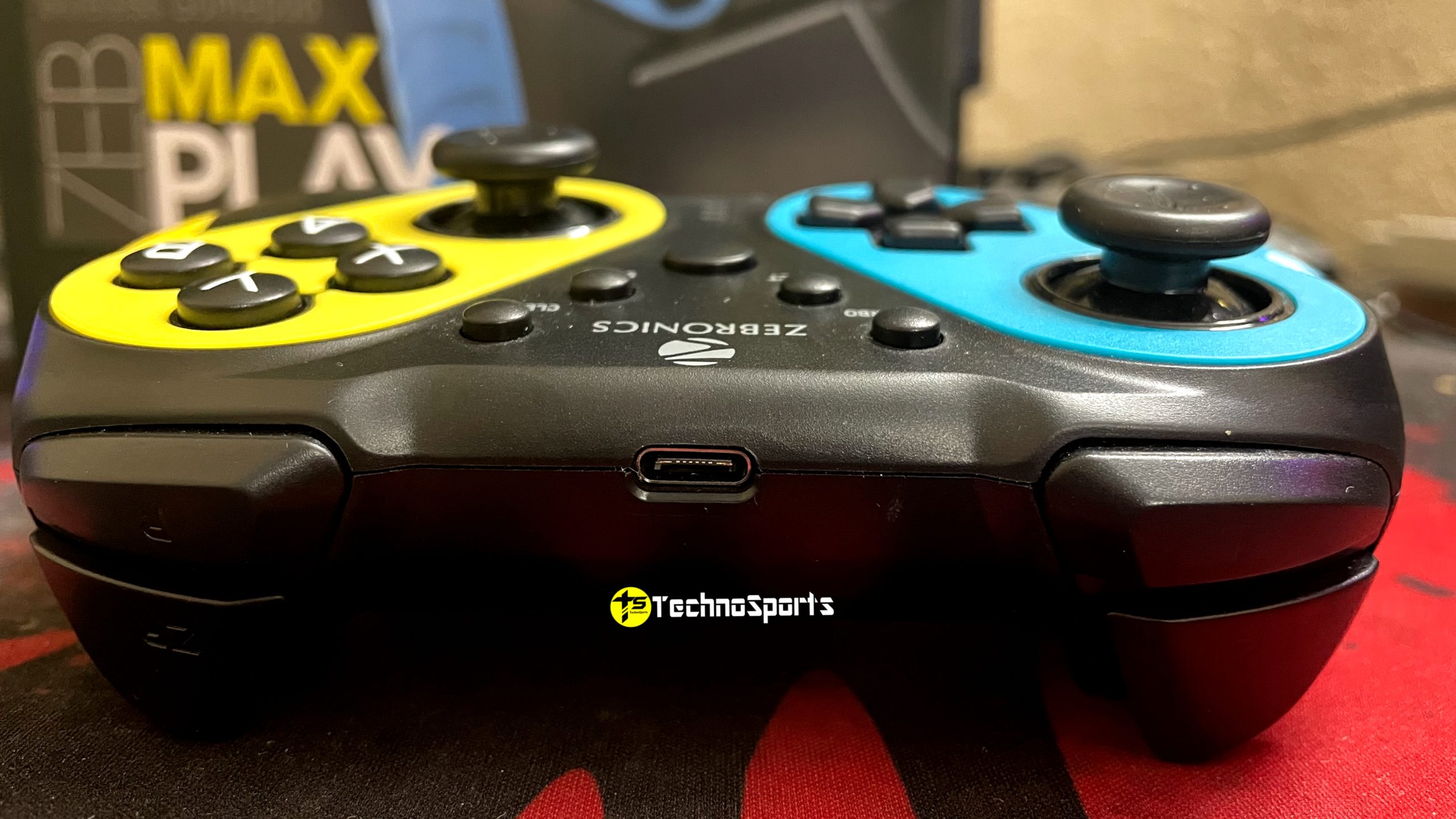 Verdict
Zebronics has priced this gamepad at a very good price point. The Zebronics Zeb Max Play Wireless Gamepad is available on Amazon for only Rs 1,279. It is one of the cheapest wireless gamepads on the market. So if you're only looking for a wireless gamepad, then it is a great choice in this price range. Or else there are other better wired gamepads available on the market at this price.
I really hope that Zebronics launch another wireless gamepad costing around Rs 1,500-Rs 2,000 so that they don't have to compromise on the quality. Zebronics have some great gaming products, so with the experience, they have in this segment, they can easily launch an upgraded version of this wireless gamepad which caters to every need of a gamer.
Buy the Zebronics Zeb Max Play Wireless Gamepad from Amazon: https://amzn.to/3oaqBfv