In 2022, we are blessed with healthy prices on PC components especially of graphics cards and now we are finally getting GPUs at MSRPs almost. The AMD Radeon RX 6000 series GPUs are most affordable right now and having paused this Custom Gaming PC built section over a year now, finally its time to recommend you guys again.
We all love making Gaming PCs and the need for one has not decreased although prices have been sky high, however, there's some good news, the cheapest 1080p modern GPU Radeon RX 6500 XT is available for only Rs.20k. Yes you heard it right, an RDNA2 GPU with all the modern functionalities at affordable price range, helping you to make a PC under ₹60,000.
If you are lazy like us and love shopping online, you can get all these gaming parts delivered at your home easily, thanks to Amazon India. Here we will list the Best 1080p Gaming PC under ₹60,000 in 2022 ft. Radeon RX 6500 XT, we have also done a detailed review of this GPU previously, here are the parts you need to buy:
ASUS Dual Radeon™ RX 6500 XT OC Edition 
Price: ₹20,400
ASUS Dual Radeon RX 6500 XT OC Edition comes with 4GB GDDR6 RAM Memory for good quality gaming.
Axial-tech fan design features a smaller fan hub that facilitates longer blades and a barrier ring that increases downward air pressure.
A 2-slot Design maximizes compatibility and cooling efficiency for superior performance in small chassis.
Dual ball fan bearings can last up to twice as long as a sleeve bearing designs.
Auto-Extreme Technology uses automation to enhance reliability.
A protective backplate prevents PCB flex and trace damage.
PCI-E 4.0 Support and up to 2820 MHz(Boost Clock)
The reason of choosing this GPU over the RTX 3050 is solely because of its dirt cheap pricing, obviously you can Rs.10k extra for a GPU which will be better in terms of longitivity but if you cannot afford, this RX 6500 XT is still a great option.
Featuring a 4GB GDDR6 memory, high boost clock speeds, efficient process node and a revolutionary RDNA2 graphics architecture, you cannot ask for more. With features like FSR 2.0, Smart Access Memory and other new features, maximing GPU performance won't be an issue.
Buy from here: https://amzn.to/3Gli5SY
ASUS Prime H510M-E Motherboard
Price: ₹6,157
The ASUS Prime H510M-E motherboard is designed to support the latest Intel Socket LGA1200 for 11th Gen Intel Core processors & 10th Gen Intel Core. The board is PCIe 4.0 Ready supporting up to 64GB DDR4 3200MHz(OC) of memory and Intel Turbo Boost Technology to push your experience to its peak.
The board features the most comprehensive cooling options ever that are configurable via Fan Xpert 2+ or the UEFI BIOS. It employs a stronger PCH heatsink. These comprehensive cooling options are controllable and configurable via Fan Xpert 2+ software.
Enjoy extended connectivity with the next-gen technology of PCIe 4.0, 32Gbps M.2 slot, Intel 1 Gb Ethernet and USB 3.2 Gen 1 Type-A. With the integration of LANGuard gives advanced signal-coupling technology and premium anti-EMI surface-mounted capacitors to improve throughput.
We are opting for a budget Gaming PC build that will be powered by 11th Gen Intel Core i5 processor and for powering it a basic H510M-E motherboard is enough. It comes with all the basic functionalities for your budget PC build and is great for 1080p gaming setup.
Buy from here: https://amzn.to/3MJqbXX
Intel Core i5-11400F
Price: ₹15,399
6 cores and 12 threads
2.6 GHz base clock speed, boost up to 4.4 GHz
TDP: 65W, supports up to 128 GB DDR4-3200 memory
Compatible with Intel 500 series & select Intel 400 series chipset based motherboards
12 MB of L3 cache rapidly retrieves the most used data available to improve system performance
14 nm design offers great efficiency for computing and delivers nimble processing with balanced cost, performance, and power
This 6-core Intel Core i5-11400F processor may have become one generation old but gives a solid performance for its TDP and for budget PC build this is a solid contender to be looked upon. The F-variant here saves some price and as we are using a dedicated GPU anyways so this is more of a smarter choice.
Buy from here: https://amzn.to/3GkA6kg
Kingston FURY 16GB 3200MHz DDR4 RAM
Price: ₹4,900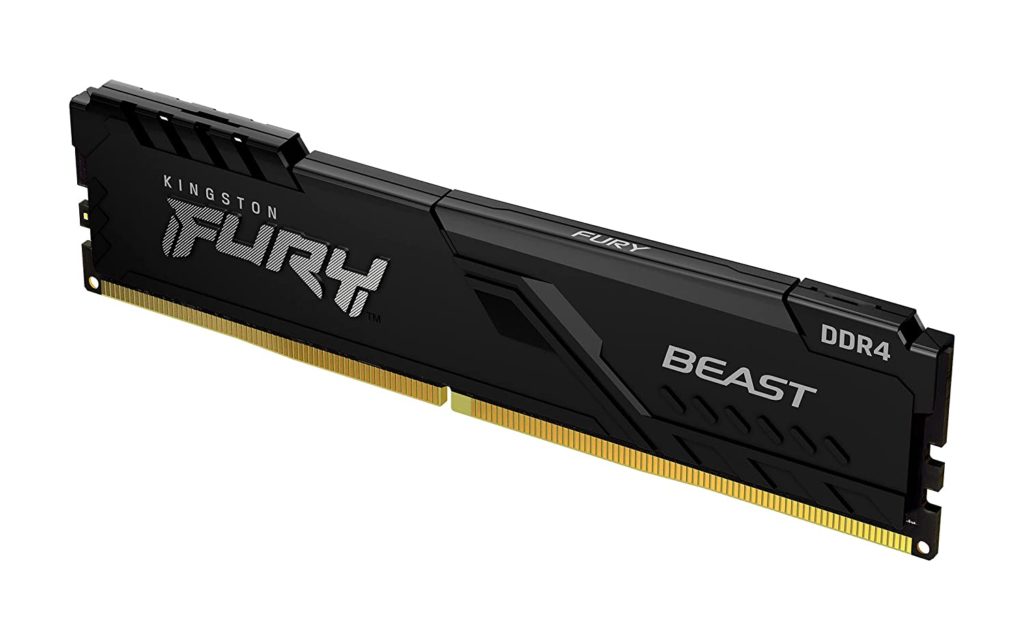 Low-profile heat spreader design
Cost-efficient, high-performance DDR4 upgrade
Intel XMP-ready, Ready for AMD Ryzen
Speeds up to 3733MHz, here 3200MHz
FURY Beast DDR4 stays cool with its stylish, low-profile heat spreader
A simple and easy Plug N Play upgrade, Kingston FURY Beast DDR4 will auto-overclock itself to the highest listed speed allowed by the system BIOS
As this motherboard has 2 RAM slots, we have used a single 16GB RAM so that in future you may expand it as well. As you know Kingston Fury memories are the revamped HyperX RAMs which we know are the best for its price both reliable and delivers strong performance, for our PC this is more than enough to get through your intense gaming sessions.
Buy from here: https://amzn.to/3PJ7Mwk
Zebronics Zeb Viking Gaming Cabinet
Price: ₹3,800
Form Factor: Mid tower
Supporting Motherboard ATX/mATX/ITX
CPU Cooler size: 160mm
VGA Size: 340mm
AIO Cooler: Rear -120mm ;Front-120/240/360mm
Expansion slot: 7
USB :2 x USB, 1 x USB3.0
Audio: HD Audio
Side panel: Tempered Glass
PSU: Bottom
We have gone for this fancy yet affordable Zebronics gaming cabinet because of its great design, plenty of RGB lights and a modern tempered glass side panel. For a basic Gaming PC which is focussed to get the job done, the look and feature this cabinet provides is more than enough.
Buy from here: https://amzn.to/3sWJfdk
Ant Esports FP550B PSU
Price: ₹2,994
80+ Bronze rated – The FB550B is 80+ bronze certified proving its reliability and performance.
Single 12V rail – The unit comes with a single 12V rail that delivers wattage ideal for high-end systems.
Highly secured – Comes with OVP/OPP/SCP/UVP/OCP/OTP protection
Silent 120mm fan – The 120mm fan spins consistently yet quietly to keep the unit cool even under full load & is rated for 100,000 hours of lifespan!
Flat Cables – Has black flat cables for easy and clear wire management
A 550W PSU is a must for this 1080p Gaming PC and is ample to power all your components also if you ever plan to upgrade GPU you can easily do so.
Buy from here: https://amzn.to/3NwFWRS
Acer FA100 256GB PCIe Gen3 SSD
Price: ₹2,599
Exceptional Performance- Dram-less architecture controller with the full support of the HMB function, powered by the latest 3D NAND technology and PCIe NVMe 1.4 interface, sequential read/write up to 1950/1300 MB/s, 6 times faster than standard SATA SSD.
Single-Sided Design for Maximum Compatibility- Thickness of 2.7mm, suitable for both desktop and notebook. Compatible with most Intel/AMD chipsets.
Lower Power Consumption- Average operating power consumption at only 3.3W with modern standby and dynamic power management technology, FA100 offers high power efficiency which maximizes your notebook's battery life.
Enhanced Data Security- Latest 4K LDPC error-correcting code technology and E2E Data Protection built-in to ensure data safety and integrity.
As we know this is 2022 and having a fast SSD as boot drive is very essential, so a basic PCIe Gen 3 SSD will get you over with all the Windows tasks as well as most-played games you can store in the 256GB SSD. This 1080p Gaming PC looks well balanced with all of the components and is good to go for 2022!
Buy from here: https://amzn.to/3LOqvn3
Seagate BarraCuda 1 TB Internal HDD
Price: ₹3,299
Cost-effective storage upgrade for desktop computers; If you have received a SMART error, we strongly recommend that you stop everything and make an immediate backup of any and all important data contained on this drive that is not already backed up
Store all your games, music, movies and more with up to 1TB of storage
SATA 6Gb/s interface optimizes burst performance; 64MB Cache; Multi-Tier Caching
Seagate Secure models for hardware-based data security
Instant Secure Erase allows safe and easy drive retirement
Last but not the least, as this is a Gaming PC, the necessity of an internal HDD is very important to store all of your games together. As the sizes of getting larger, the need of a relatively faster 7200RPM hard disk is indeed necessary for your new Gaming PC.
Buy from here
You can calculate and see the price is coming well under ₹60,000 and for it, the components you get are enough to give you good frame rates at 1080p in most modern games. Do you have any suggestions or ideas to the parts we picked? Let us know your thoughts in the comments down below…😉