Apple has increased the Apple Music Student subscription plan across several countries. The company is emailing the college students informing the same, the subscription plan cost will increase in the coming days.
India is one of the countries where Apple is going to increase the Student Plan price. Other than that, according to MacRumors, the impact will be in Australia, the Philippines, Singapore, Malaysia, Saudi Arabia, New Zealand, South Africa, Indonesia, Israel, and Kenya. However, there could be more on the list.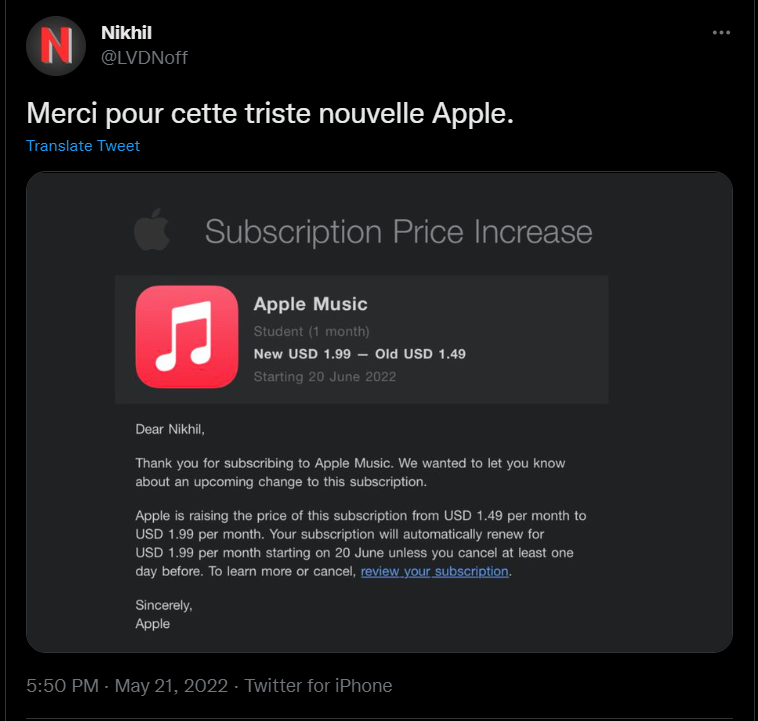 An email from Apple to the Apple Music Student subscribers reads in Australia reads, "Thank you for subscribing to Apple Music. We wanted to let you know about an upcoming change to this subscription," It further added, "Apple is raising the price of this subscription from USD 1.49 per month to USD 1.99 per month,"

This new pricing will be applicable from 20th June. In India, the Apple Music Student plan still costs INR 59 per month. For the current Student subscribers, the plan with increased pricing will be auto renewed after/on 20th June until and unless the subscriber cancels it on the previous date.
Apple Store: https://amzn.to/3PAiTHI
Also Read: Apple Pay vs Google Pay: Which is Better? A detailed comparison