As we know AMD's upscaling technology has been there in the market for quite some time now and it has been adding new games ever since then. A lot of games are even launching with FSR enabled as the process of integrating Fidelity FX Super Resolution is very simple for game developers.
So, finally, in the insanely popular title Cyberpunk 2077 that announced a recent update, it also features FSR and optimizations for the current-then gaming consoles. While also for the PC version you have a new graphics option called RT Shadows and the interesting fact is the game's existing options for Contrast Adaptive Sharpening is now replaced by FSR.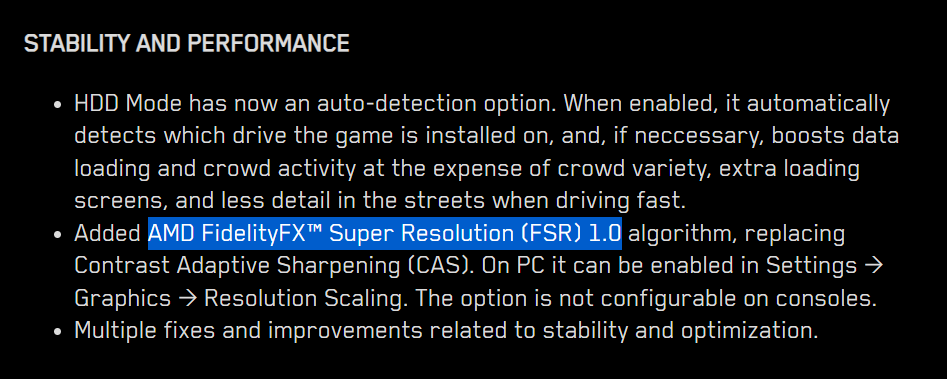 Surprisingly though consoles are powered by the same RDNA2 architecture which easily should use FSR to upscale the game's performance, CD Projekt Red limited the feature only to PC. Also, this update has added its own built-in benchmark that could be game-changing when comparing DLSS against FSR.

On the other hand, AMD FSR is also now officially in Steam Deck that sports a custom chip with RDNA2 graphics, the latest update brings system-wide FSR support through Gamescope Wayland compositor, as reported by The Phawx. If this technology is implemented eventually into the SteamOS, which makes more sense, then native support in games won't be required as you could automatically upscale games via the OS itself.
However, games that have official implemented FSR is advised to use that instead of a forceful approach. While the Steam Deck is limited to 720p this means with FSR, the actual rendering takes place at an even lower resolution, hence, improving performance with minimal loss in quality which you can adjust with sharpening filters in various games.
This will actually improve the handheld's battery life too, check this video for a more detailed comparison:
Read More:
via Videocardz